Do you know about all of the gaps in coverage which most Medicare recipients might have to pay for out-of-pocket? Well, it turns out that many of these expenses can be exceptionally pricey for Indianapolis seniors. Below, we'll tell you everything you need to know about the Medicare Supplement Insurance options that are available in your area. We strongly suggest you pick an option, and quickly – before you end up with thousands of dollars in surprise medical bills!
Facts and Figures
There are 99,719 senior citizens living in Indianapolis right now
There 10 hospitals in the Indianapolis area where seniors can get emergency and/or in-patient care
26% of Indiana seniors have a Medicare Advantage plan
29% of seniors have a Medicare Supplement (Medigap) plan
Which leaves 45% of Indianapolis seniors potentially uninsured or underinsured against costly Medicare coverage gaps!
Why does your healthcare get more expensive with age? Because as you get older, your body requires more maintenance and care in order to perform daily functions to the best of your ability. Many of the most common ailments among seniors – like heart disease or arthritis, for example – are progressive diseases, which means they tend to get worse the longer you have them.
| | |
| --- | --- |
| Disease | Prevalence in Indianapolis |
| Arthritis | 25% |
| High Blood Pressure | 31% |
| Coronary Heart Disease | 7% |
| Diabetes | 13% |
| Kidney Disease | 3% |
Healthcare Costs in Indianapolis, IN
You may only need a single blood pressure medication now, or a topical drugstore cream to manage your arthritis pain. But the older you get, the more likely you are to need multiple medications for the same ailment, or surgery in order to fix a clogged artery or a painful joint. Even if such treatments are relatively affordable now, they will get more expensive over time as inflation and other complicated variables increase the cost of healthcare on an annual basis. If you don't protect yourself from the rising costs of healthcare now – especially the costs for procedures, prescriptions, and hospital benefits which aren't covered by Original Medicare – you could end up paying those costs straight from your savings.
| | | |
| --- | --- | --- |
| Disease | Prevalence in Indianapolis | Annual Cost of Treatment |
| Arthritis | 25% | $304 |
| High Blood Pressure | 31% | $180 |
| Coronary Heart Disease | 7% | $9,351 |
| Diabetes | 13% | #2,256 |
| Kidney Disease | 3% | $8,779 |
Medicare Advantage Savings in Indianapolis, IN
In order to protect yourself from these costly Medicare coverage gaps, you should invest in a comprehensive Medicare Supplement Insurance plan, and you should invest early. As you saw above, more than 1/4 of Indianapolis seniors have chosen to protect themselves from these costly coverage gaps with an Indiana Medicare Advantage plan. When you choose Medicare Advantage, you choose to replace your Original Medicare benefits with a private health insurance policy from a company which must, by law, offer you the exact same benefits you would get from Original Medicare. Many policies offer you more than what you would get from Medicare Part A and Medicare Part B alone. The government then pays a share of your monthly premium for you, which means your monthly premiums could end up being as little as $0 each month.
Most Medicare Advantage plans come with their own prescription drug coverage, or they at least give you the option to add it. They may also cover certain incidentals like diabetes testing supplies which might be more expensive on regular Medicare Part B. Make sure you talk to your Medicare Advantage insurance agent about coverage options which you can add to your policy in order to protect yourself from Medicare Part A and Medicare Part B coverage gaps; not all policies may offer these coverage options as a part of their base plan.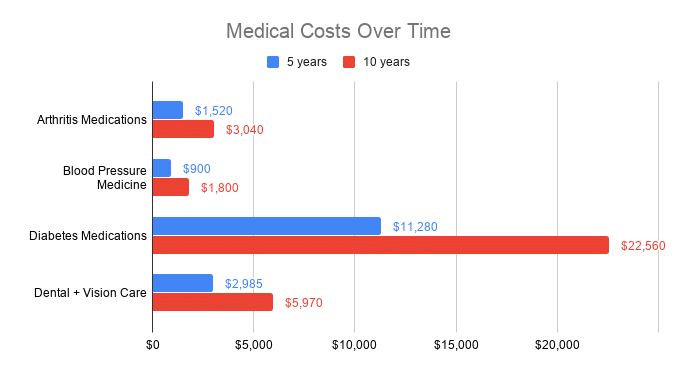 Here's another benefit of Medicare Advantage that you might not get with other supplement plans: the option to add dental coverage, vision coverage, or both to your Medicare Advantage policy. The biggest benefit is that it gives you the convenience of managing all of your health care needs under a single plan from a single company. With most other supplements, you'll have to purchase private dental and/or vision coverage from a separate provider.
Medicare Supplement (Medigap) Savings in Indianapolis, IN
If you don't think you need all of the bells and whistles that come with a Medicare Advantage plan, then an Indiana Medicare Supplement Insurance plan (also known as a Medigap plan) might be better for you. These plans exclusively focus on providing benefits which help you cover the costs of Original Medicare coverage gaps – nothing more, nothing less. For many seniors, this simpler coverage is a more affordable option compared to Medicare Advantage.
The 10 available Medigap plans can basically be divided into two groups: those which cover Medicare Part A coverage gaps exclusively, and those which cover the gaps in both Part A and Part B coverage. Medigap plans A, D, K, and L are the plans which help cover those hospital costs which are not covered by Medicare Part A. They help protect you from unforeseen expenses related to extra blood transfusions, longer hospital stays, and more.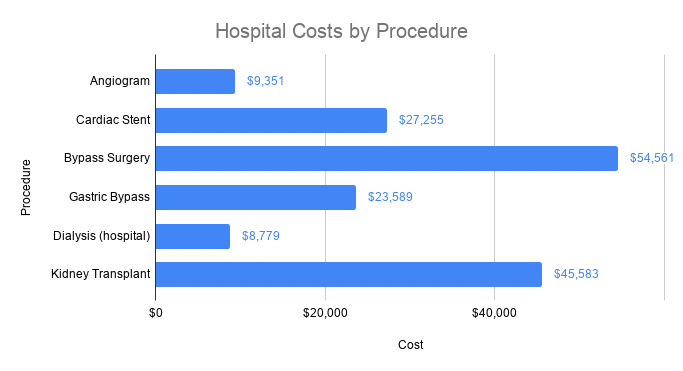 Medigap plans B, C, D, F, G, M, and N, on the other hand, help you tackle both your uncovered hospital costs and some (or most) of your Medicare Part B costs. We also feel it's important to mention that after the year 2020, Medigap Plan F will no longer be available for purchase. it is the most comprehensive plan available, so if you can afford it, we suggest you get grandfathered into the program before it expires. Without a Medigap supplement like Plan F to help with your Part B costs, your coinsurance and copayment charges could end up costing you a pretty penny. But as long as you pay your monthly premiums on time in full every month, your Medigap policy will help share the burden of those costs with you so that you don't end up draining your life savings just to get adequate medical care.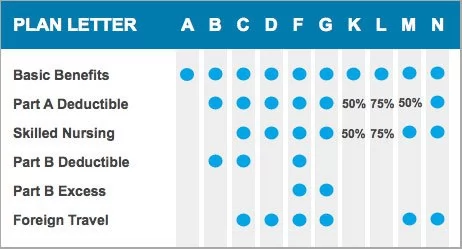 Because Medigap insurance policies are smaller than Medicare Advantage policies, you won't have the option to add prescription drug coverage or other supplementals to the same plan. To cover your prescription drugs, you'll need to enroll in the federal Medicare Part D Prescription Drug Program. In order to get dental and vision coverage, you'll have to enroll in those separately through a private provider. If you think this means your costs will go up, ask around and see if any vision or dental providers in your area offer discounts for seniors. You may be surprised by the deals you can get – for some residents, a Medigap policy is still the more affordable option, and more than adequate enough to meet their needs.
If you are 65 or older and plan to spend your golden years in Indianapolis, then you need to make sure you have adequate health insurance coverage. Medical costs are going up every single year, and the gaps in Medicare coverage which most seniors don't know about can get very expensive over time! If you're having trouble finding a plan, please call us. We have knowledgeable assistants standing by who can help you get an affordable and comprehensive plan in as little as a few minutes!
| | | | |
| --- | --- | --- | --- |
| Medigap Plan | Minimum Monthly Premium | Maximum Monthly Premium | Average Estimated Monthly Premium (Part B Premium Included) |
| Plan A | $63 | $900 | $617 |
| Plan B | $63 | $900 | $617 |
| Plan C | $63 | $900 | $617 |
| Plan D | $63 | $1,059 | $697 |
| Plan F | $63 | $1,217 | $776 |
| Plan F (high deductible) | $24 | $900 | $598 |
| Plan G | $63 | $1,079 | $707 |
| Plan K | $48 | $900 | $610 |
| Plan L | $63 | $900 | $617 |
| Plan M | $63 | $900 | $617 |
| Plan N | $63 | $900 | $617 |