Whether you live in Meridian, Boise, or anywhere in between, you're probably familiar with the state of the healthcare system. If you happen to be a senior, you're set up to be on the receiving end of some potentially catastrophic coverage gaps. Nowadays, seniors who rely on Medicare to meet their healthcare needs are more and more frequently finding themselves getting caught in these gaps, where things like extended hospital stays or custodial care simply aren't paid for by the federal government. This can result in you spending thousands of dollars out of pocket every year. Let's take a quick look at some of the numbers to see just how many seniors in Meridian this affects today.
Facts and Figures
There are 13,813 senior citizens living in Meridian right now

There are 5 hospitals in the Meridian area where seniors can get emergency and/or in-patient care

31% of Idaho seniors have a Medicare Advantage plan

24% of seniors have a Medicare Supplement (Medigap) plan

Which leaves 45% of seniors potentially uninsured or underinsured against costly Medicare coverage gaps!
It's hard to think in terms of statistics and percentages, so let's see what that 45% look like in real numbers. That 45% of uninsured or underinsured seniors in the Meridian area comes out to 6,216 people or just about one in every two seniors in the city. To put it another way, that's like flipping a coin to see if you'll go to the doctor or if you'll stay home and get sicker. On the other hand, you might have won the coin toss. You might be in the best shape you've ever been in! But are you familiar with the concept of age-related illnesses? Age-related illnesses are the diseases and disorders that become more common and more severe as you age. This means that you could be feeling fine today and then tomorrow you could see your joints begin to swell or your memory go a little fuzzy. The chart below lists a few of the most common age-related illnesses in the city of Meridian.
| | |
| --- | --- |
| Disease | Prevalence in Meridian |
| Arthritis | 20% |
| High Blood Pressure | 26% |
| Coronary Heart Disease | 5% |
| Diabetes | 7% |
| Kidney Disease | 2% |
Healthcare Costs in Meridian, ID
As you can see, age-related illnesses are rather widespread in the Meridian area. Due to the fact that seniors there are living longer lives now than ever before, these numbers are destined only to climb over the next few years, as more seniors live long enough to develop symptoms severe enough to warrant a diagnosis. This brings us to our next point: the prevalence of age-related illnesses among the population isn't the only thing that increases with age. So too do the frequency and severity of symptoms of these various illnesses. Of course, this also means that the costs of treatment for each afflicted person is increasing more and more each year. The information below provides a look at the minimal estimates of annual costs of treatment for relatively healthy seniors.
| | | |
| --- | --- | --- |
| Disease | Prevalence in Meridian | Annual Cost of Treatment |
| Arthritis | 20% | $291 |
| High Blood Pressure | 26% | $354 |
| Coronary Heart Disease | 5% | $9,781 |
| Diabetes | 7% | $2,173 |
| Kidney Disease | 2% | $8,863 |
Medicare Advantage Savings in Meridian, ID
It is important to note that, despite what the name may suggest, Medicare Advantage plans are not actually part of the federal Medicare system. Instead, they are privately owned and privately operated insurance plans provided by independent businesses. The only thing that the government controls about Medicare Advantage plans is the minimum coverage options via a mandate that all Medicare Advantage plans must cover the same benefits as Original Medicare. Because of the fact that these are private insurance providers, they are capable of adding on additional healthcare benefits, enabling you to customize your plan to match your specific needs. And thanks to various subsidies from the government, your Medicare Advantage plan could potentially cost you absolutely nothing despite providing you with better coverage than your Original Medicare plan.
Among your additional options is prescription drug coverage. When you enroll in a Medicare Advantage plan, you can opt into a prescription drug coverage plan that provides you with as comprehensive or as simplistic a plan as you prefer. This means that you can choose a plan that covers only generic prescriptions or everything from name brands to medical equipment such as glucose monitors and testing strips. The former is great for anybody who only takes a small amount of prescriptions (one or two different medications) and the latter is great for anybody who suffers from severe and chronic health conditions. The chart below shows just how much money you could save over the five- and ten- year periods.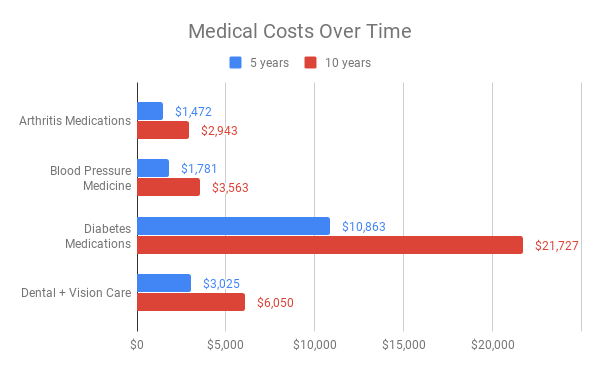 There are almost no limits on the level of care that you can receive through Medicare Advantage plans. If you want something covered, you can add it to your plan. Medicare Advantage plans even come with the option to add dental and vision care to your Medicare insurance, which is an option exclusive to Medicare Advantage. Neither Original Medicare nor Medicare Supplement insurance have the option to provide you with dental or vision care, meaning that you would still have to seek outside assistance in order to see your dentist. However, with a Medicare Advantage plan, that is not something that you'll ordinarily have to worry about.
Medicare Supplement (Medigap) Savings in Meridian, ID
Unlike Medicare Advantage plans, Medicare Supplement (also known as Medigap) insurance plans do not replace your existing Medicare. Rather, they supplement it, adding additional coverage options on top. Whereas Medicare Advantage can be seen as sending the meal back to be replaced by a new order, Medicare Supplement insurance can be seen as adding additional layers onto a cake in order to get it to the size that you need. These plans tend to be limited by their lack of ability to customize improvements to the existing Medicare coverage options, however, since they are supplements to the existing coverage rather than replacements. In general, these plans come in one of two categories with ten plans in total.
The first of those categories deals primarily with Medicare Part A coverage gaps, which can pose monumental challenges to seniors suffering from conditions similar to chronic kidney or heart disease. This category includes Medicare Supplement insurance Plans A, D, K, and L. Although these plans can be perfect for anybody who requires frequent, expensive emergency and/or in-patient care, they don't provide much benefit for any other part of Medicare. That means that, if you find yourself struggling with coverage gaps related to other parts of Medicare, such as Medicare Part B, you're not going to get the most out of your Medigap A, D, K, or L plan.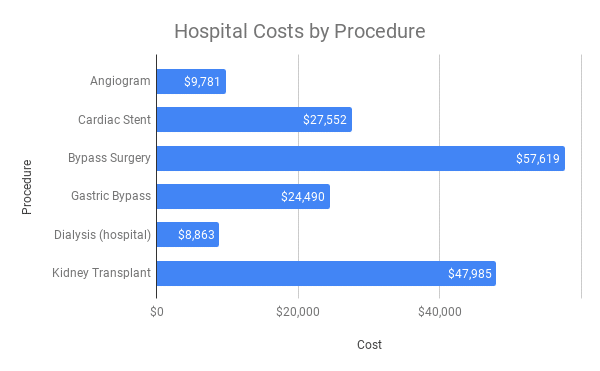 The next few Medicare Supplement insurance plans include Medigap Plans B, C, F, G, M, and N. Whereas the first four plans mentioned above only provide benefits relating to Medicare Part A coverage gaps, these plans provide coverage benefits relating to both Medicare Part A and Medicare Part B coverage gaps, providing much more versatile care options. Unfortunately, not all of these plans are going to be around forever. Medigap Plan F is no longer going to be available for enrollment as of 2021. If you enroll in Plan F before the 2021 deadline, you might get lucky and get to keep your plan after it is no longer offered; this is called "grandfathering". But if you miss the deadline, you'll have to choose a plan with similar – albeit lesser – benefits instead.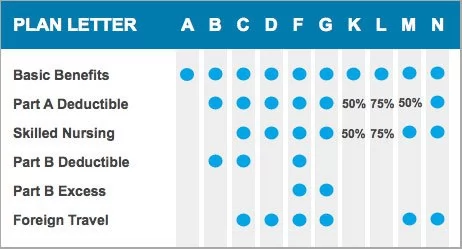 One of the major downsides of all Medigap plans is that not a single one of them provides any benefits related to dental care, vision care, or prescription drug coverage. As mentioned earlier, the only Medicare plan that enables additional coverage options for each of these areas is Medicare Advantage, and that's because Medicare Advantage plans are not technically Medicare plans but rather are private healthcare plans designed to function identically to original Medicare at the bare minimum. That said, it is possible to obtain Part D prescription drug coverage with a Medigap plan and private vision and dental plans tend to be incredibly cheap, sometimes costing less than $50 per month for both.
Living in Meridian can be wonderful, but not for the more than 6,000 seniors who struggle each day to obtain access to quality healthcare. The longer you wait, the more you risk your financial and healthcare independence in the face of rising medical costs and increased risk of developing or worsening age-related illnesses. So don't wait a second longer. Contact us here at Medigap.com today and begin shopping for the plan that is right for you. Your future health is in your hands.
| | | | |
| --- | --- | --- | --- |
| Medigap Plan | Minimum Monthly Premium | Maximum Monthly Premium | Average Estimated Monthly Premium (Part B Premium Included) |
| Plan A | $89 | $260 | $310 |
| Plan B | $119 | $244 | $317 |
| Plan C | $141 | $296 | $354 |
| Plan D | $130 | $242 | $322 |
| Plan F | $142 | $307 | $360 |
| Plan F (high deductible) | $31 | $105 | $204 |
| Plan G | $119 | $246 | $318 |
| Plan K | $54 | $140 | $233 |
| Plan L | $97 | $164 | $266 |
| Plan M | $119 | $218 | $304 |