When you're enjoying your retirement, the last thing you should have to be worried about is your health insurance. Unfortunately for seniors on Medicare, that worry is commonplace thanks to the pressing reality of Medicare coverage gaps. Medicare coverage gaps refer to specific medical benefits that the government will not cover, and therefore expect you to pay out-of-pocket for your medical care. From hospital stays to coinsurance, coverage gaps can affect just about every part of your health insurance. On top of that, you risk falling into the "donut hole" of lost prescription drug coverage (for Medicare Part D beneficiaries). Fortunately, there are two common methods of securing your healthcare from oppressive coverage gaps: Medicare Advantage and Medicare Supplement insurance plans.
Facts and Figures
There are 15,504 seniors living in Bridgeport right now.
There are 3 hospitals in Bridgeport where seniors can go to receive emergency and/or in-patient care.
28% of Connecticut seniors have a Medicare Advantage plan.
27% of Connecticut seniors have a Medicare Supplement (Medigap) plan.
Which leaves 45% of seniors potentially uninsured or underinsured against costly Medicare coverage gaps!
There are currently more than 6,900 seniors in Bridgeport who don't have reliable access to safe and affordable healthcare treatment options. Even for the healthiest members of that figure, that lack of healthcare accessibility can be a serious problem. As you grow older, your risk of developing an age-related illness increases significantly in both prevalence and severity. That means that what might be a mild joint pain today could soon become severe and debilitating arthritis. Unfortunately, it's also possible to develop additional conditions even if you already have one or more other health concerns. When it comes to age-related illnesses, few are mutually exclusive. The chart below shows just how prevalent a few of the most common age-related illnesses are in Bridgeport, Connecticut.
| | |
| --- | --- |
| Disease | Prevalence in Bridgeport, CT |
| Arthritis | 22% |
| High Blood Pressure | 30% |
| Coronary Heart Disease | 6% |
| Diabetes | 12% |
| Kidney Disease | 3% |
Healthcare Costs in Bridgeport, CT
As your symptoms become more frequent and more severe, you can expect your average treatment costs to increase as well. That is true for a variety of reasons, the first of which being that increased severity of symptoms often leads to an increased need to visit the doctor. If you happen to have to stay overnight in a hospital, those expenses are added to your Medicare Part A expenses and can end up pushing you right into the Medicare Part A coverage gaps. If your illnesses require a large number of prescription medications, you could end up falling into the "donut hole" of Medicare Part D. And the list goes on. Thanks to the constantly rising nature of medical costs in general and the fact that seniors are living longer lives now than ever before, the problem is becoming more severe with each passing year. The chart below provides a few lower estimates of annual out-of-pocket costs you might be facing by continuing to rely on Original Medicare.
| | | |
| --- | --- | --- |
| Disease | Prevalence in Bridgeport, CT | Annual Cost of Treatment |
| Arthritis | 22% | $294 |
| High Blood Pressure | 30% | $356 |
| Coronary Heart Disease | 6% | $8,525 |
| Diabetes | 12% | $2,173 |
| Kidney Disease | 3% | $8,237 |
Medicare Advantage Savings in Bridgeport, CT
Medicare Advantage, on the other hand, can enable certain groups of seniors to retake control of their finances and continue to receive the quality of care that they both need and deserve. What sets these plans apart from Original Medicare plans is that Medicare Advantage plans are not provided by the government. Instead, they are provided by private businesses. But that doesn't mean that your quality of care would decrease by switching. Rather, many seniors experience the opposite. Not only are Medicare Advantage plans required by law to provide the same level of baseline care as Original Medicare, Medicare Advantage providers frequently also offer additional coverage options in exchange for higher premiums. However, because the government is typically willing to take over the bulk of your premiums, you might end up paying nothing at all in exchange for significantly improved health insurance.
Seniors with chronic conditions such as high blood pressure, diabetes, and arthritis stand to benefit the most from Medicare Advantage plans. As mentioned earlier, the Medicare Part D "donut hole" can be quite a problem for seniors who rely on a large number of prescriptions. However, with Medicare Advantage, that problem can be solved through the addition of comprehensive prescription drug coverage as well as coverage for minor medical equipment, including glucose monitors and testing strips. If you're in a situation where prescription drugs play a critical role in your healthcare, Medicare Advantage should be considered if for no other reason than the prescription drug coverage. Over time, the savings really begin to speak for themselves.
Because of the diversity of care options available to Medicare Advantage beneficiaries, it's possible to save even more money. By enrolling in vision and dental care coverage, you can ensure access to a comprehensive level of care that keeps you thoroughly covered in all major aspects of your health. This is one of the key differences between Medicare Advantage and similar plans. Original Medicare, in fact, covers very little dental coverage of any kind and virtually no vision care whatsoever. Unfortunately, neither do any of the various types of Medicare Supplement Insurance Plans.
Medicare Supplement (Medigap) Savings in Bridgeport, CT
Unlike Medicare Advantage, Medicare Supplement (Medigap) plans function as enhancements rather than replacements of your existing Original Medicare coverage. Depending on the plan that you choose, you can regain your financial and healthcare freedom by bridging Medicare coverage gaps. Each and every Medigap plan type is designed with Medicare Part A coverage gaps in mind, since those gaps can be exceptionally high for seniors who struggle with chronic health conditions the likes of age-related kidney and heart disease. That means making things like blood transfusions, in-patient hospitalizations, and skilled nursing care more affordable.
Medigap plans types A, D, K, and L are a few of the less comprehensive plans, but that doesn't make them any less useful for certain seniors. If you have been paying high out-of-pocket costs due to coverage gaps in Part A of Original Medicare, then one of these plans could help you quite a bit. On the other hand, if you also have high out-of-pocket costs due to coverage gaps in Part B of Original Medicare, you might not find any of these plans very helpful at all. Although these plans can provide great benefits related to Medicare Part A coverage gaps, they don't provide any benefit for Medicare Part B coverage gaps.
In order to secure Medigap insurance to cover your Medicare Part B coverage gaps as well as your Medicare Part A coverage gaps, you'll need to choose one of the following plan types: B, C, F, G, M, and N. Each of these plans not only provides financial assistance for things like in-patient hospitalizations and blood transfusions but also covers the Medicare gaps involved in most emergency services. If you are prone to falls, heart attacks, or other circumstances that require frequent emergency assistance, one of these plans might be great for you. Unfortunately, Medigap type F will not be available after 2020. Starting in 2021, the plan will be discontinued. To receive comparable treatment options, you will either have to switch to another one of the Medigap plans that covers both Medicare Part A and Medicare Part B coverage gaps or hurry up and enroll in Medigap Plan F now while it is still available.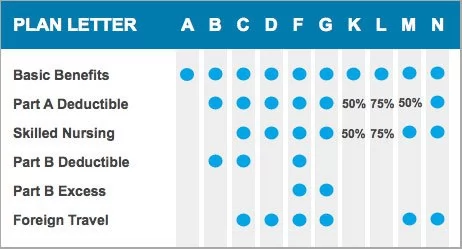 As mentioned earlier, none of the above Medigap plans are capable of providing dental or vision coverage. To make matters more inconvenient, Medigap plans also aren't capable of covering prescription drugs. But that doesn't mean that you won't be able to have any of these three categories covered by insurance. Rather, you'll just have to look elsewhere. For example, Medicare Part D prescription drug coverage can oftentimes provide seniors with exactly what they need in order to ensure that their prescription medication needs are met. When it comes to vision and dental care, you could easily enroll in a private insurance plan for less than $100 per payment period. Depending on the provider, you might even be able to get a nice plan for half of that.
Keeping yourself in good shape is a tough responsibility for anybody. Unfortunately, that responsibility only gets tougher as we age. When confronted with age-related illnesses, rising medical costs, and the complex healthcare system, having proper health insurance is more important now than ever before. So don't delay. Head over to Medigap.com and get yourself started on your journey to healthcare independence today!
| | | | |
| --- | --- | --- | --- |
| Medigap Plan | Minimum Monthly Premium | Maximum Monthly Premium | Average Estimated Monthly Premium (Part B Premium Included) |
| Plan A | $147 | $784 | $601 |
| Plan B | $202 | $726 | $600 |
| Plan C | $239 | $573 | $542 |
| Plan D | $221 | $515 | $504 |
| Plan F | $221 | $544 | $518 |
| Plan F (high deductible) | $50 | $90 | $206 |
| Plan G | $199 | $473 | $472 |
| Plan K | $62 | $135 | $234 |
| Plan L | $119 | $301 | $346 |
| Plan M | $201 | $430 | $451 |
| Plan N | $146 | $289 | $353 |