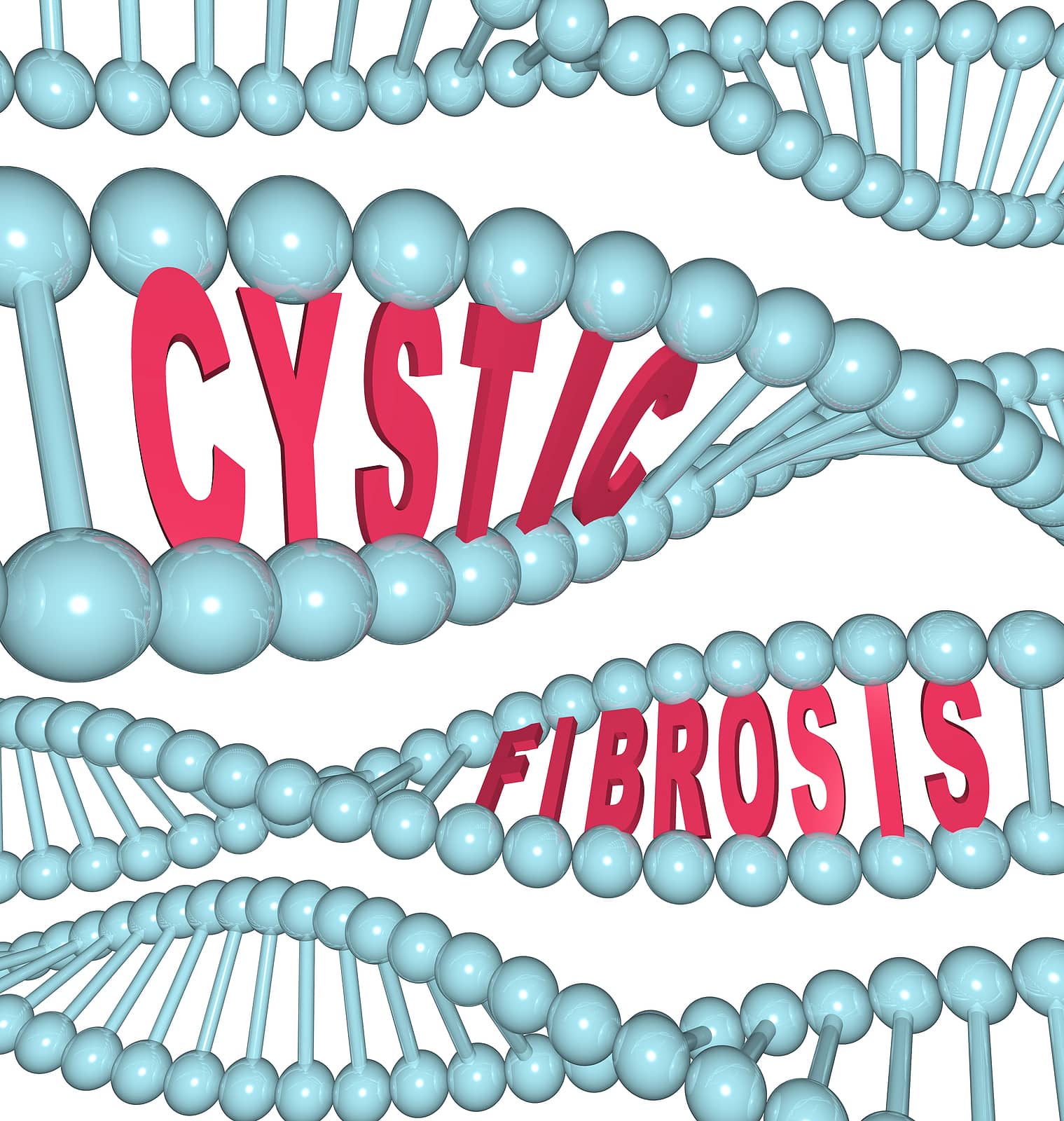 Cystic fibrosis is a genetic disease linked to changes in a gene located on chromosome 7. Chromosome 7 is the cystic fibrosis transmembrane conductance regulator or CFTR gene.
The CFTR protein is in the cell wall. This protein's normal function is to regulate the transport of ions and chlorine within the cell wall.
In people with cystic fibrosis, the CFTR gene mutates so that the protein is either abnormal or absent. Chlorine can no longer flow normally through the cell wall. This lock of chorine flow creates an imbalance and increases fluid viscosity and local inflammation.
Today, more than 2,000 variants of the CFTR gene are known. Some are harmless, while others cause more or less severe diseases.
Medicare Coverage for Cystic Fibrosis
Medicare is the federal health insurance program. It provides healthcare for people 65 or older and under 65 with specific health conditions. Individuals on Social Security Disability insurance for two years can qualify for Medicare before age 65.
Medicare Part A covers treatment administered in an inpatient setting. Part A includes hospital and skilled nursing facilities.
Medicare Part B covers doctor office visits, outpatient medical services, durable medical equipment, and diagnostic testing, including laboratory testing.
These two parts of Medicare are considered Original Medicare.
Medicare Part C is called the Medicare Advantage plan. These plans combine the benefits of Medicare Part A and Medicare Part B into one easy-to-use plan. In most cases, these plans also include your Medicare prescription drug coverage and additional benefits not covered by Medicare.
Medicare Part D is standalone Medicare prescription drug coverage. These Part D plans combine with Original Medicare and Medicare Supplement plans for drugs picked up from the pharmacy.
Private health insurance companies approved by the Centers for Medicare and Medicaid Services administer Medicare Part C and Part D plans.
Medicare Part B or Medicare prescription drug coverage administers the majority of the treatment for Cystic Fibrosis is covered under Medicare Part B or Medicare prescription drug coverage.
Medicare-Approved Treatment for Cystic Fibrosis
At present, there is no cure for cystic fibrosis, and cystic fibrosis treatments help people manage their symptoms and live healthier lives. According to the Cystic Fibrosis Foundation, there are several treatment options, including medication, nutritional therapy, and fitness programs.
Airway clearance techniques
Airway clearance techniques can help people with cystic fibrosis clear their lungs so they can breathe more easily.
Inhaled medication
These types of medication can open a person's airways and thin out mucus. Nebulizers, or aerosols, deliver liquid medicine as a fine mist.
Antibiotics
Doctors can prescribe these to fight lung infections. The person can take medicine several was. Orally, intravenously, or via a nebulizer.
Dietary changes
A doctor may recommend that a person follow a high-calorie, high-fat diet to help maintain a moderate weight. They may also recommend supplements such as pancreatic enzymes, salts, or vitamins to increase nutrient absorption.
CFTR therapy
Cystic fibrosis transmembrane conductance regulator therapy is a new drug that targets the defective gene that causes cystic fibrosis. It then promotes the proper balance of salt and fluid in the lungs, thinning mucus.
Surgery
Doctors may recommend a lung transplant to people with cystic fibrosis. However, the process involves an assessment and a lot of planning and preparation.
Some of the services covered by Medicare are listed below:
Testing and diagnosis
Although cystic fibrosis often occurs in childhood, this isn't always the case. Some people with cystic fibrosis don't know they have the disease until they are adults. You will get the testing coverage you need under your Medicare Part B or Medicare Advantage plan.
Doctors and specialist visits
Medicare Part B or Medicare Advantage plans will cover doctor and specialist visits. If you use Medicare Part B, you don't need a referral to see a specialist. Most Medicare Advantage plans require you to get a referral from your primary care physician before seeing a specialist.
Physical therapy
You can get physical therapy coverage through Part B or a Medicare Advantage plan. Medicare doesn't limit the amount of physical therapy you can receive as long as your doctor believes the treatment is medically necessary.
Respiratory care
Respiratory care includes the services of a respiratory therapist. Medicare Part B or Medicare Advantage plans cover these respiratory services. However, suppose you receive respiratory care in a hospital, skilled nursing facility, or home health services. In that case, Medicare Part A will cover the services.
Pulmonary rehabilitation
Medicare Part B and Medicare Advantage plans cover outpatient care: outpatient pulmonary rehabilitation, not inpatient pulmonary rehabilitation. However, you may need prior authorization to use these services.
Lung transplant
Medicare will provide coverage if you need a lung transplant. Part B covers your doctor visits and preparation, and Part A will handle your transplant.
Medicare Coverage for Cystic Fibrosis Durable Medical Equipment
Medicare also covers the home medical equipment you need. Common devices include:
Home oxygen therapy, including oxygen tanks, plumbing, and other supplies
Atomizer
Chest physiotherapy waistcoat
Positive airway pressure machine
You must obtain your device from a provider who participates in Medicare.
Medicare Costs Related to Cystic Fibrosis Treatment
When it comes to Medicare costs for the different treatments related to cystic fibrosis, what part of Medicare is paying is key.
Suppose you need services such as a lung transplant under Medicare Part A. In that case, you can expect to pay the Medicare Part A deductible.
If you're in the hospital for more than 60 days, you can expect to pay an additional per-day copay. Likewise, when moved to a skilled nursing facility, you'll be expected to pay a per-day copay after day 20.
For Services covered by Medicare Part B, such as diagnostic testing or physical therapy, you should expect to pay a 20% coinsurance and potentially a 15% excess charge, assuming you've met your Part B deductible.
Suppose you have enrolled in a Medicare Supplement to go along with your Original Medicare. In that case, you'll pay much less out of pocket. These Medigap plans pick up all or part of your portion of the Medicare cost-share.
You'll pay a fixed copay for most services if on a Medicare Advantage plan. You may sometimes be responsible for 20%, but the coverage will stop charging you once you reach your maximum out-of-pocket.
For prescription drugs purchased at the pharmacy, your costs will depend on what Part D prescription drug plan or Medicare Advantage plan you choose.
The plan you choose will dictate the charges you pay based on their fee schedule, found in the summary of benefits.
FAQs
Does Medicare cover genetic testing for Cystic Fibrosis?
In some cases, Medicare may cover genetic testing. Your doctor must explain that this it's medically necessary for you.
Does Insurance Cover Cystic Fibrosis Screening?
A health insurance company may cover cystic fibrosis screening. Parts A and B also help to cover routine care you may get through a clinical trial.
What is the average cost of a lung transplant?
The typical cost of a transplant is between $500,000 and $800,000.
Does Medicare cover lung transplants?
Medicare covers most medical and hospital services related to organ transplants.
Medicare covers lung transplants, and all Medicare-covered transplants performed must occur at a Medicare-approved hospital.
Are people with cystic fibrosis eligible for health insurance?
Generally, people with cystic fibrosis are eligible for Medicare through SSDI until age 65. Individuals under the age of 65 who receive SSDI are automatically enrolled in Medicare Parts A, and B. Medicare coverage begins 24 months after becoming eligible for SSDI.
Getting Help with Costs Related to Cystic Fibrosis with Medicare
If you need help with the pocket costs related to Cystic Fibrosis, we invite you to fill in our online request form or call us. We have licensed insurance brokers that specialize in every aspect of Medicare.
We can help educate you on your options, check your prescriptions against all the plan's formularies, and verify if your doctors take Medicare coverage for Cystic Fibrosis. Once you have decided on the best plan for your needs, we can help make the enrollment process quick and easy.