Are you a Phoenix senior approaching 65 or already subscribing to Original Medicare? If you are, it's important that you understand just how devastating medical bills can become if you have inadequate insurance. If you are counting on Original Medicare alone to provide you with the health insurance you are going to need, you will be leaving yourself exposed to hefty coinsurance, copayments, and even complete lack of coverage for many healthcare conditions. Medicare is a great start, but it has many gaps in coverage. Smart seniors will opt for additional insurance coverage to cover the gaps. You have options; Medicare Advantage plans, Medigap plans, Part D drug plans, and private insurance company plans. The question becomes, what's right for you both in terms of coverage and affordability. The cost of healthcare in Phoenix is only going to go up. Before you hang up your "earnings career," learn what's available and get protected.
Facts and Figures
There are 166,027 senior citizens living in Phoenix right now
There 11 hospitals in the Phoenix area where seniors can get emergency and/or in-patient care
39% of Arizona seniors have a Medicare Advantage Plan
15% of seniors have a Medicare Supplement Plan (Medigap)
Which leaves 46% of seniors potentially uninsured or underinsured against costly Medicare coverage gaps!
Remember when we were young and indestructible. Now that we are older, we know indestructibility fades a bit with each passing year. In fact, although we don't like to admit it, now we can't do some of the things we used to when we were younger. Like an old car, we need more frequent maintenance and sometimes, even spare parts. As we age we get more susceptible to injuries and diseases. Our bones are more brittle, and our immune system isn't what it was a couple of decades ago. Chronic disease stops being something we may have read about and can become a very real part of our life. You might be surprised just how prevalent chronic disease is in Phoenix seniors. Check out the chart below. With those kind of numbers it's likely you know someone who has a chronic disease and you can see how they represent a real threat to your own good health.
| | |
| --- | --- |
| Disease | Prevalence in Phoenix |
| Arthritis | 23% |
| High Blood Pressure | 28% |
| Coronary Heart Disease | 6% |
| Diabetes | 10% |
| Kidney Disease | 3% |
Healthcare Costs in Phoenix, AZ
Age has a way of sneaking up on you. Many Phoenix seniors are surprised how beat up their bodies are after a weekend playing games with visiting grandkids. As Dirty Harry once said: "A man has to know his limitations." Seriously, the older we get the more susceptible we are to injury and disease and while those events may be an inconvenience for younger people, they can be a financial nightmare for a retiree. You don't have paid sick days, or the ability to continue to earn working from home. It's just your insurance and your retirement nest egg.
Treating chronic conditions can get uncomfortably expensive if you don't have adequate insurance to fill the gaps in your Medicare coverage. How expensive? Take a moment now to check out the annual cost for the most prevalent chronic diseases affecting Phoenix seniors. Now imagine the cost over the number of years that you will continue to need the treatment. It's not a pretty sight.
| | | |
| --- | --- | --- |
| Disease | Prevalence in Phoenix | Annual Cost of Treatment |
| Arthritis | 23% | $280 |
| High Blood Pressure | 28% | $288 |
| Coronary Heart Disease | 6% | $7,581 |
| Diabetes | 10% | $2,158 |
| Kidney Disease | 3% | $7,225 |
Medicare Advantage Savings in Phoenix, AZ
Generally speaking, Medicare is a good plan for Phoenix seniors. However, Medicare comes with some pretty hefty coinsurance, copay, and deductible requirements that can quickly turn a medical event into a major financial event. One of the ways that you can minimize those "gaps" in comprehensive coverage is to purchase a Medicare Advantage plan. These companies are motivated to keep you healthy and minimize "responsive" care costs and they do it by focusing on preventive care benefits not offered by Medicare. Most offer a drug program and some form of dental and eye care as well as other services not fully covered by Medicare. Most are organized as networks like an HMO or PPO which means you may be limited in the providers you can use. On the plus side, because Medicare is paying the bill, many offer the plans for zero premiums.
We talked briefly about chronic disease and its prevalence in the Phoenix senior population. But the cost of those diseases are not just for doctors and hospital services. Those diseases require prescription drug medications and it's likely you'll have to take them for the rest of your life. Medicare and Medigap do not offer drug plans. Medicare Advantage plans do. The cost of drugs and monitoring equipment like test strips can add up quickly. How quickly? Check out the chart below especially if you wind up with two or three chronic diseases at once. The price of drugs most likely will not go down. Having the protection offered by Medicare Advantage is essential to your financial health.
Dental and eye care. Think about it for a moment. When do you think you'll have the most trouble with gum health, teeth falling out, and eyes needing assistance to retain their ability to see clearly? If you're a Phoenix senior you already know the answer. Medicare, however, does not see dental and eye care as a priority. It does not provide benefits for either unless a covered injury or disease is involved. Medicare Advantage plans see dental and eye care as preventive medicine. Providing dental care can prevent heart disease and digestive issues. Eye care can prevent falls and auto accidents. As a result, most plans will offer limited dental exams and treatment along with free annual eye exams. This is another example of how Medicare Advantage plans' preventive approach can offer benefits not provided by Original Medicare or Medigap plans.
Medicare Supplement (Medigap) Savings in Phoenix, AZ
Medigap plans are tied directly to the coverage, benefits, copays, coinsurance, and deductibles of Original Medicare. Their purpose is to cover the gaps, or costs that are not covered by Medicare. For example, if Medicare has a 20% coinsurance requirement your Medigap policy will pick all or part of that cost depending on the plan you choose. This coverage becomes extremely important for seniors who develop age related kidney and heart disease who typically will require longer hospitalization or skilled nursing facility stays and expensive treatments. Some plans even extend the number of covered days by as much as a year. Dialysis is covered by Medicare but comes with a copay. Dialysis is a three times a week treatment and it's expensive. Having a Medigap plan that picks up the unpaid portion can be a financial lifesaver.
While most Medigap plans provide coverage for gaps in both Part A and Part B of Original Medicare, there are four, Plans A, D, K, and L that principally cover gaps in Part A (hospitalization) and may partially cover Part B costs. These plans are ideal for healthy seniors or seniors with only minor health concerns and who have the resources to deal with Medicare copays in Part B. Typically they will cover the Part A deductible, coinsurance, and copay requirements, and will extend the number of Medicare covered days in the hospital. In addition, some will pick up a percentage of Part B coinsurance and copay costs once the Part B deductible is met.
It's pretty obvious that most Phoenix seniors cannot rely on Medicare alone to cover their medical expenses. Medical expenses have a way of being unpredictable and given the coinsurance and deductibles associated with Part A and Part B, a person can quickly incur a serious medical debt. Medigap, particularly plans B, C, D, F, G, M, and N cover gaps in Medicare coverage and will pay all or part of what Medicare doesn't. That is a reassuring thought for a senior who finds themselves in an ambulance on the way to the hospital or undergoing a series of expensive imaging scans. Each of these plans have different benefits and terms to meet different needs. However, if you are considering one plan offered by two or three companies, know that the benefits of that plan have to be identical. The only difference between companies will be premium cost, service, and reputation. Also be aware that these plans are typically high deductible, low cost. Plan F will not be available after 2020.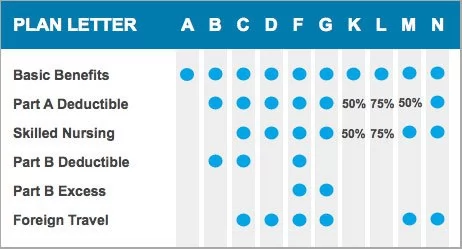 Original Medicare does not offer prescription drug coverage. Because Medigap policies are tied to Medicare benefits, they don't offer drug coverage either. As you can imagine, depending on what drugs you are prescribed, the cost of those drugs can take a healthy chunk out of your monthly retirement income. If you are unfortunate enough to become one of the thousands in Phoenix who needs insulin, you really need a drug policy that will help you defray or cover the cost. Fortunately, you can purchase a separate Part D drug policy from authorized private insurance companies. This premium will be in addition to your Medigap premium and your Part B premium (normally deducted from your social security benefits). Not all Plan D plans are the same. Before you buy, check their listing of drugs provided to ensure they carry the drug you need.
Getting older is not for the faint of heart. You may be looking forward to all that free time to play golf, or fish, or just dine out with your spouse, but you know in the back of your mind that you are more financially vulnerable than you have ever been. Health costs in Phoenix, AZ are going up. Health insurance is confusing. Give yourself some peace of mind and invest some of that free time to sit down with a licensed insurance agent who specializes in Medicare related coverages. There are plenty of options to choose from and plenty of different prices. Take advantage of an expert's knowledge and let him or her help you select a policy that both meets your needs and your budget. It's out there, and with the help of a pro you'll find it.
| | | | |
| --- | --- | --- | --- |
| Medigap Plan | Minimum Monthly Premium | Maximum Monthly Premium | Average Estimated Monthly Premium (Part B Premium Included) |
| Plan A | $76 | $259 | $303 |
| Plan B | $117 | $293 | $341 |
| Plan C | $133 | $335 | $370 |
| Plan D | $111 | $288 | $335 |
| Plan F | $131 | $337 | $370 |
| Plan F (high deductible) | $27 | $100 | $199 |
| Plan G | $102 | $294 | $334 |
| Plan K | $39 | $138 | $224 |
| Plan L | $71 | $194 | $268 |
| Plan M | $124 | $211 | $303 |
| Plan N | $87 | $264 | $311 |