Chandler, Arizona can be a lovely and affordable place to live – that is, if you don't have Medicare coverage gaps to worry about. For an increasing number of seniors in the area, healthcare costs have become too severe to handle on their own, sometimes rising into the thousands of dollars each month. Fortunately, there are a few ways to avoid having to pay those massive monthly payments. Two of the most common strategies that seniors in Chandler rely on to improve their access to the high-quality healthcare that they deserve are as follows: the purchase of Medicare Advantage plans, or Medicare Supplement (Medigap) Insurance plans. Let's look a little more closely at the numbers.
Facts and Figures
There are currently 24,945 seniors living in Chandler, Arizona.
There are only 2 hospitals in Chandler, Arizona where seniors can go for emergency and/or in-patient care.
39% of Arizona seniors have a Medicare Advantage plan.
19% of Arizona seniors have a Medicare Supplement (Medigap) plan.
That leaves 42% of seniors possibly uninsured or underinsured against costly Medicare coverage gaps!
At first glance, this 42% figure might not seem like much, but that number means that more than four out of every ten seniors in Arizona are at risk of suffering massive financial loss due to unforeseen illnesses or medical procedures that are not covered by Medicare. To make matters worse, you might be 65 or older today and still be enjoying the best health you've ever experienced only to find out tomorrow that you are in desperate need of insurance. The reason for this is that many diseases and illnesses have a strong correlation with age, meaning that as you get older your risk of developing one or more of those age-related illnesses increases exponentially. Whether you develop arthritis, high blood pressure, diabetes, or another disorder depends on a number of personal and environmental factors, but just take a look at the prevalence of these diseases among the seniors in your community.
| | |
| --- | --- |
| Disease | Prevalence in Chandler, AZ |
| Arthritis | 21% |
| High Blood Pressure | 25% |
| Coronary Heart Disease | 4% |
| Diabetes | 7% |
| Kidney Disease | 2% |
Healthcare Costs in Chandler, AZ
As you can tell from the chart above, the frequency of various illnesses increases with age. However, that's not all. As the frequency of these diseases increases, so too does the severity of their associated symptoms, which means that you will likely find yourself spending more time and money looking for medical treatment. In fact, each year, the money you spend out-of-pocket will likely be more than you spent the year before. Moreover, because of the fact that medical technologies have improved significantly over the past few years, seniors are living longer now than ever before. This increased lifespan combined with the increasing costs of medical care has led to a massive financial risk for seniors, particularly those seniors who find that their annual need for medical treatment is increasing at a rate that far outpaces the growth of their retirement savings – a situation that often forces those people out of retirement and back into the workforce.
| | | |
| --- | --- | --- |
| Disease | Prevalence in Chandler, AZ | Annual Cost of Treatment |
| Arthritis | 21% | $292 |
| High Blood Pressure | 25% | $354 |
| Coronary Heart Disease | 4% | $7,581 |
| Diabetes | 7% | $2,165 |
| Kidney Disease | 2% | $7,225 |
Medicare Advantage Savings in Chandler, AZ
For seniors with Medicare Advantage plans, however, the risk of being forced back into the workforce is almost zero percent. This is because these plans allow you to avoid the dangers of the Medicare coverage gap by switching to a Medicare Advantage plan owned and operated by a private insurance provider, rather than by the government. Despite the fact that these plans are not part of Medicare proper, they are still required by law to provide all of the benefits that you know and love from Original Medicare. The fact that they are privately operated, however, enables providers of Medicare Advantage plans to offer you the option to add extra coverage features in exchange for paying a little more in your monthly premiums. But considering that the government has programs set up to pay those premiums for you, why bother skimping out on your health? Your premium can end up being $0 whether you add the healthcare you need or not.
One of the most commonly added coverage areas in Medicare Advantage plans comes in the form of prescription drug coverage, something for which seniors who rely on Original Medicare plans routinely lose the ability to pay. Many seniors also choose to add on coverage for the minor necessities that cost only a little but need to be purchased in large amounts, making them prohibitively expensive. Such items include glucose monitors and testing strips, among other items. This makes Medicare Advantage one of the most effective healthcare options on the market for seniors who suffer from chronic illnesses that require routine monitoring. As the chart below demonstrates, seniors who switch to Medicare Advantage plans can save tens of thousands of dollars over a ten-year period.
Medicare Advantage plans can even save you money on dental and vision care, provided that you add those coverage areas to your plan. It's important to note once again that adding these benefits to your plan can sometimes cost you a net $0 thanks to government subsidies. These are also benefits that Original Medicare and Medicare Supplement (Medigap) insurance plans do not offer. If you suffer from cavities or other issues that require prompt attention from a dentist or a dental hygienist you can simply use your Medicare Advantage plan to go see your favorite doctors whenever they become available rather than having to wait until your dental health either gets better and goes away or gets worse and your teeth fall out.
Medicare Supplement (Medigap) Savings in Chandler, AZ
On the other hand, if you find that the more comprehensive Medicare Advantage plans provide a load of benefits that you simply don't need and you don't want the hassle of dealing with the larger plans, then you can enroll in a Medigap plan. Many Medigap plans are designed specifically for increasing your ease of access to hospital care and other Medicare Part A costs that would otherwise push you over the coverage limit and right into the Medicare coverage gap. These plans are a great option for seniors who find themselves stuck in the financial bracket where Medicare benefits are temporarily disabled, a situation that forces many seniors to either go without medical care or go bankrupt before Medicare's catastrophic healthcare coverage kicks in.
A few of the Medigap plans that focus exclusively on Medicare Type A expenditures such as the aforementioned hospital costs are Medigap plans A, D, K, and L. Although all of these plans are similar in most regards, each plan comes with its own benefits and drawbacks. The most noteworthy drawback that plans A, D, K, and L have in common is the fact that they don't cover expenses related to Medicare Part B. This means that you will still be stuck in the Medicare coverage gap for all of your Part B expenses. If you happen to have chronic heart or kidney disease, these costs could quickly balloon to unparalleled heights.
For seniors who need Medigap plans that cover both Medicare Part A and Medicare Part B expenses, plans A, D, K, and L simply won't do the trick. In that case, you'll want to look into Medigap type B, C, D, F, G, M and N plans. Each of these plans can free you not only from the Medicare coverage gap as it pertains to your Medicare Part A costs but also as it pertains to your Medicare Part B costs, potentially saving you thousands of dollars every year. Unfortunately, if you want a Medigap type F plan, then your ability to purchase this coverage will be coming to an end as of 2021. If you won't qualify for Medicare before 2021, you should begin looking for quotes for plans type B, C, D, G, M and N, which offer similar benefits.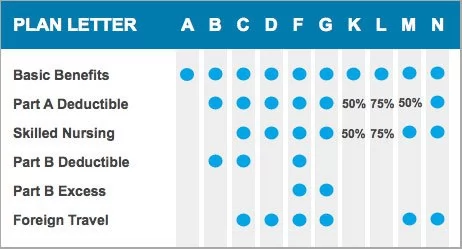 Another important thing to note about Medigap coverage plans is that they do not offer coverage benefits for dental or vision care. However, before you start thinking that your preferred option was just dashed right before your eyes, consider this: private vision and dental insurance coverage is typically some of the cheapest insurance on the market with many policies only cost a minuscule fraction of what some people pay for their healthcare coverage. This means that you could easily buy a private plan tailored to your specific needs and wants without spending anywhere nearly as much as you would be with Original Medicare. Not only that, but Medigap insurance plans also tend to come with options for Part D prescription drug coverage, which stands to help you save quite a bit of money each month. The specifics of exactly how much you'll save will depend on how many prescriptions you take each month. The more you take, the more a Medigap plan will save you.
It is more important today than ever before for seniors living in Chandler, Arizona to protect their health. For almost half of the senior population in this city alone suffering from being uninsured or underinsured, the risk of age-related injury or illness increases every day, but it doesn't have to. You can take your health into your own hands today. Go online to Medigap.com and start shopping for healthcare plans that work for you. Your future self will thank you.
| | | |
| --- | --- | --- |
| Medigap Plan | Minimum Monthly Premium | Maximum Monthly Premium |
| Plan A | $76 | $259 |
| Plan B | $117 | $293 |
| Plan C | $133 | $335 |
| Plan D | $111 | $288 |
| Plan F | $131 | $337 |
| Plan F (high deductible) | $27 | $100 |
| Plan G | $102 | $294 |
| Plan K | $39 | $138 |
| Plan L | $71 | $194 |
| Plan M | $124 | $211 |
| Plan N | $87 | $264 |