Watson Powell founded American Republic Insurance Company in 1929. American Republic is affiliated with the American Enterprise Group, Inc. They work with a network of companies to create a strong healthcare presence, especially in the Medicare field.
Their approach to staying customer-focused and market-driven has helped them to concentrate on changes that truly reflect the needs of their customers.
American Republic Supplemental Medicare Plans
Regarding supplemental Medicare plans, three coverages are being referred to. Medicare Supplement plans, Medicare Advantage plans, and Prescription Drug plans. Of these three, American Republic only offers Medicare Supplement insurance.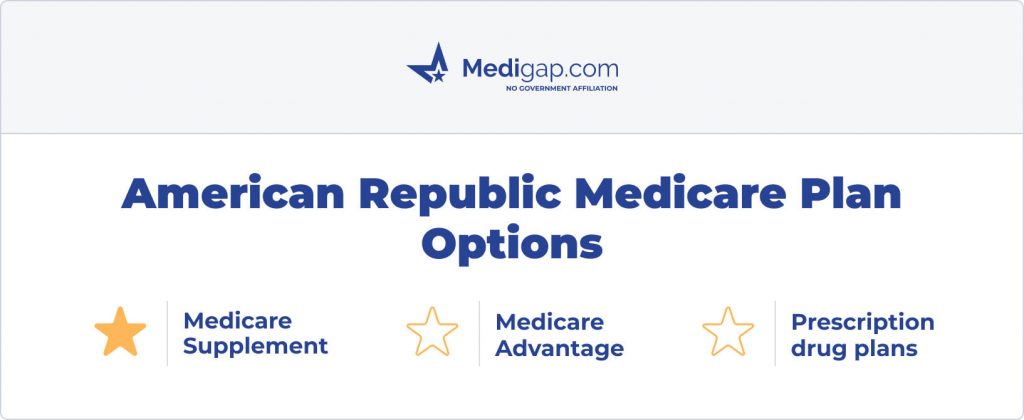 American Republic Medicare Supplement Plans
Medicare Supplement health insurance is a secondary insurance plan that Medicare beneficiaries add to Original Medicare.
These plans fill in the gaps in Medicare that you'd typically pay. This is why Medicare Supplement health plans are also called Medigap policies.
There are 10 Medigap plans that you can choose from. They help pay for your portion of Medicare costs, such as deductibles, copays, and coinsurance.
American Republic Medicare Advantage Plans
Medicare Advantage is Part C of Medicare. These plans combine your Medicare Part A, Medicare Part B, and in most cases, Medicare Part D into a convenient, simple-to-use plan. These plans must cover the same as traditional Medicare but have a cap on out-of-pocket costs.
In addition to covering the same Medicare benefits and providing additional coverage and healthcare services. Many offer gym memberships and dental, vision, and hearing coverage.
American Republic Medicare Part D
There are several ways to get coverage for drugs picked up by the pharmacy. The best Medicare Advantage plans include drug coverage, or a stand-alone Medicare Part D plan will also provide coverage. Medicare Part D plans are combined with Original Medicare or Medicare Supplements.
American Republic doesn't provide Medicare Part C or Part D plans. We'd gladly assist if you need help with either of these.
American Financial Security Medicare Pros and Cons
Pros
Stable premium rates
Low premium increases
Excellent financial rating
Cons
Limited availability
Not all plans are offered
American Republic Financial Strength Ratings
| | |
| --- | --- |
| A.M. Best Rating | A- |
| Standard & Poors Rating | N/A |
| Moodys Rating | Baa1 |
A company's financial strength will usually tell you a few things. In most cases, companies with high ratings will have lower rate increases, more competitive rates, and pay claims faster.
American Republic Reviews
With over 85 years of specializing in the senior market, they have the experience and expertise to help Medicare beneficiaries with insurance coverage and financial security.
FAQs
What type of insurance is American Republic?
American Republic provides Medicare Supplements and retirement products.
Where is American Republic?
American Republic is an insurance company that has been serving our seniors for over 85 years. They specialize in Medicare Supplement Plans and financial products.
What are the supplemental Medicare coverage plans?
Supplemental Medicare plans are insurance coverage that helps cover costs left over after Medicare pays its part. These plans come in three forms:
How do you purchase American Republic insurance?
To purchase insurance with American Republic, you would speak with a licensed Insurance agent or broker representing the company.
Brokers can not only provide you with coverage information on the American Republic but can also provide you with alternative options to review.
What are some of the benefits of American Republic supplemental Medicare plans?
Medigap plans cover the benefits listed below and more for Medicare:
Deductible for Part A
Part A coinsurance
Copayments for Part A
Part B deductible
Coinsurance for Part B
Copayments for Part B
Part B excess charges
Foreign Travel Emergency coverage
Different plan letters cover different benefits. You should review your options with a broker before you make your decision.
How much does American Republic Medigap cost?
Medicare Supplement plans vary in cost due to several factors. Some factors include where you live and how old you are. For Plan G, you can expect to pay between $100 and $300 a month, depending on these factors.
How to enroll in an American Republic Medicare plan
Enrolling in a plan isn't difficult, but it can become cumbersome with so much information out there. The simplest and clearer path is to work with a licensed insurance agent who can access all your area insurance options.
This will allow you to stay educated on your choices. Then they can help verify which insurance plans fit your individual needs and what you want.
So give us a call today. Or take a minute to fill out our online request form to receive the best rates in your area!