Living in Gillette, Wyoming has its benefits, but if you're a senior citizen, widespread access to affordable healthcare coverage is not among those benefits. Thousands of seniors currently living in Gillette struggle to afford healthcare each year, with many being forced to choose between spending thousands of dollars in out-of-pocket expenses or simply going without healthcare altogether. This is because of the flawed design of the Medicare system, which is fraught with "coverage gaps". If you find that you're in this boat, there are two things you need to know: you have options, and you're not alone.
Facts and Figures
There are 2,265 senior citizens living in Gillette right now

There are 5 hospitals in the Gillette area where seniors can get emergency and/or in-patient care

3% of Wyoming seniors have a Medicare Advantage plan

38% of seniors have a Medicare Supplement (Medigap) plan

Which leaves 59% of seniors potentially uninsured or underinsured against costly Medicare coverage gaps!
For the 41% of seniors in the area who have proper Medicare Advantage or Medigap coverage, healthcare accessibility is affordable and reliable; however, for the remaining 59% of Gillette's seniors, the financial burden of the out-of-pocket coverage gap expenses leaves them with two awful options: go broke or go without healthcare. This is a dilemma that only gets worse with time. While your retirement balance shrinks with each withdrawal, your risk of developing age-related illness increases. This means that the chances of your health deteriorating increase at the same time as your ability to pay for healthcare in general decreases. The chart below showcases just how common a few of these illnesses are in the Gillette area.
| | |
| --- | --- |
| Disease | Prevalence in Gillette |
| Arthritis | 25% |
| High Blood Pressure | 29% |
| Coronary Heart Disease | 6% |
| Diabetes | 10% |
| Kidney Disease | 3% |
Healthcare Costs in Gillette, WY
Unfortunately, the increased risk of illness and the harmful symptoms that coincide therewith aren't the only negative aspects of aging. Healthcare costs also increase significantly, in no small part thanks to these illnesses.
The costs of Arthritis alone can measure in the thousands of dollars every year for the rest of your life, potentially increasing to even greater annual costs as you age. Furthermore, one of the unfortunate side effects of the gift of longer life, given to us by modern medical care, is that healthcare costs are constantly rising in order to keep up with the life-lengthening medical practices. If you are one of the many uninsured or underinsured seniors in Gillette, for you, this might mean running you into thousands upon thousands of dollars of debt when you should be enjoying your retirement.
| | | |
| --- | --- | --- |
| Disease | Prevalence in Gillette | Annual Cost of Treatment |
| Arthritis | 25% | $294 |
| High Blood Pressure | 29% | $356 |
| Coronary Heart Disease | 6% | $9,597 |
| Diabetes | 10% | $2,173 |
| Kidney Disease | 3% | $8,509 |
Medicare Advantage Savings in Gillette, WY
For many seniors across America, Medicare Advantage plans pose one affordable, cost-effective alternative to this financial stress. But only 3% of seniors in Gillette have switched to Medicare Advantage plans in order to take advantage of the improved quality of care that these plans afford them.
Although the name might lend itself to the conclusion that Medicare Advantage is just another form of Medicare, the reality couldn't be further from the truth. In fact, Medicare Advantage plans are entirely privately owned and operated, meaning that you won't be subject to the Medicare coverage gap. On top of this, Medicare Advantage plans typically provide you with the option to add additional coverage options. The only downside being that premiums tend to cost a little more than Original Medicare. However, because of the availability of various government subsidies, it is still possible to get your monthly payment down to a total of $0.
One of the most commonly added coverage areas in Medicare Advantage plans comes in the form of prescription drug coverage, something for which seniors who rely on Original Medicare plans routinely lose the ability to pay. Many seniors also choose to add on coverage for the minor necessities that cost only a little but need to be purchased in large amounts, making them prohibitively expensive. Such items include glucose monitors and testing strips, among other items. This makes Medicare Advantage one of the most effective healthcare options on the market for seniors who suffer from chronic illnesses that require routine monitoring. As the chart below demonstrates, seniors who switch to Medicare Advantage plans can save tens of thousands of dollars over a ten-year period.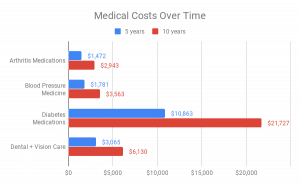 Of course, the benefits of Medicare Advantage over original Medicare don't stop there. These plans also come with the option to add vision and dental coverage to your Medicare plans, allowing you to save even more money over both the long and short terms. This is a benefit that is unique to Medicare Advantage plans, as Medicare Supplement (Medigap) and original Medicare do not allow such additional options. Instead, with one of the latter two policies, you would be forced to rely on outside support.
Medicare Supplement (Medigap) Savings in Gillette, WY
Medicare Supplement policies, on the other hand, are not quite as comprehensive as Medicare Advantage; however, they offer quite a bit of versatility in order to ensure that all of your needs are met. Since many of these policies are easier to find, secure, and afford (assuming you don't qualify for a $0-per-month premium rate through Medicare Advantage), they make a great option for seniors who are looking to boost their access to healthcare without losing their current Medicare providers, hence the moniker "Medicare Supplement." Many such plans are designed specifically to alleviate the burdens of Medicare Part A expenses, such as hospital visits, because Medicare Part A costs can be exceptionally high and unaffordable for all seniors, particularly those with age-related heart and kidney diseases.
First things first, we have Medicare Supplement insurance Plans A, D, K, and L. Like the other six Medigap plans, these are supplemental insurance plans, meaning that you would not have to sacrifice your Original Medicare benefits in order to purchase one of these plan types. Unfortunately, these four plan types only cover Medicare Part A expenses. While this might be all you need if you find that your kidney or heart disease is causing you to spend a lot of time and money on in-patient care and not much on any other aspect of your health, that doesn't tend to be the case for most people.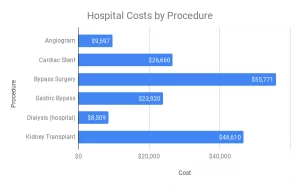 In order to get coverage to secure financial assistance for both Medicare Part A and Medicare Part B expenses with Medicare Supplement insurance, you're going to have to select one of the other six plans: Plan B, C, F, G, M, or N. Each of these plans, like with the aforementioned four above, bear subtle differences to one another. These differences are typically reflected in their pricing. While these plans might work quite well, they are, unfortunately, under constant pressure for change by the federal and most state governments. In fact, after 2020, Medigap Plan F, one of the most expensive and comprehensive Medigap plans, will no longer be available. Talk to your insurance provider to see if being enrolled or enrolling in Plan F before 2020 will get you grandfathered into your policy; if not, call and speak to a Medigap professional today in order to figure which of the other nine plans could best suit your needs.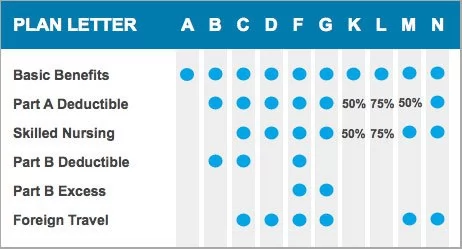 Unfortunately, Medigap plans are not without their share of setbacks as well. Although these plans might be strikingly appealing so far, it is important to keep in mind that they are far less comprehensive and far more limited in scope than Medicare Advantage plans. For instance, whereas many Medicare Advantage plans offer full coverage for prescription drugs and dental and vision care, no Medicare Supplement insurance plan offers anything of the kind. This means that, when it comes to these three categories of healthcare, you are completely on your own. However, there is a silver lining: prescription drug, dental, and vision coverage are among the cheapest insurance policies on the market today, meaning that you could potentially tack on supplemental private insurance to improve your Medigap insurance for under $100 per payment period in most regions.
At the end of the day, as your age increases and your risk of age-related illnesses increases along with it, you need to sincerely consider the question of how you're going to pay for all of the medical necessities that you both need and deserve. By going online at Medigap.com and shopping for a plan or speaking with an expert today, you not only decrease your financial strain but also increase your stability.
So what are you waiting for? Take back your healthcare independence today!
| | | | |
| --- | --- | --- | --- |
| Medigap Plan | Minimum Monthly Premium | Maximum Monthly Premium | Average Estimated Monthly Premium (Part B Premium Included) |
| Plan A | $90 | $224 | $293 |
| Plan B | $142 | $266 | $340 |
| Plan C | $164 | $346 | $391 |
| Plan D | $173 | $288 | $366 |
| Plan F | $166 | $302 | $370 |
| Plan F (high deductible) | $45 | $92 | $204 |
| Plan G | $172 | $295 | $369 |
| Plan K | $69 | $134 | $237 |
| Plan L | $120 | $189 | $290 |
| Plan M | $142 | $239 | $326 |