Casper, Wyoming is a picturesque place to spend your golden years. Unfortunately, paying for healthcare in one of the most beautiful cities in the world is not as pretty. As a Casper resident of retirement age, you need to know how expensive your healthcare costs are going to be as you get older – and how best to protect your savings from out-of-control medical bills. We will be more than happy to help you find the answers to these important questions.
Facts and Figures
There are 7,757 senior citizens living in Casper right now

There are 5 hospitals in the Casper area where seniors can get emergency and/or in-patient care

3% of Wyoming seniors have a Medicare Advantage plan

38% of seniors have a Medicare Supplement (Medigap) plan

Which leaves 59% of seniors potentially uninsured or underinsured against costly Medicare coverage gaps!
Why does your healthcare get more expensive with age? Because as you get older, your body requires more maintenance and care in order to perform daily functions to the best of your ability. Many of the most common ailments among seniors – like heart disease or arthritis, for example – are progressive diseases, which means they tend to get worse the longer you have them.
| | |
| --- | --- |
| Disease | Prevalence in Casper |
| Arthritis | 24% |
| High Blood Pressure | 25% |
| Coronary Heart Disease | 6% |
| Diabetes | 8% |
| Kidney Disease | 3% |
Healthcare Costs in Casper, WY
When you're a senior and you're trying to manage your healthcare costs, you don't just have to worry about specific conditions getting worse and more expensive over time. You have to worry about the fact that the cost of your medical care will rise with inflation and other factors over time. It's expensive now, and it's only going to get more expensive later on. That's why it's so important to establish financial protection from these increasing expenses well in advance.
| | | |
| --- | --- | --- |
| Disease | Prevalence in Casper | Annual Cost of Treatment |
| Arthritis | 24% | $294 |
| High Blood Pressure | 25% | $356 |
| Coronary Heart Disease | 6% | $9,597 |
| Diabetes | 8% | $2,173 |
| Kidney Disease | 3% | $8,509 |
Medicare Advantage Savings in Casper, WY
One supplemental insurance plan option for Medicare enrollees is Medicare Advantage. Instead of being government-run, it is actually a private health insurance plan. But it offers the exact same benefits as Original Medicare, if not more (although additional benefits will cost you extra in most cases). The government gets involved when it pays a large share of your monthly premium to your Medicare Advantage company; sometimes, this share is so large that seniors get their Medicare benefits for as little as $0 per month. But there may still be extra charges like co-pays and other cost-sharing expenses – and those will be your financial responsibility.
So why would a senior choose Medicare Advantage when there are Medicare Supplement plans, or other types of supplemental coverage out there? For some seniors, it's all about convenience. Your Medicare benefits, and any additional benefits you choose to purchase, will all be managed under the same plan by the same company. Some seniors get a lot of value out of the government paying their premium, with some plans coming in at $0 per month for some seniors. Over time, the convenience and the savings that Medicare Advantage offers can really add up.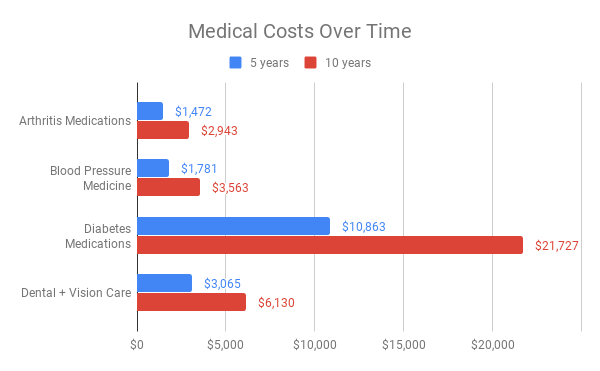 We included dental and vision care costs in the graph above because most Medicare Advantage plans give you the option to add these coverages to your policy. But keep in mind these options aren't available in all areas. Some seniors also prefer to purchase their own vision and/or dental coverage separately either because it's cheaper, or because the dental and vision doctors they're currently seeing aren't available on their Medicare Advantage network. But the plus is that you get to manage all of your medical benefits together under the same policy, which might outweigh the negatives of having to pay a little more or having to switch dentists/ optometrists.
Medicare Supplement (Medigap) Savings in Casper, WY
If you can't or don't want to purchase a Medicare Advantage policy, you might prefer a Medigap supplement policy instead. Some seniors prefer these policies because they feel that their Original Medicare benefits are comprehensive enough, and they only want to protect themselves from the gaps in that coverage. Medigap policies achieve this for a relatively affordable monthly premium, along with a few extra cost-share charges depending on the level of coverage purchased. You will still have your Original Medicare benefits – they will not be replaced by a completely separate policy the way they would be with Medicare Advantage.
The type of Medigap insurance plan you purchase depends on what your specific needs are, and which gaps in Traditional Medicare coverage you want to cover the most. Some plans start by covering hospital benefits to protect you from the coverage gaps in Medicare Part A. These plans include A, D, K, and L. They help you with expenses related to Part A coinsurance, hospital costs, blood transfusions, and hospice care. These are some of the highest expenses that seniors face, especially at the end of their lives, so it's really important to get them covered.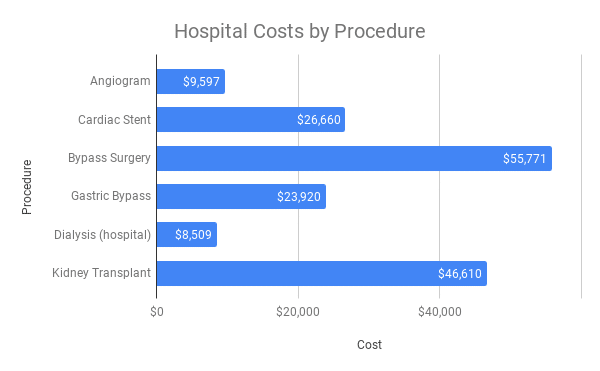 Medigap plans A, D, K, and L dedicate most of their resources towards protecting you from the gaps in Medicare Part A hospital coverage. Medigap plans B, C, D, F, G, M, and N protect you from gaps in Part A coverage as well as Medicare Part B gaps associated with outpatient treatment, doctor visits, coinsurance, and copays. Some plans even help you with deductibles. Plan F, the most comprehensive Medigap plan which shares the greatest cost between you and your Medicare Part B deductible, is getting phased out soon. You will have until the end of 2020 to purchase Plan F for yourself; if you can't get grandfathered into Plan F before 2021 rolls around, it'll be too late.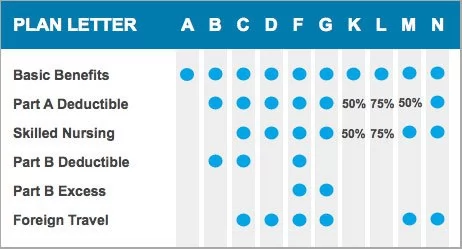 Due to the laser focus of Medigap coverage, you may have to put a little extra work in if you want dental, vision, or prescription drug coverage. Medigap policies don't provide for any of these. This is because Medicare Part D is designed to help seniors with their prescription drug costs. This is also because there is no federal mandate for vision or dental coverage for seniors, despite how frequently they need this type of care. But you can shop around private companies in your area who will offer you this type of coverage. Some may even offer discounts for seniors. And, unlike Medicare Advantage companies who choose your medical networks, dentists, and optometrists for you, you might have the freedom to choose any provider you wish.
Unfortunately, things can get pretty pricey in Casper when it comes to your healthcare costs. But you shouldn't lose sleep over how you're going to pay for these costs. You should be spending your time enjoying your golden years! That's where we come in. With our help, you can find the Medicare Supplement Insurance policy which is right for you so that you can spend more time living and less time worrying about paying for the health care you need.
| | | | |
| --- | --- | --- | --- |
| Medigap Plan | Minimum Monthly Premium | Maximum Monthly Premium | Average Estimated Monthly Premium (Part B Premium Included) |
| Plan A | $75 | $189 | $268 |
| Plan B | $91 | $215 | $289 |
| Plan C | $110 | $244 | $313 |
| Plan D | $102 | $188 | $281 |
| Plan F | $114 | $223 | $304 |
| Plan F (high deductible) | $29 | $65 | $183 |
| Plan G | $100 | $198 | $285 |
| Plan K | $45 | $99 | $208 |
| Plan L | $73 | $139 | $242 |
| Plan M | $100 | $153 | $262 |
| Plan N | $80 | $167 | $259 |