South Carolina is a beautiful state, and Rock Hill is an especially nice place to retire to enjoy your golden years. But you're not going to be enjoying your golden years very much if you aren't protected from the gaps in Medicare coverage. It's estimated that the average senior citizen will spend around $400,000 on their medical care during the last years of their life. But if you aren't currently protected from Medicare coverage gaps, you could well overshoot this mark and have your life savings wiped out by unexpected medical bills.
Facts and Figures
There are 8,666 senior citizens living in Rock Hill right now

There are only 3 hospitals in the Rock Hill area where seniors can get emergency and/or in-patient care

24% of South Carolina seniors have a Medicare Advantage plan

22% of seniors have a Medicare Supplement (Medigap) plan

Which leaves 54% of seniors potentially uninsured or underinsured against costly Medicare coverage gaps!
Another thing seniors might not know is that the most expensive coverage gaps will likely come from places you won't expect. We're talking about chronic illness. What is chronic illness? Unfortunately, chronic illnesses are inevitable. As the body ages over time, it will eventually develop one or more chronic illnesses. The chart below shows you the top chronic illnesses that people in Rock Hill are struggling to manage right now. There is a one-in-three chance that every senior citizen reading this right now has at least one diagnosis, if not several. And those diagnosis can get expensive if you don't have the right health care coverage.
| | |
| --- | --- |
| Disease | Prevalence in Rock Hill |
| Arthritis | 25% |
| High Blood Pressure | 34% |
| Coronary Heart Disease | 6% |
| Diabetes | 11% |
| Kidney Disease | 3% |
Healthcare Costs in Rock Hill, SC
If you don't believe us, then let's use arthritis as an example. Early stages of arthritis treatment and management are fairly inexpensive, and usually only involve over-the-counter anti-inflammatory drugs in order to manage the pain in the swelling. But over time, your pain and swelling will get worse. You will likely require prescription medications, which aren't covered by either Medicare Part A or Part B. You can then get by off of some outpatient procedures like steroid injections or other minor surgeries, but eventually you may require a total joint replacement in order to handle your arthritis pain. This could require an extended hospital stay, or several blood transfusions – neither of which Medicare Part A will pay for.
| | | |
| --- | --- | --- |
| Disease | Prevalence in Rock Hill | Annual Cost of Treatment |
| Arthritis | 25% | $280 |
| High Blood Pressure | 34% | $288 |
| Coronary Heart Disease | 6% | $7,499 |
| Diabetes | 11% | $2,158 |
| Kidney Disease | 3% | $6,553 |
Medicare Advantage Savings in Rock Hill, SC
Most popular type of Medicare supplement in South Carolina right now is Medicare Advantage. When you purchase a Medicare Advantage insurance policy, you opt out of your federal Medicare benefits and instead replace them with Private health insurance. Thankfully, the government will still subsidize your monthly premium due to the fact that you have paid taxes into the Medicare system. Some lucky seniors and up with a $0 per month premium for their Medicare Advantage plan because of this system.
Medicare Advantage plans start with benefits that are identical to Medicare Parts A and B. Anything less is illegal. But many offers so much more. Most Medicare Advantage providers will be more than happy to sell you riders for coverage gaps, prescription drug coverage, vision, and dental. They may even offer additional benefits on top of that. And keep in mind that you're getting your monthly premium subsidized, so you could get a fully comprehensive, Cadillac plan from your Medicare Advantage provider for pennies on the dollar compared to similar insurance policies.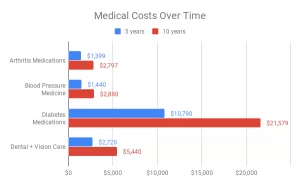 Of course, Medicare Advantage plans aren't perfect. Some seniors still can't afford all of the coverage they need even with their government subsidy for their premiums. This is because the more coverage you purchase, the more expensive your monthly premiums become, even in spite of the subsidy. Other seniors might find that they don't like the medical networks that come with the Medicare Advantage providers in their area. Yet still others find a better value with the Simplicity of a Medigap plan. And if you're curious to learn more about Medigap, just keep reading.
Medicare Supplement (Medigap) Savings in Rock Hill, SC
Unfortunately, you cannot customize Medigap the way you can Medicare Advantage. This is an unfortunate disadvantage of the Medigap system. But you can choose from 10 different plans, so it gets you close to being able to customize your coverage. When you throw Medigap into the mix, your Original Medicare benefits will pay for the majority of your medical expenses first, and then your Medigap coverage will pay when you run into a coverage gap. You are third in line to pay after Medicare and Medigap have taken care of all of your expenses that your coverage and benefits will provide for. Most seniors rarely ever see a bill.
But that largely depends on which Medigap plan you choose. Some plans like plans A, D, K, and L only cover gaps in Medicare Part A. These gaps include things like extended hospital stays, pint 4 and beyond of blood transfusions, hospice care, and skilled nursing facilities. These four plans typically have lower monthly premiums compared to the other six; however, what you gain in savings over the long-term, you lose in benefits – especially benefits that protect you from potentially expensive gaps in Medicare Part B coverage.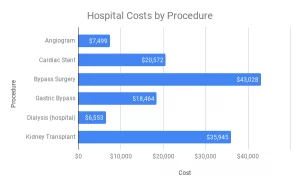 Plans B, C, G, F, M, and N, alternatively, add extra benefits and coverage for Medicare Part B in addition to the gaps in Medicare Part A. This includes things like foreign travel insurance, your Part B deductible, your Part B excess charges, and more. Yes, you will likely have to pay more in monthly premiums with one of these six plans. But the amount you pay in premiums versus the money you save on not having to pay out-of-pocket costs wins out in the long run. Seniors who want the most comprehensive coverage that money can buy usually enroll in Plan F – but if you are new to Medicare, your time to do so is limited. Plan F will no longer be available at the end of 2020, but you can still enroll now and get grandfathered into Plan F if you act fast.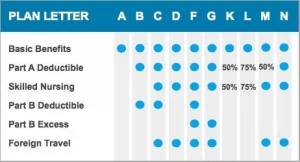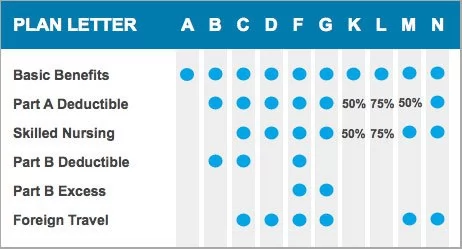 Unfortunately, most seniors still need a little extra coverage beyond what even the most comprehensive Medigap plan can provide. But if you want to hold onto your federal Medicare benefits, you're going to have to go outside of the system to get that extra coverage. You can't customize your coverage the way you can with Medicare Advantage. Seniors who need vision and dental coverage will be pleased to know that you can enroll in those plans at any time of year from a variety of local providers near you. You may even qualify for a senior discount. And if you need prescription drug coverage, look no farther than Medicare Part D. Just beware of the "donut hole" coverage gap, and be sure to budget accordingly if you think you will spend enough money on prescription drugs to exceed your annual maximum.
Choosing between Medicare Advantage and Medigap can be difficult, especially given how impossible it is to predict your future medical needs. But it's better to make a decision sooner rather than later so that you don't get slammed with unexpected out-of-pocket costs. If you're still having trouble, please call us. Or email us today. We have experts on hand ready to answer your questions so that you can make a smart decision right now.
| | | | |
| --- | --- | --- | --- |
| Medigap Plan | Minimum Monthly Premium | Maximum Monthly Premium | Average Estimated Monthly Premium (Part B Premium Included) |
| Plan A | $60 | $192 | $262 |
| Plan B | $86 | $247 | $302 |
| Plan C | $95 | $314 | $340 |
| Plan D | $84 | $276 | $316 |
| Plan F | $100 | $308 | $340 |
| Plan F (high deductible) | $29 | $138 | $219 |
| Plan G | $90 | $284 | $323 |
| Plan K | $42 | $87 | $200 |
| Plan L | $72 | $123 | $233 |