Rhode Island might be known for its Atlantic vistas and fresh seafood, but what is Cranston known for? If you're younger than 64, you might say entertainment, culture, and scenery. However, for seniors aged 65 and older, the facts paint a much different picture. Thousands of seniors in Cranston find themselves burdened by expensive medical costs thanks to the little-known Medicare coverage gaps. Yes, it's true: Medicare doesn't cover everything. And what it doesn't pay for could cost you a pretty penny. Thankfully, there are solutions. For most seniors, it is a bittersweet fact to know that you're not alone.
Facts and Figures
There are 13,847 senior citizens living in Cranston right now

There are only 3 hospitals in the Cranston area where seniors can get emergency and/or in-patient care

37% of Rhode Island seniors have a Medicare Advantage plan

19% of seniors have a Medicare Supplement (Medigap) plan

Which leaves 44% of seniors potentially uninsured or underinsured against costly Medicare coverage gaps!
Just under half of the seniors in Cranston do not have reliable access to healthcare because they are either forced to go without insurance coverage or to go without adequate insurance coverage. That comes out to just about 6,092 seniors who have to pay for their healthcare out-of-pocket. And, if they can't afford these high costs, they're left with no other option but to forfeit their independence and ask their children for help. To make matters worse, these problems only get worse as you age because of your increased probability of being diagnosed with an age-related illness. The chart below showcases just how common such diagnoses are in the Cranston area.
| | |
| --- | --- |
| Disease | Prevalence in Cranston |
| Arthritis | 27% |
| High Blood Pressure | 32% |
| Coronary Heart Disease | 7% |
| Diabetes | 9% |
| Kidney Disease | 3% |
Healthcare Costs in Cranston, RI
As you're probably well aware by this point in your life, simply having an illness is not the worst part. The thing about age-related illnesses is that the frequency and severity of your existing symptoms increase hand in hand with your risk of developing another illness. Not only does this worsen your quality of life and increase your daily pain and need for treatment, but it also increases the invasiveness of the types of treatments needed, which further increases the costs of healthcare. In a bittersweet turn of events, the increased lifespan that advancements in healthcare technology has afforded to seniors also means that there is more time in your life during which age-related illnesses can develop and compound, potentially driving up your healthcare costs higher than ever before. The chart below shows the annual cost of treatment near the beginning of your diagnosis.
| | | |
| --- | --- | --- |
| Disease | Prevalence in Cranston | Annual Cost of Treatment |
| Arthritis | 27% | $291 |
| High Blood Pressure | 32% | $354 |
| Coronary Heart Disease | 7% | $8,023 |
| Diabetes | 9% | $2,163 |
| Kidney Disease | 3% | $7,886 |
Medicare Advantage Savings in Cranston, RI
Only about XX% of Cranston seniors have a Medicare Advantage plan. However, it is important to note that Medicare Advantage is not technically a Medicare plan. Rather, it is a privately owned and operated plan that totally replaces your government-controlled Medicare plan. These plans are required by law to provide the same baseline of coverage options but – in order to maintain their competitive edge – also typically offer a wide variety of additional coverage options as well. These additional options can sometimes be quite pricey; however, if you go through the right channels, it is entirely possible that you could end up paying $0 per month.
Each Medicare Advantage plan is different, with seniors adding on the options that suit their own particular needs, but one of the most common additions to Medicare Advantage plans is the option for prescription drug coverage. Prescription drug coverage options obtained through Medicare Advantage plans tend to be quite versatile, although the specific coverage options vary from state to state and provider to provider. Another common addition to Medicare Advantage plans is the addition of coverage for medical equipment the likes of glucose monitors and testing strips. These additional coverage options provide the most value to people suffering from chronic health conditions like arthritis, diabetes, and high blood pressure – although they can save any seniors quite a bit of money in the long term, as the chart below demonstrates.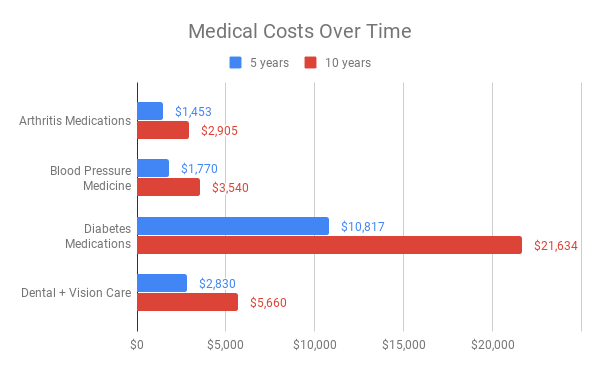 Additional coverage options available to most Medicare Advantage enrollees are vision care and dental care coverage. That means that you don't have to go out and find separate dental insurance from a different provider just to get care. Instead, simply call the dentist that your Medicare Advantage plan assigned you to, and make an appointment. Of course, the specifics of each plan are typically going to vary from person to person. One of the most notable differences between Medicare Advantage, Medicare Supplement Insurance, and Original Medicare plans is that the latter two cannot provide additional prescription drug, dental, and vision coverage.
Medicare Supplement (Medigap) Savings in Cranston, RI
Whereas Medicare Advantage plans entirely replace your original Medicare plan, Medicare Supplement plans simply supplement said plan, meaning that you won't experience any delay in coverage while waiting for your Medicare Advantage plan to kick in. Unfortunately, Medigap plans are generally less-inclusive than Medicare Advantage plans, so deciding between which plan is right for you tends to be a question of whether you would prefer the more comprehensive plan or the less expensive plan (which in turn depends on the availability of financial assistance). All in all, there are 10 different Medigap plans from which to choose, each offering a different array of coverage options.
The first category of Medigap plans includes plans of types A, D, K, and L. Each of these four plans are specifically tailored to provide insurance against expenses incurred by Medicare Part A coverage gaps. That makes them great options for any senior who suffers from a chronic health condition, such as kidney and heart disease, that can require frequent in-patient care. Unfortunately, that's just about all they do. These four plans are the least comprehensive of the available Medigap plans, as none of these four plans provides any coverage against Medicare Part B coverage gaps. For that, you'll have to choose one of the other six plans.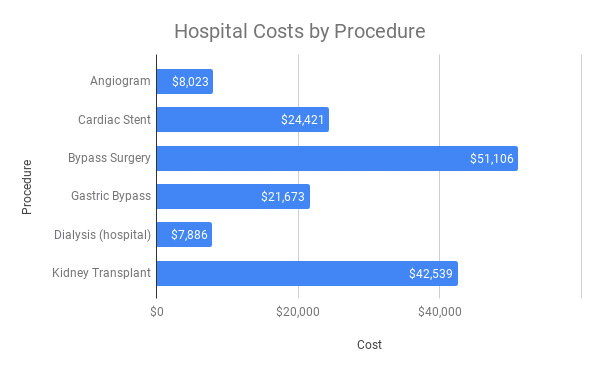 The second category of plans, on the other hand, covers both Medicare Part A and Medicare Part B coverage gaps. The plan types included in this category are Plans B, C, F, G, M, and N. The plans in this category are great for seniors who have experienced a dearth in coverage due to the Medicare coverage gaps as a result of both Medicare Part A and Medicare Part B. Unfortunately, if you have already fallen in love with Medigap Plan F, we have a bit of bad news for you: Medigap Plan F will no longer be available for new Medicare enrollees as of 2021. In order to secure similar benefits, talk to a specialist about plans B, C, G, M, and N.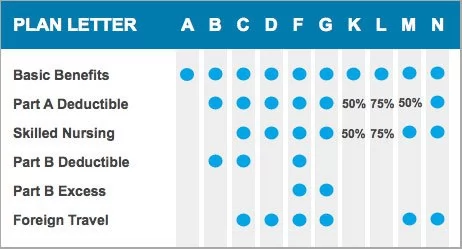 Unfortunately, neither the first nor the second category of Medigap options enable you to select prescription drug, vision, or dental coverage; but does this mean that you're going to be left with no pills, no glasses, or no teeth? Of course not! There are plenty of private insurance plans on the market for you to choose from and they tend to be quite cheap, running only a fraction of what ordinary healthcare insurance plans can cost. In fact, it is not unheard of to find prescription drug, vision, and dental coverage all in one plan for under $100 per month. All you have to do is look for them, or hire a professional to do it for you.
Although it can be quite a hassle to hunt down, enroll in, and manage multiple insurance plans from multiple insurance providers, the work will absolutely pay off in the long run. A little stress and a little mental strain today can result in a significant decrease in financial struggle in the future, saving you time, money, and energy, not to mention securing your health and your independence against unforeseen circumstances. However, by procrastinating, you increase the risk and decrease the potentially long-term rewards, so don't wait! Head over to Medigap.com and start browsing for plans that best suit your needs today. Your future health demands it!
| | | | |
| --- | --- | --- | --- |
| Medigap Plan | Minimum Monthly Premium | Maximum Monthly Premium | Average Estimated Monthly Premium (Part B Premium Included) |
| Plan A | $73 | $583 | $464 |
| Plan B | $108 | $203 | $291 |
| Plan C | $129 | $232 | $316 |
| Plan D | $129 | $196 | $298 |
| Plan F | $130 | $230 | $316 |
| Plan F (high deductible) | $31 | $232 | $267 |
| Plan G | $110 | $197 | $289 |
| Plan K | $41 | $99 | $206 |
| Plan L | $72 | $139 | $241 |
| Plan M | $118 | $144 | $267 |