If you are a senior in Philadelphia, PA who is approaching 65 or who has already become eligible for Medicare, you need to understand what your financial exposure is if you will be relying on Original Medicare, Medicare Advantage, or Medicare Supplement plans for your healthcare coverage. Generally speaking, Medicare is a great program for older Americans, but there are gaps in coverage that can have devastating financial impact at a time when you can least afford it.
Unless you have a preexisting condition, you're probably not interested in the fine print of a healthcare policy. You want to know the copay, deductible, and premium cost. Original Medicare sounds like a sweet deal with Part A being free (for most seniors) and Part B being automatically deducted from your Social Security check. But Original Medicare doesn't cover everything and has limited coverage on other issues. The older you get the more likely you'll encounter one or more of those "other issues" and it can be an expensive meeting. Spend some time now learning about the gaps in Medicare and what your options are to fill them.
Facts and Figures
There are 204,356 seniors living in Philadelphia right now
There are 11 hospitals in the Philadelphia area where seniors can get emergency and/or in-patient care
41% of Pennsylvania seniors have a Medicare Advantage plan
27% of seniors have a Medicare Supplement (Medigap) plan
Which leaves 22% of seniors potentially uninsured or underinsured against costly Medicare coverage gaps!
When we are young, we believe we are indestructible. As we grow older we realize that theory is a bit flawed, and by the time we retire we start regretting the sins of our past and hope our bodies will forgive us. Like that favorite old car, we are more susceptible to things wearing out and require more maintenance than our younger friends. Unlike that old car, our maintenance and parts can be far more expensive than the aftermarket parts that bring the old ride back to life.
Injuries and illnesses that are not exclusively age related, but which have a much higher probability of occurring in seniors, are simply a fact of life. Immune systems are not as strong, and our bodies are more susceptible to chronic diseases and conditions than a younger person. You might be surprised at the prevalence of chronic disease in Philadelphia seniors. Have a look at this chart.
| | |
| --- | --- |
| Disease | Prevalence in Philadelphia |
| Arthritis | 26% |
| High Blood Pressure | 33% |
| Coronary Heart Disease | 6% |
| Diabetes | 12% |
| Kidney Disease | 3% |
Healthcare Costs in Philadelphia, PA may sometimes comes as a surprise to "young" seniors in their mid-sixties, particularly if they have led active lives; but older bodies, just like older cars, can't perform as well as they used to because the parts have a lot of wear on them. Age really does have a way of sneaking up on you. But it's important that you realize that your health is going to start taking up a significant portion of your time and – potentially – your money. When your '72 Dodge Challenger needs new shocks, you can buy them and get them installed for less than $500. A new knee or hip is not so cheap. The Challenger can get an oil change for $30. You'll be seeing your primary care provider every 6 months, getting blood tests and annual scans, and maybe taking maintenance drugs for high blood pressure. In short, you're going to run up a hefty health tab.
That's the bad news. The good news is we are living longer. The bad news is we just keep piling on to that tab. How you protect yourself during these years is critical to your financial well being.
| | | |
| --- | --- | --- |
| Disease | Prevalence in Philadelphia | Annual Cost of Treatment |
| Arthritis | 26% | $304 |
| High Blood Pressure | 33% | $288 |
| Coronary Heart Disease | 6% | $8,209 |
| Diabetes | 12% | $2,158 |
| Kidney Disease | 3% | $7,593 |
Medicare Advantage Savings in Philadelphia, PA
Medicare Advantage plans have become popular among Philadelphia seniors for a number of reasons. But first, it's important to note that these plans are not offered by the government, but rather private insurance companies that have been approved by Medicare. They enter into a contract with Medicare to provide at a minimum the same benefits Original Medicare does. But in almost every case, they provide much more. Because they are receiving a flat rate from Medicare to provide your insurance, it's to their advantage to keep you as healthy as possible. That explains the additional benefits like prescription drugs, eye care, limited dental, and other "wellness" benefits. The healthier you are, the lower your medical costs, the greater their profit.
Many are organized as HMOs or PPOs and may serve a local or regional area. Because Medicare is picking up most of the cost, more and more Medicare Advantage plans do not charge premiums to their subscribers.
One of the real downsides of chronic disease is the financial "death by a thousand cuts" caused by the cost of the very things you need to control your various health conditions. High blood pressure may require beta blockers, ace inhibitors, a statin, and other drugs. Diabetes requires frequent blood sampling and the cost of glucose monitors and test strips are not inexpensive. They also are not covered by Original Medicare.
Most Medicare Advantage plans include drug coverage and coverage for minor medical equipment. Your payment is reduced to a small copay. While individually, the drugs and devices may not be enormous financial drains, because you need to use them every day for the rest of your life, their cost can be significant over time. In fact, if you check out the chart below you can see just how significant. Wouldn't it be better if your healthcare coverage picked up that tab instead of you?
Senior dental and eye health is pretty much ignored by Medicare except when it is associated with a covered disease or injury. Medicare Advantage companies understand that both eye and dental care are very real quality of life issues for seniors. They also have a direct impact on other health issues. Poor dental health can contribute to heart disease. Poor eyesight can result in falls or other accidents.
Because they are motivated by keeping your "reactive" Medicare costs low, they offer "preventive" care in the form of free or low cost basic dental exams and treatment, and annual eye exams. Original Medicare does not offer the coverage and MediGap plans can't because they are tied to Medicare coverage.
Medicare Supplement (Medigap) Savings in Philadelphia, PA
Some Medigap plans are designed to assist with the very expensive out-of-pocket costs associated with age-related kidney and heart diseases. For example, kidney disease that requires dialysis is covered under Part B of Medicare but has a 20% coinsurance. Dialysis is typically required three times a week. That 20% coinsurance payment can add up quickly. A kidney transplant is also covered by Part A but the immunosuppressive drugs have a 20% coinsurance and those drugs can lead up to thousands of dollars out-of-pocket. Depending on which Medigap plan you have, it can significantly reduce those expenses. The same goes for maintenance requirements for chronic heart disease treatment. Medicare is a good plan but it's obvious that it is not the end all of coverage. There are serious gaps and it is the role of the Medigap plan to address those gaps.
There are 10 approved Medigap plans. Each is designed differently to provide the flexibility required to meet the needs of a diversified population. Most Medigap plans don't have deductibles but some do for certain parts of Medicare. Those plans are designated A, D, K, and L. Offering deductibles is a way of lowering premium costs. For healthy seniors who can handle Medicare copays for minor events or treatment, but want to be assured they have coverage for larger, longer term events, these plans offer alternatives. They can run from comprehensive to significantly reduced coverages. It's important you understand exactly what you're buying if you decide on a Medigap plan.
It's important to remember that each of the 10 plans have different designs. While some plans will have overlapping benefits, you can't look at one plan and assume all the others are identical. The four plans mentioned above have certain restrictions of coverage while plans B, C, D, F, G, M, and N help cover gaps in both Medicare Part A and Part B. Plan F, the high deductible plan, will not be available after 2020. Again, the difference in benefits between plans can make big differences in how your personal health needs are met. Take the time to fully understand coverage before choosing a Medigap plan.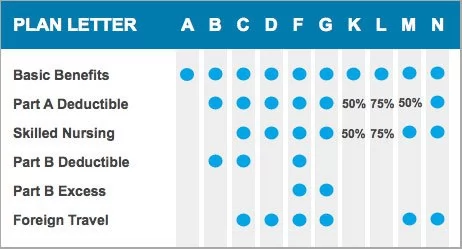 Medigap plans are tied directly to Medicare benefits. That's great as far as it goes. But remember, Medicare does not provide coverage for prescription drugs, dental care or eye health. As a result, Medigap doesn't either. If you opt for a Medigap plan, you'll also want to purchase a stand-alone drug plan (Medicare Part D) to cover your pharmaceutical costs. Affordable dental and eye care insurance for seniors in Philadelphia, is available through private insurance companies.
Here's a fact that you already know about living in Philadelphia, PA: the cost of living is not going down. The cost of healthcare across the nation continues to grow at an aggressive rate and Philadelphia is no exception. Now that you are nearing retirement and ending your "earnings career", it's more important than ever that you protect your financial resources to carry you through retirement. Without adequate healthcare insurance, health costs can be devastating. Choosing a Medigap plan that meets your needs – and is affordable – can be confusing. Do yourself a favor and talk to a licensed agent who understands all the pros and cons of each type of plan and let him or her assist you in making an informed decision.
| | | | |
| --- | --- | --- | --- |
| Medigap Plan | Minimum Monthly Premium | Maximum Monthly Premium | Average Estimated Monthly Premium (Part B Premium Included) |
| Plan A | $45 | $168 | $242 |
| Plan B | $56 | $192 | $260 |
| Plan C | $67 | $248 | $293 |
| Plan D | $83 | $216 | $285 |
| Plan F | $111 | $212 | $297 |
| Plan F (high deductible) | $34 | $67 | $186 |
| Plan G | $108 | $195 | $287 |
| Plan K | $50 | $73 | $197 |
| Plan L | $70 | $91 | $216 |
| Plan M | Data Unavailable | Data Unavailable | Data Unavailable |
| Plan N | Data Unavailable | Data Unavailable | Data Unavailable |