Medicare coverage gaps in Fargo, North Dakota, can cost you thousands of dollars every year in out-of-pocket expenses. If you're like most seniors, that can make the difference between enjoying reliable access to the healthcare that you both need and deserve and not being able to afford treatment whatsoever. Medicare coverage gaps are a result of you using certain benefits which Medicare will not cover. The majority of seniors in the Fargo area, however, are fed up with coverage gaps and have begun enrolling in either Medicare Advantage plans or Medicare Supplement (a.k.a. Medigap) plans.
Facts and Figures
There are 13,857 seniors living in Fargo right now.
There are 11 hospitals in the Fargo area where seniors can get emergency and/or in-patient care.
17% of North Dakota seniors have a Medicare Advantage plan.
51% of North Dakota seniors have a Medicare Supplement (Medigap) plan.
Which leaves 32% of seniors potentially uninsured or underinsured against costly Medicare coverage gaps!
Just about one out of every three seniors in Fargo, North Dakota, lack the proper level of health insurance. That means that an estimated 4,434 seniors are forced to rely solely on Original Medicare to meet their healthcare needs. Unfortunately, as you age, that becomes an even bigger problem. Healthcare professionals have identified a series of age-related illnesses that become more prevalent as you age. On top of this increased risk of developing new symptoms, your existing symptoms also become more likely to increase in both frequency and severity as you age. That can lead to a significantly decreased quality of life if you're left with the choice between paying coverage gaps and missing out on treatment. As the chart below shows, there are quite a few seniors suffering from chronic age-related health conditions.
| | |
| --- | --- |
| Disease | Prevalence in Fargo, ND |
| Arthritis | 19% |
| High Blood Pressure | 25% |
| Coronary Heart Disease | 5% |
| Diabetes | 7% |
| Kidney Disease | 2% |
Healthcare Costs in Fargo, ND
There are a wide number of factors that can lead to higher healthcare costs. So many, in fact, that economists aren't even entirely sure how many there are or what the specific effects of each are individually. For example, medical costs in general are rising and there are few definitive explanations as to why. Even if your symptoms remain the same from one year to the next, you will likely end up paying more for the same level of treatment. The reality is often much worse, since few seniors report having the same symptoms for more than a year. As you develop new or worsening symptoms, your need for healthcare increases, thus causing you to pay more in annual doctor's visits. Since seniors are living longer lives now than ever before, there is more time in your life for those bills to add up. The chart below shows just how much you could end up paying per illness as a result of the Medicare coverage gaps.
| | | |
| --- | --- | --- |
| Disease | Prevalence in Fargo, ND | Annual Cost of Treatment |
| Arthritis | 19% | $294 |
| High Blood Pressure | 25% | $356 |
| Coronary Heart Disease | 5% | $9,216 |
| Diabetes | 7% | $2,173 |
| Kidney Disease | 2% | $8,717 |
Medicare Advantage Savings in Fargo, ND
Medicare Advantage plans are designed to entirely replace your existing Medicare coverage, but that doesn't mean that you're going to lose coverage options by enrolling in one. The law requires that all providers of Medicare Advantage plans provide the same minimum level of care as Original Medicare. Moreover, many Medicare Advantage plans come with the ability to add additional coverage options in exchange for paying higher premiums. That being said, the government is typically willing to cover all or most of your Medicare Advantage premiums, meaning that you could potentially end up enjoying a significantly expanded array of coverage options without paying a single penny in insurance premiums.
One of those additional coverage options is prescription drug coverage. These plans are often so comprehensive as to cover just about every prescription you could ask for as well as many different kinds of minor medical equipment, such as glucose monitors and testing strips. That being said, it is important to note that each provider's list of covered medications varies, so it's usually a good idea to ask to see the list before picking a provider. If you suffer from arthritis, high blood pressure, and/or diabetes and require a large number of prescription medications or minor medical equipment, one of these Medicare Advantage prescription drug coverage plans could potentially save you tens of thousands of dollars over a period of ten years.
In order to save even more money, you can add vision and dental care coverage directly to your Medicare Advantage plan. That is a benefit that neither Original Medicare nor Medicare Supplement Insurance has. With either of those two plans, you cannot add any form of dental or vision care coverage directly to your plan. Instead, you're left with a very minimal array of coverage options that typically only come into effect in emergency situations.
Medicare Supplement (Medigap) Savings in Fargo, ND
Medicare Supplement Insurance plans are more commonly referred to by the name Medigap. These plans function by stacking additional coverage benefits on top of your existing Original Medicare benefits, meaning that you don't have to deal with the hassle of entirely replacing your Original Medicare plan. However, that also means that you can't add additional types of coverage. Instead, Medigap plans are designed to make it so that you don't have to pay coverage gaps. Since Medicare Part A coverage gaps can be particularly expensive for many seniors (especially if you're suffering from age-related heart and/or kidney disease), every one of the ten Medigap plans has some kind of benefit related to Medicare Part A coverage gaps. The specifics of those benefits are what leads healthcare professionals to divide the ten Medigap plans into two separate categories.
The plans in the first category are Medigap plan types A, D, K, and L. These plans provide coverage for expenses related to Medicare Part A coverage gaps. That includes hospitalizations, blood transfusions, skilled nursing care, and a variety of other benefits. That being said, if you find yourself paying for Medicare Part B coverage gaps, you won't be fully helped by enrolling in one of these plans. In that case, you'll need to look into one of the plans in the second category.
Those plans are Medigap plan types B, C, F, G, M, and N. Whereas the plans in the first category provide benefits solely related to Medicare Part A coverage gaps, these plans provide benefits related to the coverage gaps of both Medicare Part A as well as Medicare Part B. That covers just about everything from the time you call the ambulance to the time you get home from the hospital. Unfortunately, these plans are always changing, making it incredibly important that you speak with an expert in order to know exactly what is in each plan before you make your decision. For example, Medigap Plan F is not going to be available after the year 2020. If you prefer the benefits of Medigap Plan F, consider looking into Medigap type C or one of the other plans in this category in order to continue to receive similar benefits (if you can't enroll before the deadline and get grandfathered into those benefits, that is).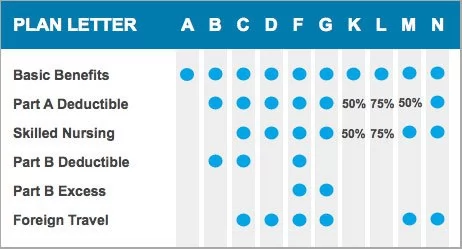 As mentioned earlier in this article, there is no way to add vision or dental care coverage directly to your Medicare Supplement plan. The same goes for prescription drug coverage. However, that doesn't mean that there is no way to get these coverage options through other means. You can do so by enrolling in Medicare Part D prescription drug coverage as well private vision and dental care coverage. The former tends to come with the risk of falling into the Medicare Part D "donut hole," which is another coverage gap, but usually that is reserved only for seniors with conditions that requires heavy, constant, and frequent medication. Enrollment in private vision and dental coverage can be done at just about any time of the year, since neither vision nor dental care coverage require you to go through an Open Enrollment Period. Best of all, they tend to be incredibly affordable!
Now more than ever, you need to be sure to secure your health, your finances, and your independence against the worsening conditions in the healthcare industry. Medical costs are rising, your symptoms are likely to increase in number and worsen in both frequency and severity, and you're likely to live long enough for those factors to further ruin your life. So don't wait. Act today by heading over to Medigap.com and getting started on the process of taking back control of your healthcare needs. You are the only person who can make these important decisions for yourself – but we'll be more than happy to help.
| | | | |
| --- | --- | --- | --- |
| Medigap Plan | Minimum Monthly Premium | Maximum Monthly Premium | Average Estimated Monthly Premium (Part B Premium Included) |
| Plan A | $60 | $222 | $277 |
| Plan B | $107 | $253 | $316 |
| Plan C | $113 | $287 | $336 |
| Plan D | $97 | $243 | $306 |
| Plan F | $115 | $284 | $335 |
| Plan F (high deductible) | $29 | $75 | $188 |
| Plan G | $99 | $244 | $307 |
| Plan K | $46 | $92 | $205 |
| Plan L | $78 | $126 | $238 |
| Plan M | $103 | $146 | $260 |
| Plan N | $82 | $221 | $287 |