Retirement can be exciting, especially in a place like Santa Fe with such a thriving senior community. But you could go from thriving to floundering before you know it if you don't protect yourself from the costly coverage gaps in your Medicare benefits. They say that it could cost $400,000 or more for your medical care during the last decades of your life – but without the protection of a comprehensive Medicare supplement plan, your costs could be even higher. Don't let your life savings get wiped out by unexpected medical debt. Let us help you find the right supplement policy today.
Facts and Figures
There are 35,033 senior citizens living in Santa Fe right now

There are 9 hospitals in the Santa Fe area where seniors can get emergency and/or in-patient care

33% of New Mexico seniors have a Medicare Advantage plan

13% of seniors have a Medicare Supplement (Medigap) plan

Which leaves 54% of seniors potentially uninsured or underinsured against costly Medicare coverage gaps!
You may be surprised to learn that it isn't necessarily acute disease that leads most seniors to go bankrupt on their health care costs. It's actually chronic disease that ends up costing the greatest amount of money. Just take a look at the chart below. Have you been diagnosed with any of these yet? Arthritis? High blood pressure? These are some of the most common chronic ailments among seniors today. If you're just now entering retirement, odds are you have at least another couple of decades where you will require care for these conditions. And that care won't be cheap.
| | |
| --- | --- |
| Disease | Prevalence in Santa Fe |
| Arthritis | 27% |
| High Blood Pressure | 34% |
| Coronary Heart Disease | 7% |
| Diabetes | 12% |
| Kidney Disease | 3% |
Healthcare Costs in Santa Fe, NM
But why does chronic disease end up being so expensive? Because you have to deal with it for the rest of your life – and the sooner you receive a diagnosis, the more financially devastating it will be. Even something as seemingly innocuous as arthritis can cost a pretty penny to treat. It may start out with over-the-counter NSAIDs and the occasional steroid injection, but it will only get worse over time. You may even face multiple joint replacement surgeries or other, similar outpatient procedures on smaller joints just to try and get the pain and discomfort under control to enhance your quality of life.
| | | |
| --- | --- | --- |
| Disease | Prevalence in Santa Fe | Annual Cost of Treatment |
| Arthritis | 27% | $294 |
| High Blood Pressure | 27% | $356 |
| Coronary Heart Disease | 6% | $9,780 |
| Diabetes | 10% | $2,173 |
| Kidney Disease | 3% | $8,911 |
Medicare Advantage Savings in Santa Fe, NM
We talked about chronic disease because many of the gaps in your Medicare coverage won't protect you financially from how these expenses accumulate over time. But a well-crafted Medicare supplement will. In New Mexico, a large majority of seniors (33%) have chosen Medicare Advantage as their supplement of choice. Medicare Advantage is actually private health insurance that, by law, must be identical to your Medicare Part A and B benefits. But don't worry; because you paid into the Medicare system all your working years, the government will pay a large portion of your monthly premium for a Medicare Advantage policy if you decide to enroll in one. That policy will replace your government benefits with an identical or better insurance policy, and you may end up paying as little as $0 per month in premiums for it.
When we say "as good or better", we're talking about the fact that pretty much all Medicare Advantage policies will allow you to customize your plan to a certain degree. They do this in order to entice seniors to make the switch. You can add different writers that will enhance your base benefits so that you don't have to worry about the typical gaps in Medicare coverage. You can also have things like vision, dental, and prescription drug coverage which may be as good or better than Medicare Part D. Just remember that the more coverage you add, the more expensive your monthly premium will become. As with most things in life, there is always a trade-off.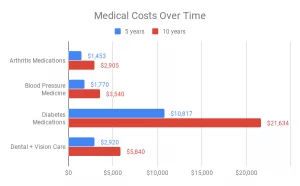 For some seniors, adding all of the benefits they need makes their monthly premiums prohibitively expensive, even with the government's help. But for other seniors, the federal contribution to their monthly premium makes these Cadillac plans highly affordable and desirable. On top of that, you don't have to juggle multiple different insurance policies from different insurance providers at the same time. If you need to file a claim, ask a question, or get assistance with managing your health care, you have only one insurance company to deal with. Some seniors are willing to pay a premium for this convenience.
Medicare Supplement (Medigap) Savings in Santa Fe, NM
The other popular option available in Santa Fe right now is Medicare Supplement Insurance (Medigap). Fewer seniors I have chosen this option, but that doesn't mean it can't be right for you. It all depends on what you're looking for. For example, if you are looking to deploy a surgical strike against only the gaps in your Medicare benefits, but you want to keep your federal benefits, then Medigap is perfect. And you have 10 different plans to choose from, so odds are one of them will suit your needs.
There are two different classes of Medigap plans to sort through: those that cover the benefits in Medicare Part A hospital expenses, and those that cover both Medicare Parts A and B. Medigap plans A, D, K, and L are in the first category. Because these plans focus on fewer coverage gaps, and because those coverage gaps usually don't happen until later in life, they tend to have less expensive monthly premiums than any of the other six plans. So if you're not worried about Medicare Part B coverage gaps and you want to save money in the long run with lower premiums, you should take a look at these plans first.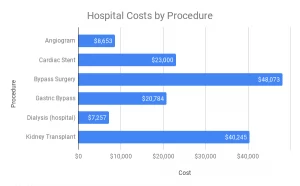 The vast majority of seniors, however, are deeply concerned with all of the gaps in their Medicare coverage – including Part B. Part B coverage gaps include things like monthly premium payments, coinsurance, deductibles, and more. If you travel frequently, you may also want to take advantage of the foreign travel insurance that some of these plans offer. These plans include B, C, G, F, M, and N. But not all of them will be around forever. Plan F is the most comprehensive, and also the most popular. But it is getting phased out at the end of 2020. Seniors who want the most comprehensive coverage for their money need to hurry up and enroll now so they can get grandfathered into these benefits before it's too late.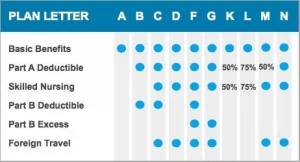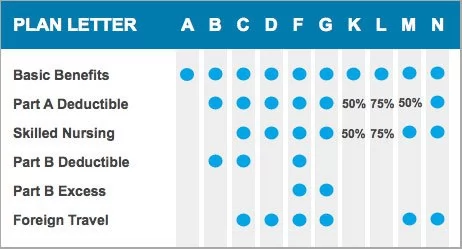 One big difference between Medicare Advantage and Medigap is that you cannot customize your Medigap plan. At least, not through the company. You have to buy them as-is and accept the benefits you get. But you can go outside of the system and add supplemental coverage to your total health care regimen. Vision and dental insurance supplements are sold by private companies year-round, sometimes at a discount for seniors. You don't need permission from the government or from your Medigap company in order to get them, either. You'll also want to enroll in Medicare Part D, but be mindful of how much you're spending on your prescriptions. Under rare circumstances, you could fall into the donut hole coverage gap which will leave you paying for 25% of your out-of-pocket prescription costs if you exceed your annual maximum. But the good news is that this payment goes away if you spend enough money on drugs to qualify for catastrophic coverage.
Retiring can be a complicated process. But we want to help make it as simple for you as possible. After all, it's your money, and you've worked hard for it all your life – you shouldn't have it wiped out due to some unforeseen medical bills. We hope you've learned enough information today to make a confident choice for yourself. But if not, we're here to help! Feel free to call or email us with any questions or concerns, and we will do our best to get back to you as promptly as possible so that you can get the coverage you deserve.
| | | | |
| --- | --- | --- | --- |
| Medigap Plan | Minimum Monthly Premium | Maximum Monthly Premium | Average Estimated Monthly Premium (Part B Premium Included) |
| Plan A | $64 | $200 | $268 |
| Plan B | $86 | $227 | $292 |
| Plan C | $98 | $258 | $314 |
| Plan D | $91 | $192 | $277 |
| Plan F | $102 | $215 | $294 |
| Plan F (high deductible) | $26 | $64 | $181 |
| Plan G | $91 | $171 | $267 |
| Plan K | $40 | $85 | $198 |
| Plan L | $68 | $105 | $222 |
| Plan M | $88 | $122 | $241 |
| Plan N | $70 | $148 | $245 |