There are few cities in the country with as much history and culture as those in the Northeast. Manchester is no exception. Ever since the mid 1700s, Manchester has been a great place for seniors to retire. Unfortunately, that doesn't mean that you'll be free from rising healthcare costs by living there. In fact, seniors in Manchester can end up paying thousands of dollars in out-of-pocket expenses every single year as a result of the Medicare coverage gaps. If you rely on Original Medicare to meet your healthcare needs, you might end up relying on your family and friends to pay your healthcare bills. That's why thousands of seniors in Manchester have decided to switch over to Medicare Advantage or Medicare Supplement (Medigap) Insurance plans.
Facts and Figures
There are 14,965 seniors living in Manchester right now.
There are 3 hospitals in the Manchester area where seniors can get emergency and/or in-patient care.
10% of New Hampshire seniors have a Medicare Advantage plan.
30% of New Hampshire seniors have a Medicare Supplement (Medigap) plan.
Which leaves 60% of seniors potentially uninsured or underinsured against costly Medicare coverage gaps!
New Hampshire in general is one of the least-covered states in the Union. Only about 6,000 seniors in the Manchester area have reliable access to healthcare options that they both need and deserve. For the other nearly 9,000 seniors in the area, healthcare can come with major financial strings attached. As you age, your risk of developing new or worsening symptoms as a result of age-related illnesses increases. Even worse is the fact that you can develop multiple age-related illnesses even if you are currently in perfect health. Unfortunately, perfect health today doesn't always equate to perfect health tomorrow. The chart below shows just how prevalent a few of the many age-related illnesses are in the Manchester area.
| | |
| --- | --- |
| Disease | Prevalence in Manchester, NH |
| Arthritis | 26% |
| High Blood Pressure | 29% |
| Coronary Heart Disease | 6% |
| Diabetes | 9% |
| Kidney Disease | 3% |
Healthcare Costs in Manchester, NH
The development of new symptoms would be bad enough for your finances, but that's not the end of it. Even as you develop new symptoms, the majority of your existing symptoms will most likely worsen in terms of both frequency and severity. That can make it incredibly difficult to go through life without more frequent treatment. Unfortunately, the need for more frequent treatment necessitates paying more money to your various healthcare providers. If you happen to be on Original Medicare, much of that additional money will be coming directly from you rather than your insurance. That is to say that you could be paying thousands of dollars in annual out-of-pocket expenses. These increased healthcare costs are further worsened by the fact that medical costs in general are on the rise, meaning the same exact procedure could cost you more and more with each passing year. Since seniors are living longer lives than ever before, these costs can really add up over time.
| | | |
| --- | --- | --- |
| Disease | Prevalence in Manchester, NH | Annual Cost of Treatment |
| Arthritis | 26% | $294 |
| High Blood Pressure | 29% | $356 |
| Coronary Heart Disease | 6% | $9,787 |
| Diabetes | 9% | $2,173 |
| Kidney Disease | 3% | $9,285 |
Medicare Advantage Savings in Manchester, NH
Roughly 10% of (or an estimated 1,497) seniors in the Manchester area have replaced their Original Medicare plan with a Medicare Advantage plan. These plans are designed by private providers to take over your health insurance from the government, meaning that the government is not directly responsible for the administration of your Medicare Advantage plan. However, the government still has a hand in much of what the providers can do. For example, the law requires that providers of Medicare Advantage plans include the same minimum level of care as to be found in Original Medicare. But since these plans are privately administered, providers are allowed to add additional coverage options in exchange for you voluntarily paying a higher price. Granted, the government tends to handle all or most of your premiums, meaning that you might not actually have to pay extra to receive more.
Many seniors who rely on large numbers of prescription medications to meet their healthcare needs find that Medicare Advantage plans are their best option, due to the ability to add comprehensive prescription drug coverage directly to their plan. The same goes for you. If you happen to suffer from arthritis, high blood pressure, or diabetes, Medicare Advantage's prescription drug coverage options might be perfect for you. Many of these plans are so comprehensive as to even provide coverage for minor medical equipment the likes of glucose monitors and testing strips. With one of these plans, you could save tens of thousands of dollars over the five- and ten-year periods.
In order to save even more money, many seniors have begun enrolling in vision and dental care coverage options and adding them directly to their Medicare Advantage plans. This is an option that is currently unavailable to seniors who rely on Original Medicare or Medicare Supplement Insurance. Whereas Medicare Advantage plans enable you to enjoy worry-free access to many different kinds of vision and dental care, Original Medicare and Medicare Supplement Insurance will hardly cover anything related to vision or dental care.
Medicare Supplement (Medigap) Savings in Manchester, NH
Three times as many seniors in the Manchester area rely on Medicare Supplement (Medigap) Insurance as Medicare Advantage. Whether you enroll in a Medigap plan or a Medicare Advantage plan essentially boils down to your personal needs, and how effectively your chosen plan can meet them. All in all, there are ten different Medigap plans (A, B, C, D, F, G, K, L, M, and N), each providing quality coverage options of varying extents for Medicare Part A & B coverage gaps, which can be exceptionally burdensome if you're suffering from age-related kidney or heart disease.
The first batch of plans to know about are Medigap plan types A, D, K, and L. These plans, as mentioned above, provide coverage benefits for Medicare Part A coverage gaps, meaning that you can enjoy worry-free access to things like hospital stays, blood transfusions, and skilled nursing care. However, it is also important to know that these plan types only provide assistance covering Medicare Part A coverage gaps. That means that Medicare Part B coverage gaps will still pose a significant financial burden to you if you frequently require care related to Medicare Part B.
The second batch of plans that you should know about are Medigap plan types B, C, F, G, M, and N. You will need one of these plans if you want a Medigap plan type that covers both Medicare Part A coverage gaps as well as Medicare Part B coverage gaps. Unfortunately, not all of these plans are going to last forever. Medicare Supplement Plan F is set to be discontinued beginning in 2021, meaning that 2020 is officially the last year to enroll in the plan. If you, like many other seniors, would prefer Medigap Plan F, you will have to enroll soon, and be sure to pay your monthly premiums on time. If you make a late payment, if the company goes under, or if you choose to enroll in a different plan, you'll lose your Plan F benefits forever.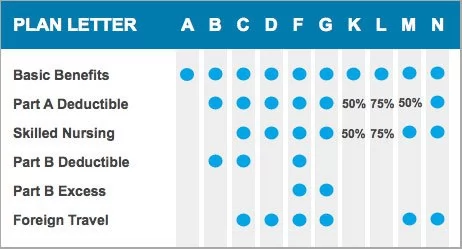 In order to obtain prescription drug coverage, dental coverage, and/or vision coverage while on a Medicare Supplement Insurance plan of any type, you're going to need to do a couple of things. Since it is impossible to add these coverage options directly to your Medigap plan, you will need to do so indirectly. For prescription drug coverage, this can be done by enrolling in Medicare Part D prescription drug coverage. Although this plan could leave you paying out-of-pocket costs as a result of the "donut hole" coverage gap, Medicare Part D prescription drug coverage tends to be more than enough for the average senior. For vision and dental care coverage, you can easily enroll in a private vision and dental care insurance plan from a local provider. This can be done at any time, as neither vision nor dental insurance require you to go through an open-enrollment period, and can cost less than $50 per payment period in many cases.
It is more important than ever before to take back control of your health insurance. Why wait for the "perfect time" when today is a good time to switch? The longer you wait, the longer you risk paying thousands of dollars a year to rising medical costs, the development of new or worsening symptoms, as well as the standard Medicare coverage gaps. So don't wait! Go to Medigap.com today and get started on your path to the control of your finances, your health, and your life.
| | | | |
| --- | --- | --- | --- |
| Medigap Plan | Minimum Monthly Premium | Maximum Monthly Premium | Average Estimated Monthly Premium (Part B Premium Included) |
| Plan A | $108 | $264 | $322 |
| Plan B | $147 | $234 | $326 |
| Plan C | $183 | $275 | $365 |
| Plan D | $169 | $260 | $350 |
| Plan F | $183 | $357 | $406 |
| Plan F (high deductible) | $48 | $81 | $200 |
| Plan G | $145 | $311 | $364 |
| Plan K | $60 | $130 | $231 |
| Plan L | $101 | $169 | $271 |
| Plan M | $143 | $205 | $310 |
| Plan N | $127 | $280 | $339 |