So you've chosen to spend your golden years in Kearney, Nebraska? Good for you! But you have another big decision to make: how to supplement your Medicare coverage. Because if you don't, you can end up with some very expensive medical bills as time marches on. Most seniors in Nebraska choose between either Medicare Advantage, or a Medicare Supplement Insurance policy. We'll explain the differences between these two below, and if you need more information in order to help you make a decision, we'll tell you how to get in contact with one of our Medicare experts.
Facts and Figures
There are 4,422 senior citizens living in Kearney right now

There are 8 hospitals in the Kearney area where seniors can get emergency and/or in-patient care

12% of Nebraska seniors have a Medicare Advantage plan

47% of seniors have a Medicare Supplement (Medigap) plan

Which leaves 41% of seniors potentially uninsured or underinsured against costly Medicare coverage gaps!
Budgeting for your future medical needs is hard – for better or worse, though, budgeting for your medical expenses if you have a chronic illness makes the process a little easier. Go ahead and look at the statistics in the chart below. There's at least a one-in-three chance that you, as a Kearney resident, already have one of these diseases. And if so, then that makes your need for some sort of medicare supplement that much more urgent.
| | |
| --- | --- |
| Disease | Prevalence in Kearney |
| Arthritis | 20% |
| High Blood Pressure | 29% |
| Coronary Heart Disease | 8% |
| Diabetes | 9% |
| Kidney Disease | 3% |
Healthcare Costs in Kearney, NE
Yes, even something as seemingly innocuous as a little arthritis pain can eventually evolve into an expensive knee or hip replacement surgery as you age. And arthritis isn't the only disease which creates such costly scenarios. Medicare will help you pay for some of these costs, but if you rely on only Medicare, you could run into some of the expensive coverage gaps which the government won't pay for. And when that happens, it means you could end up with tens of thousands of dollars in medical bills that you are responsible for paying out-of-pocket.
| | | |
| --- | --- | --- |
| Disease | Prevalence in Kearney | Annual Cost of Treatment |
| Arthritis | 20% | $291 |
| High Blood Pressure | 29% | $354 |
| Coronary Heart Disease | 8% | $9,860 |
| Diabetes | 9% | $2,163 |
| Kidney Disease | 3% | $8,687 |
Medicare Advantage Savings in Kearney, NE
You don't necessarily have to enroll in the federal Medicare program, especially if you're worried about the cost of Medicare coverage gaps. You have another option: Medicare Advantage. Medicare Advantage health insurance is a private health insurance policy which you can purchase to replace and opt out of original Medicare. Just keep in mind that these policies must offer you the exact same benefits as Original Medicare, or the unscrupulous company offering you that policy is officially breaking federal law. These policies tend to be heavily discounted because the federal government uses the tax revenue from the Medicare program to pay for part of your premium – or sometimes to pay for all of it, giving you a $0 per month insurance premium.
Why would anyone risk opting out of a single-payer healthcare system for a private health insurance policy? It depends on the individual. Some seniors like the convenience of having all of their medical needs taken care of under the same policy, instead of having to purchase separate coverage for vision, or dental, or prescription drugs from multiple different companies (because Medicare Parts A and B do not cover these, but Medicare Advantage policies can). Between the government subsidies and the customization options, these plans can be cost-effective as well as convenient compared to what else is available.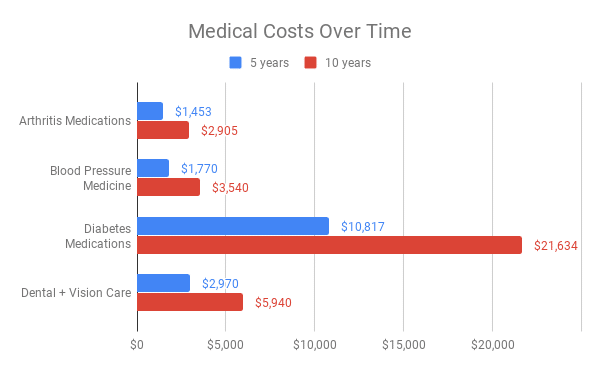 Once you decide on a Medicare Advantage plan, you won't be married to it for the rest of your life. During the annual Open Enrollment Period, you can choose to discontinue your Medicare Advantage policy and opt back into Original Medicare instead. Likewise, if you've been on Original Medicare for many years and aren't happy with it any longer, you can switch to a Medicare Advantage Policy during this Open Enrollment Period. This gives you flexibility and choice at any age, and may be necessary depending on how your medical needs change over time.
Medicare Supplement (Medigap) Savings in Kearney, NE
Another option you have is a Medicare Supplement Insurance policy, better known as Medigap. With Medigap, you get to keep your federal Medicare benefits as they were intended. You also get to protect yourself from the coverage gaps inherent in Medicare Parts A and B. These supplements exist to protect you from those gaps, and those gaps only. Medicare will pay for the vast majority of your expenses, Medigap will swoop in to pay for expenses associated with the gaps in Medicare coverage, and any leftover expenses will then go to you, if there are any.
Let's start by talking about the gaps in coverage associated with Part A, and also Medigap plans A, D, K, and L. Medicare Part A has some of the most expensive coverage gaps you may ever face. The uncovered medical expenses include things like extended hospital stays, extra blood transfusions, and hospice or end-of-life care. The four Medigap plans we just stated are designed to cover these coverage gaps, to varying degrees. Some cover more than others; just keep in mind that you'll have to pay a larger monthly premium for purchasing more coverage.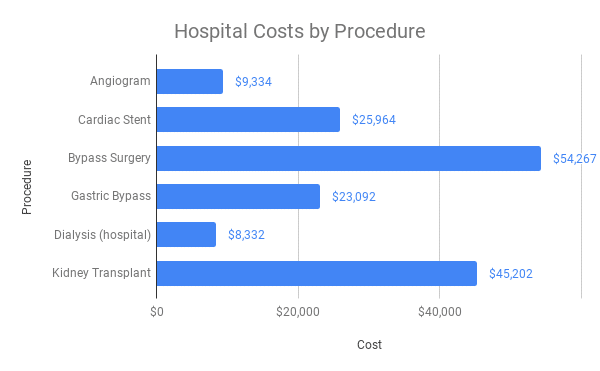 Plans B, C, F, G, M, and N are the Medigap plans which focus on Medicare part A as well as varying degrees of Medicare Part B coverage. Medicare Part B coverage gaps are a little more vague, and usually relate to expenses like your monthly Part B premium, coinsurance, co-pays, and excess charges. But if you don't have these coverage gaps taken care of, multiple doctor visits and minor to moderate outpatient procedures can get very expensive, very quickly. The most comprehensive of these is Plan F, but it is set to retire at the end of 2020. Seniors who are turning 65 and eligible for Medicare before January 2021 would do well to sign up for Plan F now and get grandfathered in while the benefits are still available.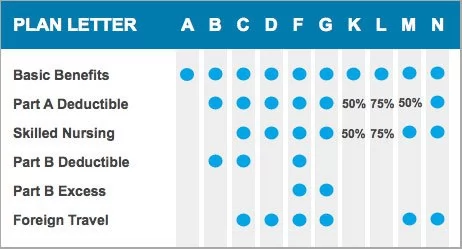 Medigap plans are attractive to some seniors because the monthly premiums can be substantially lower than some Medicare Advantage policies. On the other hand, this value partly comes from the fact that you don't get to add extra coverage options like prescription drugs, dental, or vision. You must purchase two of these separately (vision and a dental), and sign up for Medicare Part D prescription drug coverage if you want help with these expenses but don't want to forfeit your Medicare benefits. However, there is still the Medicare Part D "donut hole" that you'll have to worry about, and some seniors might not want to deal with the hassle of paying several different, separate insurance companies in order to get their vision and dental needs taken care of.
It's hard to predict what health challenges you may face in the future – and it can be even harder to pay for the unexpected surprises on a fixed, retirement income. That's why we're here to help you plan for the future and cover your bases so that you stay financially solid well into your golden years. If you have any questions or need help choosing a policy, don't hesitate to contact us!
| | | | |
| --- | --- | --- | --- |
| Medigap Plan | Minimum Monthly Premium | Maximum Monthly Premium | Average Estimated Monthly Premium (Part B Premium Included) |
| Plan A | $90 | $224 | $293 |
| Plan B | $142 | $266 | $340 |
| Plan C | $164 | $346 | $391 |
| Plan D | $173 | $288 | $366 |
| Plan F | $166 | $302 | $370 |
| Plan F (high deductible) | $45 | $92 | $204 |
| Plan G | $172 | $295 | $369 |
| Plan K | $69 | $134 | $237 |
| Plan L | $120 | $189 | $290 |
| Plan M | $142 | $239 | $326 |