If you've chosen to spend the majority of your golden years in Jackson, Mississippi, you've made a fairly smart choice. Unfortunately, you will have to deal with a slightly higher cost-of-living when it comes to your medical needs. And if you haven't done anything to protect yourself against the gaps in Original Medicare coverage, your costs will be more expensive still – unless you protect yourself with either a Medicare Advantage or a Medigap policy, that is.
Facts and Figures
There are 19,072 senior citizens living in Jackson right now
There 11 hospitals in the Jackson area where seniors can get emergency and/or in-patient care
16% of Mississippi seniors have a Medicare Advantage plan
25% of seniors have a Medicare Supplement (Medigap) plan
Which leaves 59% of seniors potentially uninsured or underinsured against costly Medicare coverage gaps!
Most seniors think that something serious and acute, like cancer, is what will wipe out their life savings with outrageous medical bills. But the truth is that over time, chronic disease can be more expensive for more people. Another insidious thing about chronic disease is that it often goes undiagnosed and untreated for years or even decades – making it that much more costly to tackle when you finally do get medical treatment for it. Regardless, even the most well cared for individuals and the most closely watched diseases can be costly. You can get a better idea of how many seniors in your area are dealing with these problems based on the data below.
| | |
| --- | --- |
| Disease | Prevalence (in Jackson) |
| Arthritis | 28% |
| High Blood Pressure | 31% |
| Coronary Heart Disease | 7% |
| Diabetes | 15% |
| Kidney Disease | 4% |
Healthcare Costs in Jackson, MS
Yes, even something as seemingly innocuous as a little arthritis pain can eventually evolve into an expensive knee or hip replacement surgery as you age. And arthritis isn't the only disease which creates such costly scenarios. Medicare will help you pay for some of these costs, but if you rely on only Medicare, you could run into some of the expensive coverage gaps which the government won't pay for. And when that happens, it means you could end up with tens of thousands of dollars in medical bills that you are responsible for paying out-of-pocket.
| | | |
| --- | --- | --- |
| Disease | Prevalence (in Jackson) | Annual Cost of Treatment |
| Arthritis | 28% | $291 |
| High Blood Pressure | 31% | $354 |
| Coronary Heart Disease | 7% | $8,607 |
| Diabetes | 15% | $2,163 |
| Kidney Disease | 4% | $7,184 |
Medicare Advantage Savings in Jackson, MS
Your first option, as far as supplemental coverage is concerned, is Medicare Advantage. When you sign up for Medicare Advantage, you aren't just getting a different type of Medicare. You're opting out of a federally operated system and instead choosing to let a private health insurance company manage all of your health care needs from now until the day you die. Thankfully, these companies are at least regulated closely enough that they must offer you the same benefits you would get with Original Medicare. They can't offer you anything less. Many of them will actually offer more benefits in exchange for a higher monthly premium. But since the government is paying into your Medicare Advantage policy, those funds greatly reduce your monthly Medicare Advantage premium – and some qualifying seniors can even get it for as little as $0 per month.
Many people find Medicare Advantage particularly helpful when it comes to things like prescription drugs and the cost of medical equipment. Indeed, many chronic diseases rely on prescriptions and testing equipment in order to manage them properly; but Original Medicare doesn't have the best plan to cover these expenses. It has Medicare Part D for prescription drug costs, but Medicare Part D comes with the problematic "donut hole" coverage gap which can get expensive if you aren't careful. Many Medicare Advantage plans, on the other hand, have a prescription drug plan packaged with them which greatly reduces prescription drug and medical equipment prices.
On top of all this, you can also choose to add dental and vision coverage to most Medicare Advantage policies. This means that virtually all of your medical needs – from general health, to dentistry, to vision, and your prescriptions – can all be managed under one policy through one company. With Original Medicare, you would need to get private health insurance for dental, vision, and prescription drugs through other providers. Sometimes, this convenience can make Medicare Advantage more expensive than Original Medicare or other insurance supplements; but if the convenience is worth the extra cost to you, then it may be worth it. However, if your budget is your main concern, then getting different coverage from multiple sources may be your better option.
Medicare Supplement (Medigap) Savings in Jackson, MS
On the other hand, there's Medicare supplement insurance (more commonly known as Medigap). It lets you keep your Original Medicare coverage and benefits without having to undergo the hassle of a major private health insurance company managing 100% of your medical needs. It merely supplements the gaps in Original Medicare coverage that you would otherwise have to pay for out-of-pocket. And it does so after the government handles everything first; it is not a middle man. Medigap policies are specifically structured to handle the gaps in Medicare coverage, so because you're purchasing less coverage, you will usually end up paying less in monthly premiums.
Medigap plans can be divided into two groups: plans that focus on Medicare Part A, and plans that focus on Medicare Parts A and B together. Plans A, D, K, and L focus almost exclusively on your Part A coverage gaps, with only Plan D stepping outside that area to offer a foreign travel benefit. Part A gaps are some of the most costly gaps because these are your hospital-related expenses like excess blood transfusions or extended hospital stays. Medical expenses from Part A coverage gaps are some of the most devastating for retired seniors who are on a fixed income – which is why it's so important to get the right supplement insurance before it's too late.
The other six plans – Plans B, C, F, G, M, and N – are the ones you want to look at if you are concerned with Medicare Part B expenses. All of these plans start with helping you cover Part A expenses and then extend themselves to cover things like your Part B deductible costs or Part B excess charges. Deductibles and excess charges alone can be quite expensive, so it's important to cover yourself financially if you want to be protected from them.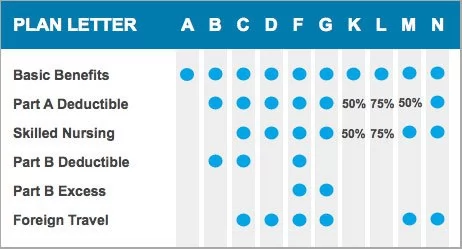 Unfortunately, unlike Medicare Advantage, you can't add dental, vision, or prescription drug coverage to your Medigap supplement. And none of the available Medigap supplements come with these types of coverage. For prescription drug coverage, the most popular choice is Medicare Part D – but we've already discussed how problematic that can sometimes be. You'll also have to get private dental and vision insurance from a local provider; but these providers sometimes offer age-related discounts to seniors like you, so it may be worth checking out.
Medical costs in Jackson, Mississippi tend to run a little higher than in other parts of the country. So if you don't protect yourself with the right Medicare supplement insurance now, it can be especially expensive and painful for you later on down the line. If you want to protect your life savings or avoid having to reach out to friends and family for help paying your medical bills as you age, a Medicare Advantage or Medigap supplement policy is the smart way to go. Our experts are standing by to take your call if you need help making such an important decision.
| | | | |
| --- | --- | --- | --- |
| Medigap Plan | Minimum Monthly Premium | Maximum Monthly Premium | Average Estimated Monthly Premium (Part B Premium Included) |
| Plan A | $78 | $123 | $236 |
| Plan B | $107 | $150 | $264 |
| Plan C | $131 | $171 | $287 |
| Plan D | $140 | $157 | $284 |
| Plan F | $131 | $178 | $290 |
| Plan F (high deductible) | $46 | $46 | $182 |
| Plan G | $108 | $149 | $264 |
| Plan K | $49 | $68 | $194 |
| Plan L | $76 | $93 | $220 |
| Plan M | $142 | $142 | $278 |
| Plan N | $96 | $124 | $246 |