Pricy gaps in Medicare coverage Parts A and B are not at all new discoveries. We all know it's a problem. What can we do, though? With every year that passes, these healthcare battles get more and more expensive. The outcome can literally be life or death, as well as financially debilitating. And in Michigan, seniors face different sorts of challenges that other states just don't have.
Senior Medicare in Grand Rapids: Facts and Figures
There are 23,425 senior citizens living in Grand Rapids right now

There are 7 hospitals in the Grand Rapids area where seniors can get emergency and/or in-patient care

34% of MI seniors have a Medicare Advantage plan

22% of seniors have a Medicare Supplement (Medigap) plan

Which leaves 44% of seniors potentially uninsured or underinsured against costly Medicare coverage gaps!
Aging means becoming more vulnerable to disease. It happens to us all, despite even our best efforts. And to make matters worse, most of these diseases are chronic, meaning that they will require treatment for life. This clearly makes medical costs that much worse. Also, it is not just possible, but likely, that you may have more than one of these diseases at the same time, easily doubling difficulties and expenses. The chart below outlines the most common chronic diseases in seniors in Grand Rapids:
| | |
| --- | --- |
| Disease | Prevalence (in Grand Rapids) |
| Arthritis | 26% |
| High Blood Pressure | 30% |
| Coronary Heart Disease | 6% |
| Diabetes | 10% |
| Kidney Disease | 3% |
Healthcare Costs in Grand Rapids, MI
Healthcare cannot be considered separately from the associated costs. It is impossible to separate the two. Prescription drugs, necessary pieces of testing equipment, hospital visits, and regular physician visits are each factors which add up faster than you might think, leading to a massive, unexpected medical bill. The costs associated with medical care are on the rise and annual trends show no signs of slowing the climb any time soon. Seniors are living longer – which is excellent news – but this also means that there is more time to rack up mountains of medical debt. You cannot afford to wait. As a senior, you have to know if the coverage you have is enough to protect what you have spent your lifetime working for.
| | | |
| --- | --- | --- |
| Disease | Prevalence (in Grand Rapids) | Annual Cost of Treatment |
| Arthritis | 26% | $280 |
| High Blood Pressure | 30% | $288 |
| Coronary Heart Disease | 6% | $7,441 |
| Diabetes | 10% | $2,158 |
| Kidney Disease | 3% | $6,553 |
Medicare Advantage Savings in Grand Rapids, MI
The government approved Medicare Advantage to be offered as a form of private medical insurance. It is available for sale to senior citizens, provided they are otherwise eligible for Medicare. Even if they are not currently enrolled in a Medicare plan, Medicare Advantage is still available. Rather than the government footing your entire bill, they send a portion towards your Medicare Advantage premium, and you owe the difference. In several cases, this can end up being as low as zero dollars per month. These plans, legally, have to offer at least coverage matching Medicare Parts A and B, though most offer additional coverage options in the form of vision or dental.
When surveyed, seniors with chronic ailments and Medicare Advantage have stated that they feel the coverage is better suited to their needs. Most of the most common chronic diseases – i.e. arthritis, blood pressure, diabetes – require daily mico-management and constant effort to live with. This often includes prescription medications, equipment, and a much larger number of general and potentially specialist visits, among others. These illnesses only get progressively worse, which costs more and more with each passing day. Medicare Advantage plans can cover more than Medicare, even when it includes extras, like Part D. It is time to discover Medicare Advantage and how it can help you live the rest of your life the best you can.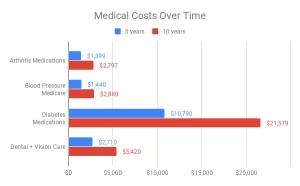 Medicare Advantage can step in to take care of the potentially messy gaps left in Medicare Parts A and B. Doctor and specialist visits, testing equipment coverages, and prescription drug plans are available options as well. A selection of plans offer the option to add vision or dental with an additional premium. Because Medicare Advantage is government-approved, the federal government pays some or potentially most of the premium. Qualifying seniors can get a far more comprehensive Medicare Advantage plan with a premium as low as $0 a month. As with every insurance plan, certain items will be excluded, like copays or coinsurance, which remain the responsibility of the insured.
Medicare Supplement (Medigap) Savings in Grand Rapids, MI
Medigap policies can also help save seniors a considerable amount of time, toil, and tithe. They function and cover gaps differently than others, especially Medicare Part A. The most common emergency conditions to affect seniors – like kidney failure or coronary heart disease – can send you to the emergency room for life-saving surgery at any moment. These can cost tens of thousands of dollars, maybe even more, depending on the severity of the entire incident. And that's just for emergency care, one hospital stay, and inpatient treatments. It doesn't account for any additional care you will need to continue living with the aftermath of these diseases. If you must stay in a hospital for more than a few days, or have an uncovered outpatient procedure like multiple blood transfusions, those are not covered under Medicare Part A. They would have to come out of pocket. This is why you need additional coverage from Medigap: to protect against costly, uncovered medical expenses.
There are four Medigap plans tailored to suit the above coverages. These are: A, D, K, and L. Some additional plans cover gaps in Part A and Part B, but we will explore those below the chart in a second. First, it is important to note that if you do not anticipate needing the coverage for Medicare Part B, buying a plan that only covers gaps in Part A will cost a lesser amount, adding to your savings even more.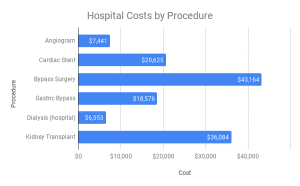 The remaining Medigap Plans (B, C, F, G, M, and N) were created to cover gaps in both Medicare Part A as well as Part B. As with any insurance plan, the more expansive and in-depth the coverage that's offered by your plan, the more the premium may be. This means less out-of-pocket costs and surprise bills. Either option could save money for you. It simply depends on your specific medical and insurance needs. Also note that Plan F is going to retire in 2020, and will not be offered as of 2021 for new Medicare enrollees.
Medicare Part B plans are intended to take over aspects that Part A can or does not. This often includes outpatient procedures like blood transfusions, practitioner visits, and some pieces of testing equipment. Medicare Part B comes with its own co-pays, coinsurance, and premiums, which can be difficult to pay for. Fortunately there are options to lower this cost and help prevent expenses from getting too overwhelming.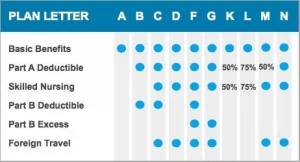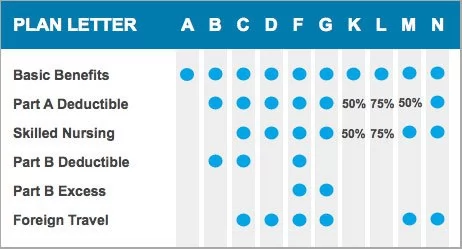 Medicare Advantage has options for monthly medical prescriptions, some dental or denture choices, and vision or eyeglasses, for different (and additional) premium costs. Medicare Supplement Insurance does not have these same offerings. Medicare has Part D for prescriptions, which can be bought with or without the other parts of Medicare. A quick internet search for Grand Rapids dental coverage can yield a plethora of alternatives as well, and several have special pricing deals for seniors.
Grand Rapids seniors, it is beyond important that you have the proper medical insurance coverage at a price that doesn't destroy your life savings. It is meant to protect you, your savings, and your family from unnecessary burden or financial hardship. Your health and the rising costs of care are beyond anyone's control. But you can control how you prepare. Investing in an affordable Medicare gap policy is one of the very best ways to do that. We can help you find the best policy for your needs, now.
| | | | |
| --- | --- | --- | --- |
| Medigap Plan | Minimum Monthly Premium | Maximum Monthly Premium | Average Estimated Monthly Premium (Part B Premium Included) |
| Plan A | $40 | $342 | $327 |
| Plan B | $115 | $238 | $312 |
| Plan C | $123 | $271 | $333 |
| Plan D | $163 | $169 | $302 |
| Plan F | $133 | $467 | $436 |
| Plan F (high deductible) | $32 | $57 | $180 |
| Plan G | $116 | $376 | $382 |
| Plan K | $44 | $80 | $198 |
| Plan L | $80 | $102 | $227 |
| Plan N | $96 | $151 | $259 |