If you're a Lafayette resident and you're concerned about the potentially expensive gaps in your Medicare coverage, then you've come to the right place. For seniors in Lafayette, the two main options you can choose from are either Medigap or Medicare Advantage. But which one is right for you? Below, we will briefly discuss these options in greater detail and with any luck, you'll have a much better idea of which policy to purchase by the time you finish reading this page.
Facts and Figures
There are 16,524 senior citizens living in Lafayette right now
There are 10 hospitals in the Lafayette area where seniors can get emergency and/or in-patient care
33% of Louisiana seniors have a Medicare Advantage plan
17% of seniors have a Medicare Supplement (Medigap) plan
Which leaves 50% of seniors potentially uninsured or underinsured against costly Medicare coverage gaps!
There are certain medical needs you'll never be able to predict, like whether or not you'll need cancer treatment or help recovering from a sudden hip fracture. But you can predict medical expenses related to chronic illness. The chart below will show you how prevalent chronic illness is in Lafayette. There's a very real chance you'll recognize one of the diseases in the chart below because it's something that your doctor has already diagnosed you with. Chronic disease can get very expensive over time, and a lot of these expenses are not covered due to Medicare coverage gaps.
| | |
| --- | --- |
| Disease | Prevalence in Lafayette |
| Arthritis | 25% |
| High Blood Pressure | 36% |
| Coronary Heart Disease | 7% |
| Diabetes | 11% |
| Kidney Disease | 3% |
Healthcare Costs in Lafayette, LA
Chronic diseases may start out with little or no symptoms; but that won't last forever. The thing about chronic disease is that it will stay with you for the rest of your life and most of the time it will get progressively worse. But there are things you can do to manage your symptoms and reduce the severity of your illness. That involves watching it closely with your doctor, taking certain prescriptions, managing your diet and lifestyle in the healthiest way possible, and so on. But as these diseases progress to their later stages, they can fall into Medicare coverage gaps and end up costing you a significant amount of money and out-of-pocket expenses.
| | | |
| --- | --- | --- |
| Disease | Prevalence in Lafayette | Annual Cost of Treatment |
| Arthritis | 25% | $280 |
| High Blood Pressure | 36% | $288 |
| Coronary Heart Disease | 7% | $7,261 |
| Diabetes | 11% | $2,158 |
| Kidney Disease | 3% | $6,491 |
Medicare Advantage Savings in Lafayette, LA
As you saw earlier, one third of seniors and Lafayette have a Medicare Advantage plan. This means that they have enrolled in a private health insurance policy which offers as much or more medical benefits compared to the federal Medicare program. It essentially replaces your Medicare benefits, but they cannot legally offer you less coverage than what you would get from Original Medicare. What's more is that the federal government subsidizes these plans with the tax revenue that you and other working adults have paid into the Medicare system for many years. Due to this subsidy, you could get a severely discounted or a $0 monthly premium for your Medicare Advantage plan. But you will still be responsible for other costs, like coinsurance and copays, how much a name a few.
Depending on where you live and who your insurance provider is, you may be able to customize your Medicare Advantage plan to cover all of your medical needs under the same policy. Many seniors are attracted to Medicare Advantage specifically because of this feature. But as with any insurance product, you need to understand that the more coverage you purchase, the more expensive your monthly premium is going to be. Many seniors, however, are willing to pay that premium in exchange for the convenience. And not all seniors will see their monthly premiums become prohibitively expensive just because they add some extra coverage options.
As you can see, purchasing a Medicare Advantage plan could help save you a ton of money if you have expensive prescription drug needs. Medicare Advantage prescription drug coverage is usually more comprehensive even when compared to Medicare Part D. this is because Medicare Part D comes with a 25% out-of-pocket cost on all prescriptions once you have exceeded your annual spending limit, and doesn't go away until you spend enough money to hit catastrophic coverage levels. You can also add dental and vision to the same policy, managing all of your medical needs simply and effectively.
Medicare Supplement (Medigap) Savings in Lafayette, LA
If you would rather keep your federal Medicare benefits, that's understandable. And you can do that without worrying about coverage gaps by purchasing a Medigap policy. There are 10 plans available to choose from, all with varying degrees of coverage. So when you need medical care, Medicare will take care of your costs first; if some of those costs are related to coverage gaps, your Medicare Supplement Insurance plan will pick up what's left over and, based on how comprehensive your Medigap policy is, you will be third in line to receive a bill if there are any unsettled expenses.
Medigap policies start with plans A, D, K, and L, which do their best to protect you from Medicare Part A coverage gaps. These gaps are related to things like extended hospital stays and end-of-life care, which are some of the most expensive medical costs you will face in your lifetime. Despite this, these four policies actually tend to have some of the lowest monthly premiums since they aren't actively protecting you from Medicare Part B coverage gaps. But if you want fully comprehensive coverage, you will probably need to take a look at the other six plans in order to get a truly comprehensive policy.
If you need equally comprehensive coverage for both Medicare Parts A and B, then you'll want to look at Medigap Plans B, C, F, G, M, and N. These plans, in addition to covering Medicare Part A coverage gaps, also provide coverage for things like excess charges or your coinsurance costs. Many seniors choose to go with Medigap Plan F because it offers the most comprehensive coverage available out of all the 10 plans. Unfortunately, it is going to be phased out soon. If you qualify for Medicare and you can enroll before January 2021, we strongly suggest you do so that you can get grandfathered into these benefits; otherwise, you'll have to settle for something slightly less comprehensive like Medigap Plan G or plan C.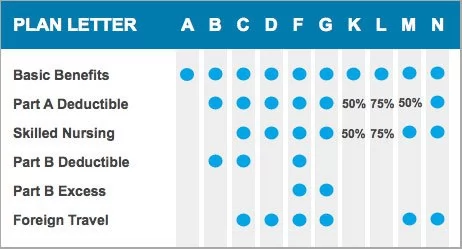 There are three types of insurance coverage you will have to go out and get on your own if you do decide to purchase a Medigap policy. Those coverages are dental, vision, and prescription drug coverage. The first two are fairly easy to remedy – there are hundreds of local providers all over the country who offer highly affordable vision and dental plans, especially for seniors like you. For prescription drugs, you will most likely have to enroll in Medicare Part D. And as long as you can stay away from the dreaded "donut hole" associated with Medicare Part D coverage, your finances should be safe from exorbitant medical costs.
Regardless of whether you want Medicare Advantage or Medigap supplement, you might not want to make the decision all on your own. Please don't hesitate to contact us if you are still uncertain about which supplement is right for you. We have experts standing by right now to take your call or answer your emails. And the sooner you make your decision, the more money you will save!
| | | | |
| --- | --- | --- | --- |
| Medigap Plan | Minimum Monthly Premium | Maximum Monthly Premium | Average Estimated Monthly Premium (Part B Premium Included) |
| Plan A | $83 | $201 | $278 |
| Plan B | $106 | $261 | $319 |
| Plan C | $128 | $286 | $343 |
| Plan D | $104 | $254 | $315 |
| Plan F | $128 | $348 | $374 |
| Plan F (high deductible) | $38 | $82 | $196 |
| Plan G | $105 | $246 | $311 |
| Plan K | $46 | $97 | $207 |
| Plan L | $75 | $132 | $239 |
| Plan M | $100 | $163 | $267 |
| Plan N | $92 | $206 | $285 |