Life in Overland Park can be a paradise, but not when it comes to the high out-of-pocket costs of getting healthcare. For thousands of seniors in the area, reliable access to affordable and effective healthcare treatments is simply not an option, due to the nature of Medicare coverage gaps. Medicare coverage gaps are often associated with hospital expenses, end-of-life care, or Part B excess charges. They can add up to thousands of dollars in out-of-pocket expenses every year or possibly every month – if you're not careful. However, by enrolling in either a Medicare Advantage or Medicare Supplement (Medigap) insurance plan, you can ensure that those Medicare coverage gaps no longer pose you any substantial threat. Let's take a quick look at the numbers to show that you are not alone in this struggle.
Facts and Figures
There are currently 27,725 seniors living the Overland Park area.
There are 10 hospitals near Overland Park where seniors can go for emergency and/or in-patient care.
15% of seniors in Kansas have a Medicare Advantage plan.
46% of seniors in Kansas have a Medicare Supplement plan.
That leaves 39% of seniors potentially uninsured or underinsured against costly Medicare coverage gaps!
At first glance, the fact that only two out of every five seniors in the area has a deficient level of insurance is a sign of hope; however, one simple fact can highlight the potential damages that seniors in that group face. That fact is what healthcare professionals refer to as "age-related illnesses." Age-related illnesses are any disease or illness that becomes more common in people as they age. That means that, even if those 39% of uninsured or underinsured seniors are in perfect health today, there remains a very real potential that their health could take a turn for the worse in the following years, months, or even days. Without proper insurance, that can leave you spending countless amounts of money on out-of-pocket treatments, even if you have enrolled in a Medicare plan. The chart below details a few of the most common age-related illnesses in the senior population (ages 65 and up) of Overland Park, Kansas.
| | |
| --- | --- |
| Disease | Prevalence in Overland Park, KS |
| Arthritis | 22% |
| High Blood Pressure | 27% |
| Coronary Heart Disease | 5% |
| Diabetes | 7% |
| Kidney Disease | 2% |
Healthcare Costs in Overland Park, KS
Unfortunately, as you grow older, your risk of developing an additional age-related illness isn't the only thing that you need to worry about. On top of the frustration and difficulty of dealing with finding treatment for an additional illness, symptoms related to age-related illnesses increase in both severity and frequency as you age. This means that both your need for treatment and your need for more advanced treatment will become more frequent with age. Given the fact that healthcare costs in general are rising each year, your out-of-pocket expenses incurred as part of a Medicare coverage gap are likely to also increase each year. Moreover, seniors are living longer now than ever before, increasing the amount of time in which an age-related illness could develop as well as worsen. The chart below shows the same age-related illnesses as before side-by-side with a low estimate of the annual cost of treatment in out-of-pocket expenses caused by Medicare coverage gaps.
| | | |
| --- | --- | --- |
| Disease | Prevalence in Overland Park, KS | Annual Cost of Treatment |
| Arthritis | 22% | $294 |
| High Blood Pressure | 27% | $356 |
| Coronary Heart Disease | 5% | $9,187 |
| Diabetes | 7% | $2,173 |
| Kidney Disease | 2% | $8,569 |
Medicare Advantage Savings in Overland Park, KS
Medicare Advantage plans are the more effective, albeit less common, method that seniors can use in order to avoid falling prey to the Medicare coverage gaps. These plans are technically replacements for your Original Medicare plan, and they are required by law to provide the same minimum level of care and coverage options across the board. Because Medicare Advantage plans are provided by independent companies rather than the government, many providers are even willing to offer additional coverage options at an additional cost. However, that "additional cost" tends to be a total cost of $0 per payment period, thanks to the federal government's obligation to pay back what you've contributed to Medicare throughout your working years. This can enable seniors like yourself to have access to a wide variety of additional healthcare options that would otherwise be unavailable.
One such additional coverage option is the possibility to add a prescription drug coverage plan to your Medicare Advantage benefits as well as adding coverage for medical equipment, which can include glucose monitors and testing strips. This comprehensive benefit package makes Medicare Advantage plans great options for any seniors suffering from chronic health issues, such as arthritis, diabetes, and/or high blood pressure. With a Medicare Advantage plan, the savings for people suffering from these conditions can really add up over time, resulting in potential savings of more than $20,000 over a ten-year timeframe.
A few more additional coverage options that many seniors choose to add onto their Medicare Advantage plans are dental and vision care coverage. If you're able to secure access to financial assistance that can enable you to pay $0 monthly premiums, these two coverage options could end up saving you a massive amount of money over both the long and short terms. This is one of the key differences between Medicare Advantage and Medicare Supplement insurance + Original Medicare. The latter two plans are incapable of adding coverage for either dental or vision care. In fact, the only ways to ensure adequate coverage for dental care and vision care expenses while on Medicare are to switch to a Medicare Advantage plan, or to find private insurance providers who specialize in those coverages near you.
Medicare Supplement (Medigap) Savings in Overland Park, KS
Whereas Medicare Advantage plans entirely replace your original Medicare plan, Medicare Supplement plans simply supplement said plan, meaning that you won't experience any delay in coverage while waiting for your Medicare Advantage plan to kick in. Unfortunately, Medigap plans are generally less-inclusive than Medicare Advantage plans, so deciding between which plan is right for you tends to be a question of whether you would prefer the more comprehensive plan or the less expensive plan (which in turn depends on the availability of financial assistance). All in all, there are 10 different Medigap plans from which to choose, each offering a different array of coverage options.
The first category of Medigap plans contains Medicare Supplement insurance Plans A, D, K, and L. Each of these plans are specifically tailored to bridge the coverage gaps associated with Medicare Part A, which can be exceptionally high in seniors suffering from chronic health conditions such as age-related kidney and heart disease. Unfortunately, neither of these plans provides any benefit for expenses incurred as a part of Medicare Part B coverage gaps, meaning that seniors who suffer more so or equally from Medicare Part B coverage gaps will not receive the optimum level of coverage by purchasing one of these plans. Those seniors will stand to benefit more from either a Medicare Advantage plan or a Medigap plan in the second category.
The second category of Medigap plans includes Medicare Supplement insurance Plans B, C, F, G, M, and N. These plans provide benefits for both Medicare Part A and Medicare Part B coverage gaps, enabling seniors who find themselves spending large, out-of-pocket sums on both parts to save potentially thousands of dollars each year, leading to a happier and healthier retirement. Unfortunately, one of the most common Medigap plans, Medigap type F, will no longer be available for purchase after 2020. In order to receive a comparable level of healthcare, seniors who want Medigap Plan F but won't turn 65 and be eligible for Medicare until after 2021 will have to purchase a similar plan, like Plan G or Plan C.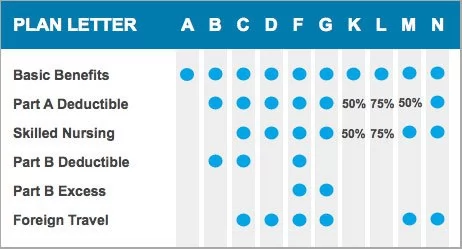 One of the major downsides of all Medigap plans is that not a single one of them provides any benefits related to dental care, vision care, or prescription drug coverage. As mentioned earlier, the only Medicare plan that enables additional coverage options for each of these areas is Medicare Advantage, and that's because Medicare Advantage plans are not technically Medicare plans but rather are private healthcare plans designed to function identically to original Medicare at the bare minimum. That said, it is possible to obtain Part D prescription drug coverage with a Medigap plan and private vision and dental plans tend to be incredibly cheap, sometimes costing less than $50 per month for both.
Living in Overland Park, Kansas, makes it more important than ever to protect your finances and your health from the rising costs of treatment in the United States, not to mention the increased prevalence of age-related illnesses. By putting off obtaining the proper level of healthcare coverage, you risk irreparable financial losses as well as permanent decreases to your overall health. So don't wait! Contact us here at Medigap.com today and begin shopping for the plan that is right for you.
| | | | |
| --- | --- | --- | --- |
| Medigap Plan | Minimum Monthly Premium | Maximum Monthly Premium | Average Estimated Monthly Premium (Part B Premium Included) |
| Plan A | $79 | $209 | $280 |
| Plan B | $107 | $237 | $308 |
| Plan C | $127 | $270 | $334 |
| Plan D | $109 | $221 | $301 |
| Plan F | $128 | $260 | $330 |
| Plan F (high deductible) | $30 | $83 | $192 |
| Plan G | $108 | $222 | $301 |
| Plan K | $50 | $112 | $217 |
| Plan L | $78 | $158 | $254 |
| Plan M | $103 | $160 | $267 |
| Plan N | $92 | $200 | $282 |