Idaho might be known for its potatoes, but what is Boise known for? If you're younger than 64, you might say entertainment, culture, and scenery. However, for seniors aged 65 and older, the facts paint a much different picture. Thousands of seniors in Boise find themselves burdened by expensive medical costs thanks to the little-known Medicare coverage gaps. Yes, it's true: Medicare doesn't cover everything. And what it doesn't pay for could cost you a pretty penny. Thankfully, there are solutions. For most seniors, it is a bittersweet fact to know that you're not alone.
Facts and Figures
There are 29,971 seniors living in Boise, ID right now.
There are 10 hospitals in the Boise area where seniors can receive emergency and/or in-patient care.
31% of seniors in Idaho have a Medicare Advantage plan.
24% of seniors in Idaho have a Medicare Supplement (Medigap) plan.
That leaves 45% of seniors potentially uninsured or underinsured against costly Medicare coverage gaps!
Out of all 29,971 seniors in Boise, 13,187 either do not have health insurance or do not have sufficient access to healthcare in general. To put it another way, more than two out of every five seniors in Boise have no reliable and effective method of accessing the healthcare options that they both need and deserve. Now, you might be thinking that this isn't too bad a problem because some of these people might simply be healthier than the 56% of seniors who do have adequate health insurance in the area. Whether or not that's true is impossible to tell. Assuming for the moment that it is true, however, that can change any day. With each passing decade, our risk of developing age-related illnesses increases exponentially, meaning that good health today doesn't always roll over to good health tomorrow. The chart below demonstrates just how many seniors in Boise have been diagnosed with a few of the most common age-related illnesses.
| | |
| --- | --- |
| Disease | Prevalence in Boise, ID |
| Arthritis | 22% |
| High Blood Pressure | 28% |
| Coronary Heart Disease | 5% |
| Diabetes | 8% |
| Kidney Disease | 2% |
Healthcare Costs in Boise, ID
The worst part about age-related illnesses is that the pain doesn't stop once you're diagnosed. When the treatments begin, they can only treat these illnesses. For the most part, there is no ability to permanently cure an age-related illness because most of them are the result of the aging process. What can change as you age, however, is the frequency and severity of the symptoms of those age-related illnesses. Unfortunately, the frequency and severity of age-related symptoms typically do not change for the better. As you grow older, your need for additional treatments to mitigate the pain of these symptoms increases and so too does the amount of money necessary for financing these treatments. Because seniors are living longer lives now than ever before, age-related illnesses have more time to worsen and seniors have more time to develop additional illnesses, further increasing the annual cost of treatment.
| | | |
| --- | --- | --- |
| Disease | Prevalence in Boise, ID | Annual Cost of Treatment |
| Arthritis | 22% | $294 |
| High Blood Pressure | 28% | $356 |
| Coronary Heart Disease | 5% | $9,670 |
| Diabetes | 8% | $2,173 |
| Kidney Disease | 2% | $9,094 |
Medicare Advantage Savings in Boise, ID
It is important to note that, despite what the name may suggest, Medicare Advantage plans are not actually part of the federal Medicare system. Instead, they are privately owned and privately operated insurance plans provided by independent businesses. The only thing that the government controls about Medicare Advantage plans is the minimum coverage options via a mandate that all Medicare Advantage plans must cover the same benefits as Original Medicare. Because of the fact that these are private insurance providers, they are capable of adding on additional healthcare benefits, enabling you to customize your plan to match your specific needs. And thanks to various subsidies from the government, your Medicare Advantage plan could potentially cost you absolutely nothing despite providing you with better coverage than your Original Medicare plan.
One of the most attractive aspects of Medicare Advantage policies is that providers of these plans typically provide prescription drug coverage alongside the medical coverage. In fact, these prescription drug coverage options can even sometimes be expanded to be so comprehensive as to be able to extend coverage to medical equipment, such as glucose monitors and testing strips. This makes these policies highly desirable for seniors suffering from chronic health conditions the likes of chronic heart and kidney disease. Even for seniors suffering from other illnesses, the benefits of Medicare Advantage plans speak for themselves over the five- and ten- year windows.
Medicare Advantage plans can save you even more money if you decide to add on additional coverage options for vision and dental care. For the most part, these additional coverage options are optional; however, as we mentioned before, these plans can potentially cost you absolutely nothing, depending on whether or not you qualify for the better government subsidies. The option of adding vision and dental insurance to your Medicare Advantage plan is something that is wholly unique to Medicare Advantage. Original Medicare and Medicare Supplement insurance plans do not even offer this additional coverage category.
Medicare Supplement (Medigap) Savings in Boise, ID
Whereas Medicare Advantage plans completely replace your Original Medicare coverage options, Medicare Supplement (a.k.a. Medigap) plans simply supplement your Original Medicare plan, providing a convenient method for financing your healthcare during the coverage gaps. Unlike the seemingly limitless customizability of Medicare Advantage, Medigap plans tend to come in a variety of only ten types, although each has a wide variety of differences from the other. In general, however, there are two categories into which each of these ten plans fall.
The first category includes the strikingly less comprehensive plans (Plans A, D, K, and L), but that doesn't mean that these four plans aren't great in their own way. If you spend a considerable sum of money on coverage gaps related to Medicare Part A (such as hospital stays and in-patient doctor's visits) but not very much or any on the coverage gaps related to Medicare Part B, then one of these plans should be all that you need. They serve to bridge the gap between what you can afford and what you need, bringing your healthcare back into the realm of possibility.
The second category of Medigap plans is far more comprehensive while remaining relatively similar in terms of affordability. These plans include Medicare Supplement plans type B, C, F, G, M, and N. The key difference between this category and the previous category of Medigap insurance options is that the latter only covers expenses related to the Medicare Part A coverage gaps, whereas the former covers the expenses related to both the Medicare Part A and Medicare Part B coverage gaps. This means that you can have access not only to one kind of treatment, but multiple. Unfortunately, these plans appear to be among the most sensitive to political pressure. For instance, Medigap type F will not be offered after the conclusion of 2020. Beginning in 2021, new Medicare enrollees will have to secure alternative healthcare coverage from one of the other nine plans in order to avoid the coverage gaps of Original Medicare.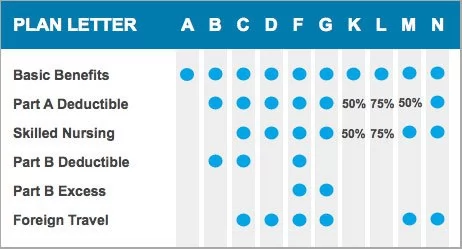 Now come the downsides. As mentioned earlier, Medigap plans do not offer any form of coverage for prescription drugs, dental care, or vision care. That said, it is important to know that this doesn't mean that you will have to go without these items for the rest of your life. Rather, you just need to find a convenient workaround. One of the most common methods that Medigap beneficiaries seek out is the enrollment in private insurance policies specifically covering prescription drugs and dental and vision care. Although securing yet another insurance plan might seem like a daunting task, it can stand to be well worth it in the end, with many companies offering all three of these coverage benefits for under $100 per payment period.
Difficult or not, you've already made the entire process so much easier by sticking with this article through to the end. Now all that's left is to make the final decision: do you want to secure your independence and your health against unforeseen circumstances today or do you want to hold off until you find a better option? Of course, we also need to remember that the perfect is the enemy of the good. So don't wait! Log onto Medigap.com today and begin browsing for options as soon as possible.
| | | | |
| --- | --- | --- | --- |
| Medigap Plan | Minimum Monthly Premium | Maximum Monthly Premium | Average Estimated Monthly Premium (Part B Premium Included) |
| Plan A | $89 | $260 | $310 |
| Plan B | $119 | $244 | $317 |
| Plan C | $141 | $296 | $354 |
| Plan D | $130 | $242 | $322 |
| Plan F | $142 | $307 | $360 |
| Plan F (high deductible) | $31 | $105 | $204 |
| Plan G | $119 | $246 | $318 |
| Plan K | $54 | $140 | $233 |
| Plan L | $97 | $164 | $266 |
| Plan M | $119 | $218 | $304 |
| Plan N | $97 | $205 | $287 |