With nearly 150,000 people and countless parks and businesses, Savannah seems to have it all. There are even enough hospitals to accommodate tens of thousands of people simultaneously! But when it comes to paying for treatment in one of those hospitals, there are a few things you should know about the city's darker underbelly. Medicare comes with some little-known coverage gaps that most seniors don't know about. Those coverage gaps could leave you spending thousands of dollars in out-of-pocket expenses every year. Fortunately, there are a few ways of avoiding those coverage gaps. Thousands of seniors in Savannah have begun making the switch from Original Medicare to Medicare Advantage and Medicare Supplement (Medigap) insurance. Take a look at the numbers below to get a better picture of healthcare in Savannah.
Facts and Figures
There are 18,670 seniors living in Savannah right now.
There are 11 hospitals in the Savannah area where seniors can get emergency and/or in-patient care.
34% of Georgia seniors have a Medicare Advantage plan.
20% of Georgia seniors have a Medicare Supplement (Medigap) plan.
Which leaves 46% of seniors potentially uninsured or underinsured against costly Medicare coverage gaps!
For the 46% of seniors without proper health insurance in Savannah, the problem only gets worse. As you age, your risk of developing an age-related illnesses increases. Age-related illnesses are any disease or illness that can be tied to age as its primary cause. The symptoms of these illnesses then continue to increase in both frequency and severity, leading to significantly worsening quality of life. It is important to note as well that very few age-related illnesses are mutually exclusive, meaning that it is possible to be diagnosed with multiple severe and chronic conditions. The chart below demonstrates just how prevalent a few of the most common age-related illnesses are in Savannah. For example, more than 7,000 seniors in Savannah currently suffer from high blood pressure.
| | |
| --- | --- |
| Disease | Prevalence in Savannah, GA |
| Arthritis | 26% |
| High Blood Pressure | 38% |
| Coronary Heart Disease | 6% |
| Diabetes | 13% |
| Kidney Disease | 3% |
Healthcare Costs in Savannah, GA
As your symptoms worsen, your need for treatment increases. Think about it this way: if your arthritis manifests itself by causing minor pain from joint-swelling, you might only need a single doctor's visit and a minor prescription medication. However, if your arthritis flares up to the point where you are in chronic and severe pain and barely capable of moving or opening your hand, you will likely need multiple surgeries, potential hospitalization, and a handful of prescriptions. All of that raises the costs of your treatment. Further increasing the costs of your treatment is the fact that medical costs are rising every year. That means that a surgery that may have cost $2,000 could now cost potentially hundreds or even thousands of dollars more. If you happen to be in a Medicare coverage gap, the majority of that cost would need to be paid out-of-pocket. Because of the fact that seniors are living longer lives now than ever before, these increased costs have more time to stack up.
| | | |
| --- | --- | --- |
| Disease | Prevalence in Savannah, GA | Annual Cost of Treatment |
| Arthritis | 26% | $291 |
| High Blood Pressure | 38% | $354 |
| Coronary Heart Disease | 6% | $8,931 |
| Diabetes | 13% | $2,163 |
| Kidney Disease | 3% | $7,795 |
Medicare Advantage Savings in Savannah, GA
34% of seniors in Georgia have already switched over to a Medicare Advantage plan in order to say goodbye to those costly Medicare coverage gaps. What sets Medicare Advantage apart from Original Medicare? Simple: Original Medicare is provided by the federal government, whereas Medicare Advantage is provided by private health insurance providers. Although Medicare Advantage totally replaces Original Medicare, providers of Medicare Advantage plans are still required by law to provide the same benefits as Original Medicare as a baseline to ensure that you continue to receive an acceptable standard of care. Moreover, many Medicare Advantage providers also offer additional coverage options in exchange for a small price. Since the government takes care of most or all of your premiums, it is possible to obtain many of those additional options without paying a penny in premiums.
Medicare Advantage plans are common among seniors who rely heavily on prescription medications and minor medical equipment because of the plan's ability to provide comprehensive coverage for both of these care categories. If you're suffering from a chronic age-related illness such as diabetes, high blood pressure, or arthritis, you might want to consider enrolling in one of these plans. Not only can the prescription drug coverage provide enough wiggle room to help you reliably afford all of your prescription needs no matter how extensive, the minor medical equipment coverage can also help you to reliably afford necessities like glucose monitors and testing strips. Over the five- and ten-year periods, the savings can really add up.
Medicare Advantage plans can help you to save even more money by providing you with the option to add vision and dental care to your plan. These plans make it possible to enjoy your best possible quality of life without sacrificing your wealth to get there. The benefits that Medicare Advantage providers can provider regarding vision and dental care are leaps and bounds better than anything that providers of Medicare Supplement or Original Medicare have to offer. Neither of the latter two plans offer much of anything for either vision or dental care. In fact, for seniors relying exclusively on Original Medicare, you will likely only receive any form of dental assistance in absolute emergencies. Even then, those costs will most likely count toward your Medicare Part B coverage gaps, resulting in thousands of dollars of out-of-pocket expenses.
Medicare Supplement (Medigap) Savings in Savannah, GA
Medicare Supplement plans, also known as Medigap, serve to complement your Original Medicare coverage by expanding on its existing benefits. That means that a Medigap plan won't replace your coverage. Rather, it adds to it like frosting on a cake. When it comes to Medigap plans, that "frosting" comes in the form of reduced out-of-pocket expenses. Each of the ten available Medigap plans provides protection from Medicare Part A coverage gaps, which can be exceptionally high if you happen to have age-related heart or kidney disease. That said, each plan provides different benefits. In fact, there are two general categories of plan types that you should know about.
The first category of plan types includes Medicare Supplement plan types A, D, K and L. These four plans focus exclusively on improving your access to Medicare Part A and the benefits thereof. That means improved access to hospitalizations, blood transfers, skilled nursing care, and much, much more. Unfortunately, Medicare Part A doesn't cover all of your healthcare expenses. Things like emergency care are covered by Medicare Part B. If you're struggling to afford coverage gaps related to Medicare Part B, neither of these four plans can help you there, as neither of these four plans provides any form of coverage for Medicare Part B coverage gaps.
In order to secure Medigap coverage against Medicare Part B coverage gaps, you'll have to select one of the following Medicare Supplement plan types: B, C, F, G, M, and N. Not only do these plan types bridge the coverage gaps of Medicare Part B, they also bridge the coverage gaps of Medicare Part A. That means improved access to just about everything from the ambulance to your discharge from the hospital. Of course, not all of these plans are destined to last. In fact, Medigap Plan F will not be offered after 2020. In order to enjoy the benefits of Medigap type F, you'll have to select a similar plan from the list below or enroll before the deadline to get "grandfathered" into those specific benefits.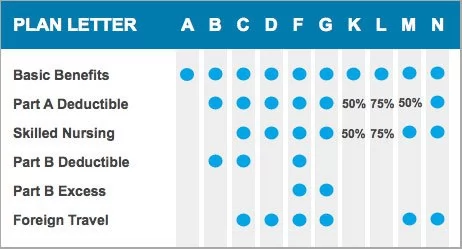 Since Medigap insurance plans cannot provide any assistance with prescription drug coverage or dental and vision coverage, it is important to know your options. You could simply choose to go without those coverage options, but that is absolutely not an advisable course of action. Many seniors find that their prescription drug needs are met simply by enrolling in Medicare Part D prescription drug coverage, but that option isn't always sufficient. For seniors struggling to afford large amounts of prescription medications, Medicare Advantage might be the most cost-effective option. For seniors on Medigap who want to enroll in vision and dental care coverage plans, the process is relatively simple. Just call a private insurer and ask to enroll in one of their plans. Ordinarily, this can be done at any time of the year, depending on the particular provider you choose to go with, and can cost less than $100 per payment period.
Staying in tip top health is more important now than ever and only becomes more important as you continue to age. Keeping your community and the city of Savannah healthy begins with your decision to obtain reliable and affordable health insurance. Amid rising medical costs and increasing needs for treatment, finding the plan that's right for you can be quite a challenge if you go it alone. So don't be afraid to ask for help. Head over to Medigap.com and speak with our experts today.
| | | | |
| --- | --- | --- | --- |
| Medigap Plan | Minimum Monthly Premium | Maximum Monthly Premium | Average Estimated Monthly Premium (Part B Premium Included) |
| Plan A | $76 | $254 | $301 |
| Plan B | $121 | $289 | $341 |
| Plan C | $149 | $328 | $374 |
| Plan D | $126 | $255 | $326 |
| Plan F | $149 | $299 | $360 |
| Plan G | $119 | $270 | $330 |