Are you a Macon resident 65 years of age or older? Are you worried about the coverage gaps inherent in the Medicare system? If not, we have some bad news: you should be. If you don't protect yourself with either a Medicare Advantage or a Medigap supplement, these coverage gaps could cost you tens of thousands of dollars in unanticipated medical expenses and devastate your life savings. Thankfully, you have affordable options at your disposal right now to protect yourself from these catastrophic expenses. If you'd like to learn more about them, we suggest you keep reading.
Facts and Figures
There are 15,803 senior citizens living in Macon right now
There are 11 hospitals in the Macon area where seniors can get emergency and/or in-patient care
34% of Georgia seniors have a Medicare Advantage plan
20% of seniors have a Medicare Supplement (Medigap) plan
Which leaves 46% of seniors potentially uninsured or underinsured against costly Medicare coverage gaps!
Do you know whether or not you're vulnerable to Medicare coverage gaps? Here's a quick test you can perform to check your level of vulnerability: how many of the chronic diseases in the chart below have you already been diagnosed with? The more of them you have, the more vulnerable you are, and the sooner you will run into expensive Medicare coverage gaps. Even if you're in excellent health right now and have none of the diseases mentioned below, nearly every single one is almost a guaranteed inevitability.
| | |
| --- | --- |
| Disease | Prevalence in Macon |
| Arthritis | 29% |
| High Blood Pressure | 45% |
| Coronary Heart Disease | 8% |
| Diabetes | 18% |
| Kidney Disease | 4% |
Healthcare Costs in Macon, GA
Given that nearly half of Macon residents are struggling with high blood pressure, we can use that as an illustrative example for how you could be affected by Medicare coverage gaps. For starters, there's no prescription drug coverage under either Medicare Part A or B, so the prescriptions you need to keep your blood pressure down will be 100% out-of-pocket if you don't do something about it. And that's just one of many potentially expensive coverage gaps that you can run into if you don't protect yourself by supplementing your Medicare benefits.
| | | |
| --- | --- | --- |
| Disease | Prevalence in Macon | Annual Cost of Treatment |
| Arthritis | 29% | $291 |
| High Blood Pressure | 45% | $354 |
| Coronary Heart Disease | 8% | $8,610 |
| Diabetes | 18% | $2,163 |
| Kidney Disease | 4% | $7,248 |
Medicare Advantage Savings in Macon, GA
Medicare Advantage is fairly popular in Macon, so let's start there. To the surprise of some seniors, Medicare Advantage is actually offered by private health insurance companies; it is not directly offered by the federal government. But the federal government does regulate the plans to protect consumers like you from predatory entities. By law, Medicare Advantage must offer you the exact same benefits you would get from Medicare Parts A and B. Beyond that, almost all Medicare Advantage providers will offer you the option to purchase more coverage for relatively affordable rates. Whether you purchase extra coverage or not, the federal government will subsidize your monthly premium so much so that many seniors actually get their Medicare Advantage plan for $0 per month.
One good thing about Medicare Advantage plans is that you can customize them to your heart's content. The vast majority of Medicare Advantage plans out there will allow you to purchase vision, dental, or even comprehensive prescription drug coverage and add it directly to your policy. Whether you're going to the dentist, getting a new pair of eyeglasses, or filling your prescriptions at the pharmacy, all of your medical needs will be handled under the same provider – meaning that you won't be on the phone with multiple insurance companies trying to sort out who pays for what. Some seniors believe this convenience to be invaluable.
Unfortunately, this is insurance that were talking about. And the more insurance you purchase, the more expensive your monthly premium will be. For some seniors, purchasing all of the coverage they need and adding it to a Medicare Advantage plan could be the difference between a $0 monthly premium and a large, cumbersome "Cadillac plan" which is now outside their monthly budget. And if this is a concern of yours, then you should also take a look at Medicare Supplement Insurance before you make a final decision.
Medicare Supplement (Medigap) Savings in Macon, GA
Around 1/5 seniors in Macon have settled for a Medicare Supplement Insurance policy instead of Medicare Advantage. Similarly to Medicare Advantage, both of these policies are provided by private companies. But Medigap policies are much smaller than Medicare Advantage, and they are specifically targeted at Medicare coverage gaps – nothing more, nothing less. There are 10 different plants to choose from, each with their own varying levels of comprehensive coverage. The plan you choose will largely depend on your needs and your specific monthly budget.
Let's start by talking about Medigap plans A, D, K, and L. These plans tend to come with the most affordable monthly premiums because they only cover the coverage gaps associated with Medicare Part A hospital expenses. These expenses can include things like extended hospital stays, hospice care, or even extra blood transfusions past the first three pints. If you are concerned about Medicare Part A coverage gaps but not so concerned about Medicare Part B coverage gaps, one of these four plans can save you money in monthly premiums because they aren't typically as expensive as the other six plans.
The truth is that most seniors are worried about coverage gaps in Medicare Part B as well as Medicare Part A; and they should be. Medicare Part B coverage gaps are some of the most Insidious of all your expenses. Think about it: the more chronic disease you have to manage as you get older, the more often you will have to go to the doctor and get specialty care. This will cost you more expensive and more frequent co-pays, coinsurance charges, excess charges, and other seemingly minor expenses that can add up before you know it. Medigap policies B, C, G, F, M, and N will help you cover these coverage gaps and more to varying degrees of comprehensiveness. Plan F is the most comprehensive, but it is being phased out and will no longer be available for purchase to new enrollees starting January 2021. So the time to enroll is now while you still have a chance to grandfather yourself into those benefits.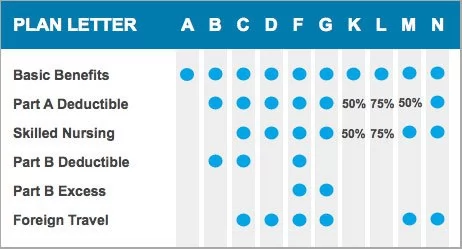 For some, even a comprehensive plan like Medigap Plan F can cost you less in monthly premiums then a Medicare Advantage plan. But unlike Medicare Advantage, you won't be able to add vision, dental, or prescription drug coverage directly to your Medigap plan. However, you can enroll in Medicare Part D prescription-drug coverage. This largely comprehensive plan does have a "donut hole" gap between your annual maximum limit and the threshold for catastrophic coverage. But if you aren't on that many medications, you may never hit your annual maximum; furthermore, while you are in this donut hole, you will be paying a maximum of 25% of your total prescription costs out-of-pocket. Furthermore, Most states have extremely low cost dental and vision supplement insurance policies available for sale year round. they're not difficult to obtain, and you might even save money shopping around for age-related discounts for seniors.
Now that you know a little bit more about what your options are, it's time to make a decision. and if you're still having trouble making that decision, we are here to help. Don't hesitate to contact us today with any questions or concerns you may have. We have Medicare experts standing by right now to answer your email or take your call. In a matter of minutes, we can help you find affordable quotes for the best Medicare Supplement Insurance providers in your area.
| | | | |
| --- | --- | --- | --- |
| Medigap Plan | Minimum Monthly Premium | Maximum Monthly Premium | Average Estimated Monthly Premium (Part B Premium Included) |
| Plan A | $70 | $214 | $278 |
| Plan B | $86 | $230 | $294 |
| Plan C | $104 | $261 | $318 |
| Plan D | $99 | $195 | $283 |
| Plan F | $101 | $218 | $295 |
| Plan F (high deductible) | $23 | $80 | $187 |
| Plan G | $72 | $192 | $268 |
| Plan K | $45 | $86 | $201 |
| Plan L | $66 | $121 | $229 |
| Plan M | $80 | $168 | $260 |
| Plan N | $71 | $153 | $248 |