Dover is a beautiful place to live and spend your golden years. But there are some harsh realities of retiring in Dover beyond the cold, snowy winters: there are also the substantial medical bills you will likely rack up if you don't purchase Medicare supplement insurance. Most seniors don't know much about the gaps in Medicare coverage until they get hit with thousands of dollars in out-of-pocket expenses for their medical care. Don't let yourself become one of those people. Keep reading for more information on your supplement options (Medicare Advantage and Medigap) so that you can purchase a policy before it's too late.
Facts and Figures
There are 5,292 senior citizens living in Dover right now

There are only 2 hospitals in the Dover area where seniors can get emergency and/or in-patient care

11% of Delaware seniors have a Medicare Advantage plan

22% of seniors have a Medicare Supplement (Medigap) plan

Which leaves 67% of seniors potentially uninsured or underinsured against costly Medicare coverage gaps!
Most seniors think that something serious and acute, like cancer, is what will wipe out their life savings with outrageous medical bills. But the truth is that over time, chronic disease can be more expensive for more people. Another insidious thing about chronic disease is that it often goes undiagnosed and untreated for years or even decades – making it that much more costly to tackle when you finally do get medical treatment for it. Regardless, even the most well cared for individuals and the most closely watched diseases can be costly. You can get a better idea of how many seniors in your area are dealing with these problems based on the data below.
| | |
| --- | --- |
| Disease | Prevalence in Dover |
| Arthritis | 24% |
| High Blood Pressure | 37% |
| Coronary Heart Disease | 6% |
| Diabetes | 14% |
| Kidney Disease | 4% |
Healthcare Costs in Dover, DE
If you don't have a chronic disease diagnosis right now, consider yourself lucky. But don't get comfortable, because chronic disease will come for us all eventually. The type of diagnosis you get depends on a lot of different factors which are difficult to predict, and even harder to control. But once you get that diagnosis, you need to make sure you have a very comprehensive health insurance policy so that sneaky and ever-increasing expenses like prescription drugs, testing equipment, and more frequent doctor appointments don't start eating away at your life savings.
| | | |
| --- | --- | --- |
| Disease | Prevalence in Dover | Annual Cost of Treatment |
| Arthritis | 24% | $291 |
| High Blood Pressure | 37% | $354 |
| Coronary Heart Disease | 6% | $9,860 |
| Diabetes | 14% | $2,163 |
| Kidney Disease | 4% | $8,687 |
Medicare Advantage Savings in Dover, DE
If you don't want the government to manage your health care needs, you could opt out of Medicare and instead purchase a private alternative: Medicare Advantage. The federal government has approved these plans for sale by making sure they offer you at least the same benefits you would get with Medicare Parts A and B. From there, the federal government contributes toward your monthly premium for that policy based on what you paid over the years in taxes toward Medicare. For many seniors, this means that their monthly premiums for a Medicare Advantage policy end up being as little as $0 each month.
When you sign up for Medicare Advantage, you will likely sit down with an insurance agent who works for the medicare advantage company and who will try to help you customize your policy to your specific needs. You can add coverages like dental, vision, prescription drugs, and extra incidentals that cover the gaps in Original Medicare. And you get to manage all of your medical needs under one single policy.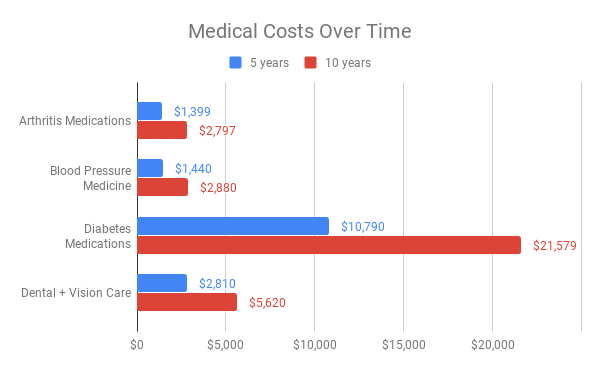 Some of the extra coverage you can purchase – in addition to protection from Medicare coverage gaps – are things like dental, vision, and prescription drugs. Depending on where you live and which company you purchase your policy from, this could save you a ton of money on these incidentals – or it could raise your monthly premium beyond what you originally intended to pay. It's good to sit down with a Medicare Advantage representative and to ask them as many questions as you can about what you are paying for, and how it can benefit you as you get older.
Medicare Supplement (Medigap) Savings in Dover, DE
Well, depending on your needs, you might not want to ask for something more – but rather, something different. For many seniors, that something different is a Medicare supplement (AKA "Medigap") insurance policy. These policies are literally designed to cover the gaps in Medicare Parts A and B. These insurance policies are not designed to do anything more than that. And, depending on which one of the 10 standardized policies you choose, some offer more coverage than others.
Medigap plans A, D, K, and L plug the gaps in Medicare Part A coverage almost exclusively. But why focus on Part A, and not Part B? Because the Part A Medicare coverage gaps are some of the most expensive ones in existence. For example, an extended hospital stay which also requires multiple blood transfusions could cost you tens of thousands of dollars if you rely on Medicare alone. But with a Medigap plan that focuses on Part A gaps, you can get most or all of those out-of-pocket expenses covered all for one low monthly premium.
Medigap Plans B, C, F, G, M, and N, on the other hand, offer more coverage than their other counterparts. The extra coverage they offer covers both Medicare Part A coverage gaps as well as varying degrees of coverage gaps in Medicare Part B. These Medicare Part B coverage gaps include things like co-pays, coinsurance, and excess charges, to name a few. The most comprehensive of these is Medigap Plan F; but, sadly, it is also the most expensive. Furthermore, it is also set to expire soon for purchase. This means that if you act now, you can get grandfathered into Medigap Plan F and continue receiving those benefits for as long as you can afford to pay your monthly premiums on time. But as of January 2021, you'll have to look to a comparable plan like Plan C or Plan G if you want that level of comprehensiveness.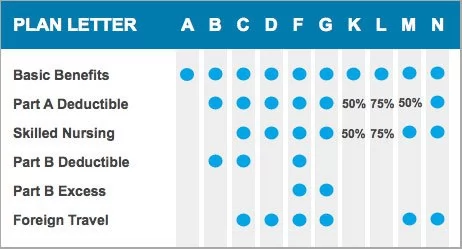 For Better or Worse, not even comprehensive plans like Medigap Plan F cover vision and dental. They don't offer prescription drug coverage, either. You'll have to go to outside sources for help with those medical expenses. Medicare Part D is the federal prescription drug assistance program, but there is a "donut hole" coverage gap where it will stop helping you with your prescription costs if they surpass a certain amount, and if that amount falls short of the government's definition of "catastrophic coverage". This donut hole gap can be particularly problematic for seniors who are on several very expensive prescriptions. With regard to vision and dental, you are allowed to purchase separate, private insurance which covers these needs, even if you stay enrolled in the federal Medicare program. Some companies may even offer discounts for people in your age group, which can provide you with added savings.
How do you feel about what you've read so far? Do you think you now have enough information to make a good decision, or are you still a little confused? If it's the latter, that's okay. That's what we are here for. We strongly encourage you to contact our experts today for expert advice on how to choose the plan that's best for you and your needs. But the longer you wait, the more expensive it will become – so don't delay!
| | | | |
| --- | --- | --- | --- |
| Medigap Plan | Minimum Monthly Premium | Maximum Monthly Premium | Average Estimated Monthly Premium (Part B Premium Included) |
| Plan A | $90 | $224 | $293 |
| Plan B | $142 | $266 | $340 |
| Plan C | $164 | $346 | $391 |
| Plan D | $173 | $288 | $366 |
| Plan F | $166 | $302 | $370 |
| Plan F (high deductible) | $45 | $92 | $204 |
| Plan G | $172 | $295 | $369 |
| Plan K | $69 | $134 | $237 |
| Plan L | $120 | $189 | $290 |
| Plan M | $142 | $239 | $326 |