Hartford is a beautiful place to live and spend your golden years. But there are some harsh realities of retiring in Hartford beyond the cold, snowy winters: there are also the substantial medical bills you will likely rack up if you don't purchase Medicare supplement insurance. Most seniors don't know much about the gaps in Medicare coverage until they get hit with thousands of dollars in out-of-pocket expenses for their medical care. Don't let yourself become one of those people. Keep reading for more information on your supplement options (Medicare Advantage and Medigap) so that you can purchase a policy before it's too late.
Facts and Figures
There are 12,626 senior citizens living in Hartford right now
There are 6 hospitals in the Hartford area where seniors can get emergency and/or in-patient care
28% of Connecticut seniors have a Medicare Advantage plan
27% of seniors have a Medicare Supplement (Medigap) plan
Which leaves 45% of seniors potentially uninsured or underinsured against costly Medicare coverage gaps!
Budgeting for your future medical needs is hard – for better or worse, though, budgeting for your medical expenses if you have a chronic illness makes the process a little easier. Go ahead and look at the statistics in the chart below. There's at least a one-in-three chance that you, as a Hartford resident, already have one of these diseases. And if so, then that makes your need for some sort of medicare supplement that much more urgent.
| | |
| --- | --- |
| Disease | Prevalence in Hartford |
| Arthritis | 24% |
| High Blood Pressure | 35% |
| Coronary Heart Disease | 6% |
| Diabetes | 14% |
| Kidney Disease | 3% |
Healthcare Costs in Hartford, CT
Let's take a look at how high blood pressure (which is just one example of money) can cost you thousands of dollars in out-of-pocket expenses due to medicare coverage gaps. There are a lot of different medications your doctor might prescribe you to treat the condition, and many of them aren't cheap. This could end up putting you in the "donut hole" of Medicare Part D coverage where you pay a substantial amount of money out-of-pocket for your prescriptions. High blood pressure could also lead to something like a heart attack, which could put you in the hospital for several days or even weeks. Unfortunately, Medicare only pays for relatively short hospital stays – anything beyond that, and you'll be paying for those hospital bills 100% out-of-pocket. Thankfully, if you purchase a Medicare supplement insurance policy, you won't have to deal with this on your own. But if you leave yourself uncovered, you will.
| | | |
| --- | --- | --- |
| Disease | Prevalence in Hartford | Annual Cost of Treatment |
| Arthritis | 24% | $291 |
| High Blood Pressure | 35% | $354 |
| Coronary Heart Disease | 6% | $8,525 |
| Diabetes | 14% | $2,163 |
| Kidney Disease | 3% | $8,237 |
Medicare Advantage Savings in Hartford, CT
A little over one-fourth of seniors in Hartford I decided that Medicare Advantage is how they want to supplement their Medicare coverage gaps. When you enroll in Medicare Advantage, you effectively end your federal Medicare benefits and replace them with a private health insurance policy designed to give you the exact same coverage. but many Medicare Advantage companies offer additional benefit options for seniors who can afford them. And most seniors can, since the federal government will pay a portion of your monthly premium with funds from the Medicare program. Some lucky seniors will get their Medicare Advantage plan for $0 in monthly premiums thanks to this subsidy.
The great thing about Medicare Advantage is that you can add as many different coverage options to your policy as your provider will let you – and you can manage all of your health care needs through that one insurance company. Sometimes this can make your monthly premiums more costly; but the convenience may be worth the extra fee. For other seniors, this could make the policy prohibitively expensive and lead them to search for other options, like Medigap. It all depends on your specific personal needs and what falls within your budget.
We want to highlight the fact that vision, dental, and prescription drug coverage are the three most popular riders that seniors add to their Medicare Advantage policy. Unfortunately, you don't have the option to add these to Original Medicare or to a Medigap supplement policy. We especially want to talk about how Medicare Advantage prescription drug coverage compares to Medicare Part D. With Medicare Part D, if you have a lot of prescriptions that are quite costly, there's a chance you could fall into the "donut hole" coverage gap which will force you to pay 25% of your total prescription costs if you exceed your spending limit but fall short of catastrophic coverage. For some seniors, that 25% out-of-pocket cost can be devastating and make Medicare Advantage a better option for them – assuming the coverage is better.
Medicare Supplement (Medigap) Savings in Hartford, CT
If Medicare Advantage it doesn't sound right for you, then you might want to think about purchasing a Medigap policy instead. Unlike Medicare Advantage, Medigap doesn't get rid of your Medicare benefits and replace them with different coverage; it supplements the gaps in Medicare Parts A and B coverage only. So when you would normally be hit by a coverage gap and have to pay out-of-pocket, your Medigap policy will pay most or all of the costs instead, shielding you and your savings from those expenses.
Medigap policies are designed around specific coverage gaps associated with Medicare Part A and Medicare Part B. The Medigap policies which protect you from Medicare Part A coverage gaps are plans A, D, K, and L. These four plans typically cost less than the other six, because the other six plans also incorporate Part B coverage gap benefits as well. But it's important to talk about Medicare Part A gaps in coverage because they are the most expensive, especially with regard to end-of-life care. Seniors who don't anticipate out-of-pocket costs from Medicare Part B coverage gaps tend to choose one of these for plans first in order to save themselves money in monthly premiums. But at the end of the day, purchasing a policy that only protects against Medicare Part A coverage gaps may not be enough.
That's why you should do yourself a favor and look at the other six plans also before you make a decision. Medigap Plans B, C, F, G, M, and N are the plans that cover gaps in both Medicare Part A and Part B to varying degrees. If you're worried about excess charges, co-pays, coinsurance, and the like from Medicare Part B, then looking into one of these six plans is a good idea. Medigap Plan F is the most comprehensive, but it won't be around forever. It will be phased out at the end of 2020, so if you are eligible to enroll before 2021 and you want the most comprehensive Medigap Plan available, you need to act quickly in order to get grandfathered into these benefits.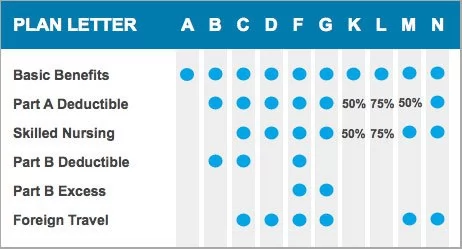 It would be nice if you could add supplemental coverage to a Medigap plan – especially with regard to vision, dental, or prescription drugs – the way you can with Medicare Advantage. Unfortunately, that isn't possible. But you can get highly affordable vision and dental insurance from local providers near you for a discounted rate. You can also enroll in Medicare Part D prescription drug coverage which makes prescriptions much more affordable for the vast majority of seniors.
We understand that this is a lot of information to process all at once. If you have to bookmark this page and keep coming back while you are trying to make a decision on which policy to purchase, we understand. But we'd also like to help you make that decision more quickly and effectively. Our representatives are standing by to take your call or answer your emails if you still have lingering questions. We'd be more than happy to point you in the right direction and get you quotes for a Medicare supplement insurance policy that's right for you.
| | | | |
| --- | --- | --- | --- |
| Medigap Plan | Minimum Monthly Premium | Maximum Monthly Premium | Average Estimated Monthly Premium (Part B Premium Included) |
| Plan A | $147 | $784 | $601 |
| Plan B | $202 | $726 | $600 |
| Plan C | $239 | $573 | $542 |
| Plan D | $221 | $515 | $504 |
| Plan F | $221 | $544 | $518 |
| Plan F (high deductible) | $50 | $90 | $206 |
| Plan G | $199 | $473 | $472 |
| Plan K | $62 | $135 | $234 |
| Plan L | $119 | $301 | $346 |
| Plan M | $201 | $430 | $451 |
| Plan N | $146 | $289 | $353 |