Welcome to Connecticut, the home of thousands of happy retirees. Your life in Danbury might be full of history, your time spent relaxing or visiting the calming outdoor beauties in the area, but what about your money? If you have Medicare and no form of supplemental insurance, then you live each day at constant risk of financial ruin. For the great majority of seniors in Danbury, access to quality healthcare is not always guaranteed. Lurking in the shadows of your Medicare benefits are insidious coverage gaps which, if not planned for in advance, could devastate your finances. But we have some cost-effective solutions for you to consider.
Facts and Figures
There are 11,518 senior citizens living in Danbury right now

There are only 3 hospitals in the Danbury area where seniors can get emergency and/or in-patient care

28% of Connecticut seniors have a Medicare Advantage plan

27% of seniors have a Medicare Supplement (Medigap) plan

Which leaves 30% of seniors potentially uninsured or underinsured against costly Medicare coverage gaps!
One out of every three seniors in Danbury lacks proper access to affordable healthcare. For those 3,455 seniors, healthcare options are a luxury that they oftentimes cannot afford without having to sacrifice their independence and go asking their children for help. If you're like most seniors, the thought of losing your independence fills you with absolute dread, but the problems don't stop there. The older you get, the more likely you are to develop additional health issues known as age-related illnesses. Age-related illnesses are what doctors and healthcare professionals refer to as any form of disability or disorder that becomes more common with age. The chart below shows how just a mere handful of age-related illnesses are ravishing the senior population in Danbury.
| | |
| --- | --- |
| Disease | Prevalence in Danbury |
| Arthritis | 26% |
| High Blood Pressure | 35% |
| Coronary Heart Disease | 7% |
| Diabetes | 12% |
| Kidney Disease | 4% |
Healthcare Costs in Danbury, CT
Age-related illnesses don't just become more common in seniors as they age, but the symptoms also become more frequent and more severe, generating an increased need for more complex and more urgent treatment options. For seniors hamstrung by Medicare coverage gaps, that need for more treatment can lead to thousands upon thousands of dollars in additional out-of-pocket expenses each year. Thanks to the fact that modern advancements in healthcare technology have enabled seniors to enjoy longer and happier lives, the costs incurred by worsening age-related illnesses have a longer time frame to increase now than ever before. Without either a Medicare Advantage plan or a Medicare Supplement plan, these costs can build up to a point at which your returns on your retirement savings accounts can't keep up, leading many seniors to rely on their children for financial help. A few seniors even have to rejoin the workforce in order to cover the annualized costs. Shown below are a few lower estimates.
| | | |
| --- | --- | --- |
| Disease | Prevalence in Danbury | Annual Cost of Treatment |
| Arthritis | 26% | $291 |
| High Blood Pressure | 35% | $354 |
| Coronary Heart Disease | 7% | $8,604 |
| Diabetes | 12% | $2,163 |
| Kidney Disease | 4% | $7,996 |
Medicare Advantage Savings in Danbury, CT
By enrolling in a Medicare Advantage plan, on the other hand, you can avoid all or most of the out-of-pocket expenses that would be incurred as part of your Medicare coverage gaps. It is important to note that Medicare Advantage plans are not provided by the government in the same way as Original Medicare plans; however, the government still requires that Medicare Advantage plans provide all of the same minimum benefits as Original Medicare, meaning that you would not have to suffer a decrease in quality in order to switch plans. In fact, many providers of Medicare Advantage plans also offer additional coverage options if you want to pay a little more each payment period.
One of the most common additions to Medicare Advantage plans is prescription drug coverage. Unlike Original Medicare, Medicare Advantage plans can be as comprehensive or as simplistic as your prescription needs warrant. In fact, many providers even enable you to add coverage for medical equipment and tools that would normally be required by patients suffering from arthritis, high blood pressure, or diabetes, such as glucose monitors and testing strips. These benefits enable seniors suffering from one or more of these illnesses to save thousands of dollars each year, which begins to noticeably add up even more as the illnesses worsen in scope and symptoms.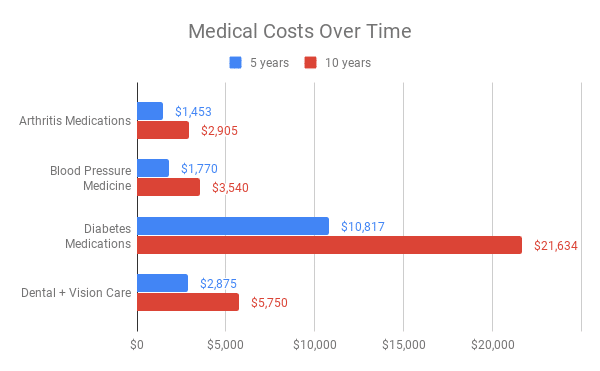 A few more additional coverage options that many seniors choose to add onto their Medicare Advantage plans are dental and vision care coverage. If you're able to secure access to financial assistance that can enable you to pay $0 monthly premiums, these two coverage options could end up saving you a massive amount of money over both the long and short terms. This is one of the key differences between Medicare Advantage and Medicare Supplement insurance + Original Medicare. The latter two plans are incapable of adding coverage for either dental or vision care. In fact, the only ways to ensure adequate coverage for dental care and vision care expenses while on Medicare are to switch to a Medicare Advantage plan, or to find private insurance providers who specialize in those coverages near you.
Medicare Supplement (Medigap) Savings in Danbury, CT
Medicare Supplement Insurance, more commonly referred to as Medigap, is the most common tool used by seniors in Danbury for the purpose of ensuring access to quality healthcare. Unlike Medicare Advantage plans, Medigap plans do not replace your existing Medicare coverage. Rather, they expand upon it, adding extra insurance coverage options for when you find yourself trapped in a sea of costly Medicare coverage gaps. Generally speaking, these plans are divided into two categories, with the common theme being improved access to emergency and in-patient care.
The first category of Medigap plans includes Medicare Supplement insurance Plans A, D, K, and L. Each of these four plans provides special coverage to help improve your access to hospital and in-patient expenses. To use official terms, these plans cover the costs incurred pertaining to Medicare Part A. For this reason, many seniors who suffer from chronic illnesses such as severe arthritis or kidney disease find that either of these four plans is all that they need. However, the plans in this category only help cover costs related to Medicare Part A and provide no benefits for Medicare Part B.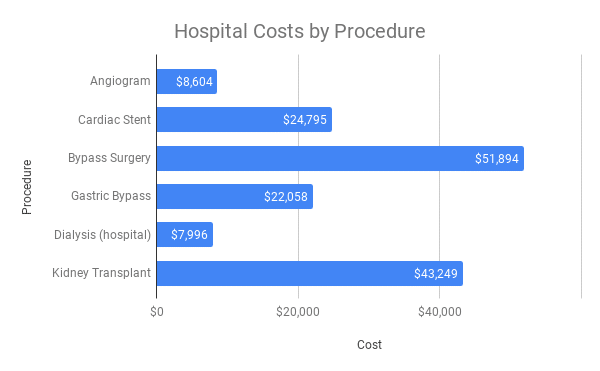 The second Medigap category covers Medicare Supplement insurance plans type B, C, F, G, M, and N. The plans in this category specialize in bridging the coverage gaps of both Medicare Part A and Medicare Part B, making them great options for seniors suffering from multiple healthcare conditions or who otherwise find that they spend large amounts of their wealth on financing Medicare Part B and its related treatment options.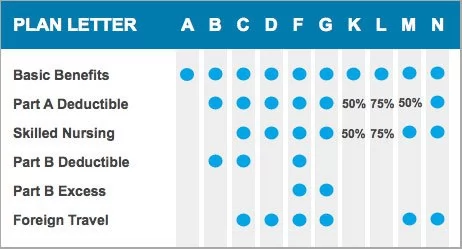 Of course, Medicare Supplement insurance plans are not without their fair share of drawbacks. Although Medigap plans might cover everything that you need from a medical insurance provider, there are a wide variety of shortcomings and holes in the total coverage possibilities. For instance, no Medicare Supplement insurance plan covers prescription drugs, dental care, or vision care. For each and every one of these coverage areas, you're going to need to select alternative supplemental insurance options. This means that you will have to use another private insurance provider (or providers) in order to supplement your Medicare Supplement insurance plan, bringing your total number of insurance providers up to at least three and at most five. That said, it is possible to do so for only a few dollars a month, typically enabling most people to purchase these three additional coverage benefits for under $100 in total per payment period.
Difficult or not, you've already made the entire process so much easier by sticking with this article through to the end. Now all that's left is to make the final decision: do you want to secure your independence and your health against unforeseen circumstances today or do you want to hold off until you find a better option? Of course, we also need to remember that the perfect is the enemy of the good. So don't wait! Log onto Medigap.com today and begin browsing for options as soon as possible.
| | | | |
| --- | --- | --- | --- |
| Medigap Plan | Minimum Monthly Premium | Maximum Monthly Premium | Average Estimated Monthly Premium (Part B Premium Included) |
| Plan A | $147 | $784 | $601 |
| Plan B | $202 | $726 | $600 |
| Plan C | $239 | $573 | $542 |
| Plan D | $221 | $515 | $504 |
| Plan F | $221 | $544 | $518 |
| Plan F (high deductible) | $50 | $90 | $206 |
| Plan G | $199 | $473 | $472 |
| Plan K | $62 | $135 | $234 |
| Plan L | $119 | $301 | $346 |
| Plan M | $201 | $430 | $451 |