Most people have heard the phrase "Medicare coverage gaps" at one or another point in their lives; however, few people really know what Medicare coverage gaps are. For most seniors, Medicare coverage gaps include certain hospital costs and outpatient expenses which are not covered by Medicare alone. The patient – you, essentially – has to then pay for these uncovered medical expenses 100% out-of-pocket. These bills can run very high very quickly if you don't act now to protect yourself. The best way to protect your savings from being ravaged by these unexpected medical bills is to purchase some type of supplemental coverage.
Facts and Figures
There are 7,970 senior citizens living in Fayetteville right now

There are 5 hospitals in the Fayetteville area where seniors can get emergency and/or in-patient care

21% of Arkansas seniors have a Medicare Advantage plan

29% of seniors have a Medicare Supplement (Medigap) plan

Which leaves 50% of seniors potentially uninsured or underinsured against costly Medicare coverage gaps!
At first glance, the fact that only half of all seniors in the area has a deficient level of insurance is a sign of hope; however, one simple fact can highlight the potential damages that seniors in that group face. That fact is what healthcare professionals refer to as "age-related illnesses." Age-related illnesses are any disease or illness that becomes more common in people as they age. That means that, even if those 39% of uninsured or underinsured seniors are in perfect health today, there remains a very real potential that their health could take a turn for the worse in the following years, months, or even days. Without proper insurance, that can leave you spending countless amounts of money on out-of-pocket treatments, even if you have enrolled in a Medicare plan. The chart below details a few of the most common age-related illnesses in the senior population (ages 65 and up) of Fayetteville, AR.
| | |
| --- | --- |
| Disease | Prevalence in Fayetteville |
| Arthritis | 19% |
| High Blood Pressure | 26% |
| Coronary Heart Disease | 5% |
| Diabetes | 7% |
| Kidney Disease | 2% |
Healthcare Costs in Fayetteville, AR
Unfortunately, the problems don't stop there. As you develop new illnesses as a result of age, the signs and symptoms of those illnesses will continue to grow in both frequency and severity. That means that your arthritis (which nearly one in every five seniors in Fayetteville suffer from) could potentially go from a minor inconvenience one year to a severe and debilitating handicap the next. If you continue to rely on Original Medicare for treatment, you could end up spending thousands of dollars out of pocket each and every year as a result of becoming financially burdened by Medicare coverage gaps. And because of the fact that healthcare costs are rising every year, the problem is likely only to get worse. Considering that seniors are living longer lives than ever before, there's more time in your life for your conditions to worsen and your healthcare costs to increase. See the chart below for more information.
| | | |
| --- | --- | --- |
| Disease | Prevalence in Fayetteville | Annual Cost of Treatment |
| Arthritis | 19% | $291 |
| High Blood Pressure | 26% | $354 |
| Coronary Heart Disease | 5% | $7,182 |
| Diabetes | 7% | $2,163 |
| Kidney Disease | 2% | $7,043 |
Medicare Advantage Savings in Fayetteville, AR
Let's get back to the point. You probably found this article while searching for information on how to protect yourself or a loved one from the costly Medicare coverage gaps, meaning that you're already familiar with the costs thereof. Medicare Advantage is one option people choose when trying to offset these expenses. However, Medicare Advantage is neither owned nor operated by the government. Instead, Medicare Advantage plans are private insurance plans designed to replace Original Medicare. They are still required by law to provide all of the same benefits as Original Medicare, but providers of such plans typically also enable you to "pay a little extra" to receive additional coverage options. Thanks to subsidies offered by the US government, that "little extra" could even potentially come out to a total of $0 per payment period.
One of the most notable benefits of Medicare Advantage plans is that providers of such plans frequently offer the ability to add prescription drug coverage to your array of healthcare options, meaning that you no longer have to weigh your good health against your financial security. With this coverage option, you can have both, eating your proverbial cake while having it too. These plans can oftentimes be expanded even further to cover medical equipment such as glucose monitors and testing strips, making Medicare Advantage plans among the best options for seniors suffering from chronic health conditions. The chart below highlights the savings that Medicare Advantage plans can bring to you over the five- and ten-year periods.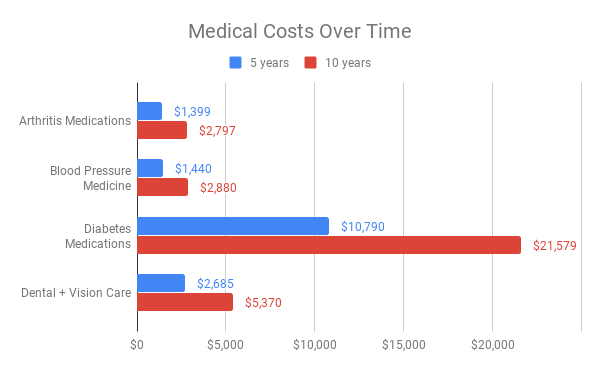 Medicare Advantage plans can enable you to save even more money in the long run by also offering you the ability to select comprehensive dental and vision care coverage, yet another benefit that is unique to Medicare Advantage. This means no more deciding between seeing the doctor for your high blood pressure or getting a new prescription for your glasses. With Medicare Advantage, you can easily have access to both in an affordable and reliable manner.
Medicare Supplement (Medigap) Savings in Fayetteville, AR
Whereas Medicare Advantage plans completely replace your Original Medicare coverage options, Medicare Supplement (a.k.a. Medigap) plans simply supplement your Original Medicare plan, providing a convenient method for financing your healthcare during the coverage gaps. Unlike the seemingly limitless customizability of Medicare Advantage, Medigap plans tend to come in a variety of only ten types, although each has a wide variety of differences from the other. In general, however, there are two categories into which each of these ten plans fall.
The first four plans that you should learn about are Medicare Supplement insurance plans of type A, D, K, and L. Each of these four plans are specifically tailored (in different ways) to accomodate you during the Medicare coverage gaps of Medicare Part A, which can be exceptionally high for seniors who suffer from chronic health conditions such as heart or kidney disease. If you have high Medicare Part A coverage gap expenses but low-to-no Medicare Part B coverage gap expenses, then one of these four plans might be perfect for you. However, if you have high Medicare Part A and Medicare Part B expenses or low Medicare Part A and high Medicare Part B expenses, then you will most likely not get much benefit from one of these four plans.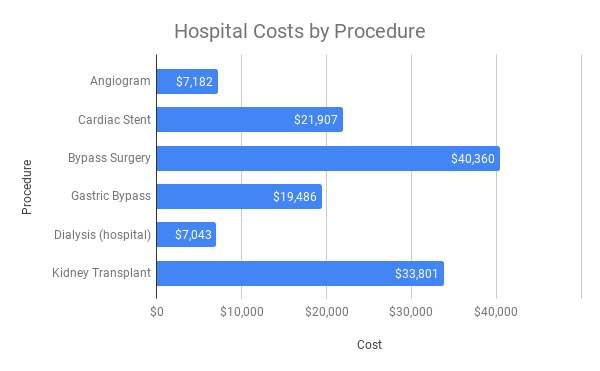 On the other hand, if you are losing a significant portion of your wealth to Medicare Part B coverage gaps, then you are going to want to look at one of the plans in the second, more comprehensive category of Medigap insurance plans: types B, C, F, G, M and N. These are the Medigap plans that cover both Medicare Part A coverage gaps and Medicare Part B coverage gaps, making them the preferable option for seniors who need help covering both parts of Medicare without all the additional coverage options and hassle of securing a Medicare Advantage plan.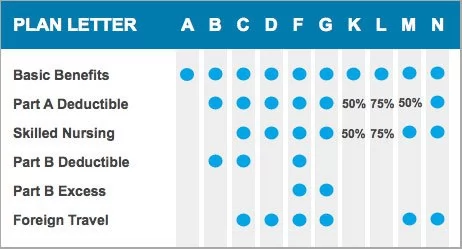 As we mentioned earlier, only Medicare Advantage plans can provide coverage for prescription drugs, dental care, and vision care. You might now be wondering how you can obtain that coverage with a Medigap plan. The short answer is that you can't, but the long answer is that you don't have to. There are plenty of third-party insurance providers who are willing to enable you to enroll in supplemental insurance plans that provide prescription drug coverage, dental care coverage, and even vision care coverage without impacting your Original Medicare eligibility or your Medicare Supplement insurance.
The road may be rough and the choices may seem limited, but it is important to persevere. If you give up now, you might very well be giving up more than just your healthcare options. You could be giving up your finances, your happiness, and even your independence. However, by taking your health into your own hands here at Medigap.com today, you can secure your future against unforeseen medical circumstances in a way that not only protects your health, but also your wealth and your happiness all at once.
| | | | |
| --- | --- | --- | --- |
| Medigap Plan | Minimum Monthly Premium | Maximum Monthly Premium | Average Estimated Monthly Premium (Part B Premium Included) |
| Plan A | $89 | $250 | $305 |
| Plan B | $113 | $302 | $343 |
| Plan C | $115 | $316 | $351 |
| Plan D | $119 | $246 | $318 |
| Plan F | $132 | $347 | $375 |
| Plan F (high deductible) | $32 | $171 | $237 |
| Plan G | $112 | $309 | $346 |
| Plan K | $49 | $139 | $230 |
| Plan L | $108 | $197 | $288 |
| Plan M | $107 | $195 | $287 |