Standard Life and Accident Insurance Company is a health insurance company that's a subsidiary of ManhattanLife Insurance Company. They have been helping protect American families since 1947 with their health care — including supplemental Medicare plans — and annuity options. They offer a massive variety of health insurance options in 29 states.
Standard Life Medicare plans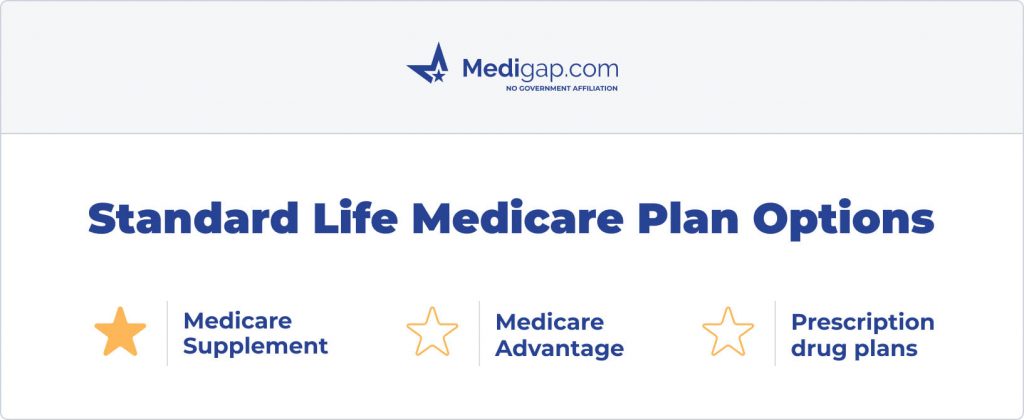 Supplemental Medicare Plans help Medicare beneficiaries offset the potential cost left behind by Original Medicare. These types of plans include Medicare Advantage, prescription drug plans, and Medicare Supplemental insurance policies.
Standard Life Medicare Supplement plans
Standard Life Medicare Supplement plans are insurance through ManhattanLife and Family Life insurance companies. These plans are also called Medigap plans because they go hand in hand with Medicare and help cover the costs.
There are 10 Medicare Supplement plan options available, but few people enroll in anything other than Plans F, G, and N. These plans don't provide pharmacy coverage.
Standard Life Medicare Advantage plans
Medicare Advantage is an insurance option that takes over your Medicare and merges your Medicare Part A, Medicare Part B, and sometimes Part D into one plan. These plans must have coverage as good as traditional Medicare but also include additional benefits. These plans are Part C of Medicare.
Standard Life Medicare Part D prescription drug plans
When it comes to pharmacy drug coverage, you have two options. A stand-alone Part D or a Medicare Part C plan includes your prescription drug coverage.
Neither Standard Life nor its affiliated companies provide Medicare Part C or Part D plan options.
Standard Life Medicare pros and cons
Pros
BBB A+ rating
Part of the Manhattan Life family
Mild rate increases
Cons
No Part D or C offerings
Tight underwriting
Standard Life financial strength ratings
There are a few companies that provide independent ratings of the financial strength of insurance companies. These ratings can be an indicator of how:
Quickly they process claims
How high or low are their rate increases
How competitive is their pricing
Standard Life has a rating of "A-Exceptional" from Demotech, inc.
Their parent company ManhattanLife has an AM Best rating of "B++ Good" with a stable outlook.
Standard Life reviews
Standard Life is a solid insurance company coupled with its parent company; they offer many products to protect our Medicare beneficiaries. The Better Business Bureau gives them an "A+" rating. They focus on their customers and provide excellent service.
FAQs
Is Standard Life and ManhattanLife the same company?
ManhattanLife is the parent company of Standard Life. They are essentially the same company. Standard Life underwrites some coverages, while ManhattanLife or Family Life insurance companies underwrite others.
Are Standard Life Medicare Supplement plans standardized?
Yes! All Medicare Supplement plans must offer the same coverage. Standard Life is no exception. The only differences between one Medicare Supplement plan and another are the company's cost and quality.
Which Standard Life Medicare Supplement plan has the highest level of coverage?
Plan F has the highest level of coverage. Only Medicare beneficiaries that were eligible for Medicare prior to 2020 can enroll in Plan F. For newer beneficiaries, Plan G is the highest level of coverage. The only difference is that Plan G doesn't cover the Medicare Part B deductible.
What is the difference between a Standard Life Medicare Supplement Plan and a Medigap plan?
Medicare Supplement plans and Medigap plans are the same coverage. Medigap is a nickname given to Medicare Supplements since they provide "Gap" coverage for the Federal Medicare program.
What are three of the benefits provided by Standard Life Supplemental Medicare Plans?
Standard Life Supplemental Medicare Plans will help pay for your Medicare Part A costs and Medicare Part B costs. It also allows you to see any provider nationwide that accepts Medicare.
What are the benefits of Standard Life Medicare Supplement plan?
Standard Life Medicare Supplement insurance plans cover the cost gaps of Original Medicare benefits. Some of the items that Medigap insurance products cover include:
Both the Medicare Part A and Part B
Deductibles
Coinsurance
Copays
Foreign Travel Emergency
Each plan letter available has a different coverage level. Make sure you review the plan letters with an insurance agent to ensure you are choosing the right plan for you.
How to enroll in a Standard Life Medicare plan
To enroll in a Medicare Supplement health insurance plan with Standard Life, you should first speak with a licensed insurance agent specializing in Medicare. They will ensure you are educated on your options and the process. Next, they'll help you determine plans to cover the important things to you.
After that is complete, our agents can help guide you through the enrollment process in your chosen Medicare Supplement insurance health plan. Best of all, their assistance is free!
Give our agents a call today. Or fill out our online request form to be connected with the best rates in your area.