Loyal American Life Insurance Company started in 1955 in the state of Alabama, and its headquarters is now in Austin, Texas. Their products include accident, lump sum cancer, heart attack & stroke, whole life, and Medicare Supplement insurance. They are a subsidiary of Cigna Health and Life Insurance Company.
Loyal American Medicare plans
Supplemental Medicare insurance plans offset the out-of-pocket costs left from Original Medicare. These health plans include both Medicare Supplement policies and Medicare Advantage health plans.
The federal Medicare program is health insurance designed for Americans aged 65 and older. There are some situations where you could become eligible for Medicare before your 65th birthday. Original Medicare consists of Medicare Part A and Medicare Part B.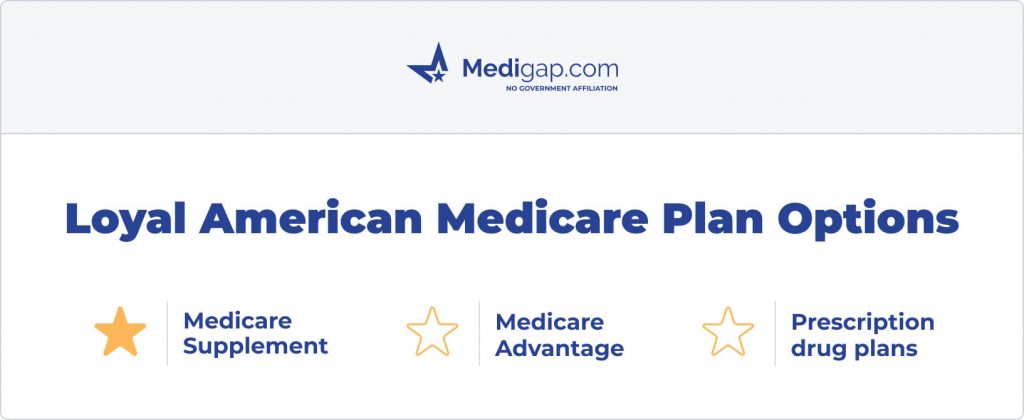 Loyal American Medicare Supplement plans
Medicare Supplement insurance policies can be purchased to offset the cost left behind by Orignal Medicare.
These plans can help pay your portion of expenses, such as the Part A deductible, Part B deductible, coinsurance, copayments, and Part B excess charges. There are ten standardized plan options from which to choose. Consequently, each plan letter will provide a different level of coverage.
Most Medicare beneficiaries enroll in one of the top three plans offered. The most popular plans include Plan F, Plan G, and Plan N.
Since these policies work together with Original Medicare, you can visit any healthcare provider nationwide that accepts Medicare. Medigap plans don't include prescription drug coverage. You'll need to purchase a stand-alone Part D plan for prescription drug coverage.
Loyal American Medicare Advantage plans
Another way to assist with the unpredictable costs of Original Medicare is to enroll in a Medicare Advantage plan.
These plans cover all the benefits of Medicare Part A and Part B. In addition, they will usually have drug coverage and supplemental benefits such as dental, vision, and hearing coverage.
These plans are not available through Loyal American. Cigna Healthspring handles the Medicare Advantage and Part D prescription drug plan enrollments.
Loyal American Medicare Part D
Medicare drug coverage is a crucial piece of the puzzle. Prescription drug coverage is obtained either through a Medicare Part C program or stand-alone as a Medicare Part D prescription drug coverage. If enrolling in a Medicare Supplement health insurance plan, you'll want to also enroll in a Part D plan to have coverage for your prescription drugs.
Loyal American-affiliated companies
Loyal American Medicare pros and cons
Pros
Above-average customer service
Rate increases are conservative
Policies offered nationwide through Cigna
Cons
Hard underwriting
No Medicare Advantage options
Financial strength ratings
AM Best awards Loyal American Life Insurance Company with their top mark of A+ "Excellent." Loyal American is known for excellent customer service, competitive rates, and fast claims processing.
Reviews
Cigna offers a 24-hour health information line, quick claims processing, and Silver and Fit fitness program access. In addition, they have easy access to add supplemental benefits on the same enrollment form as your Medigap.
This eliminates the need for multiple applications. They are financially strong, with top ratings for financial strength.
FAQs
Is Cigna Health and Life Insurance Company and Loyal American Life Insurance Company the same?
Loyal American Life Insurance Company is a subsidiary of Cigna.
Which Medicare Supplement policies are offered by Loyal American?
Loyal American offers the following Medigap plans.
Does Loyal American offer high-deductible Medicare Supplements?
High-deductible Medigap plans have a set plan deductible that occurs before the plan kicks. After that, the policy pays the remainder of your Medicare cost share. Loyal American doesn't currently offer a high-deductible plan.
What benefits are covered by a Loyal American Medicare Supplement plan?
Medicare Supplements help cover costs left from Medicare Parts A and B. Some of these items and benefits include.
Inpatient Hospital
Skilled Nursing Facility Costs
Medicare Part A and B
How to enroll in a Loyal American Medicare plan
The most efficient way to ensure you enroll in a plan that fits your needs is to work with a licensed insurance agent that works with multiple insurance companies.
Our agents specialize in Medicare and would love to help you. Give us a call or fill out our online request form.