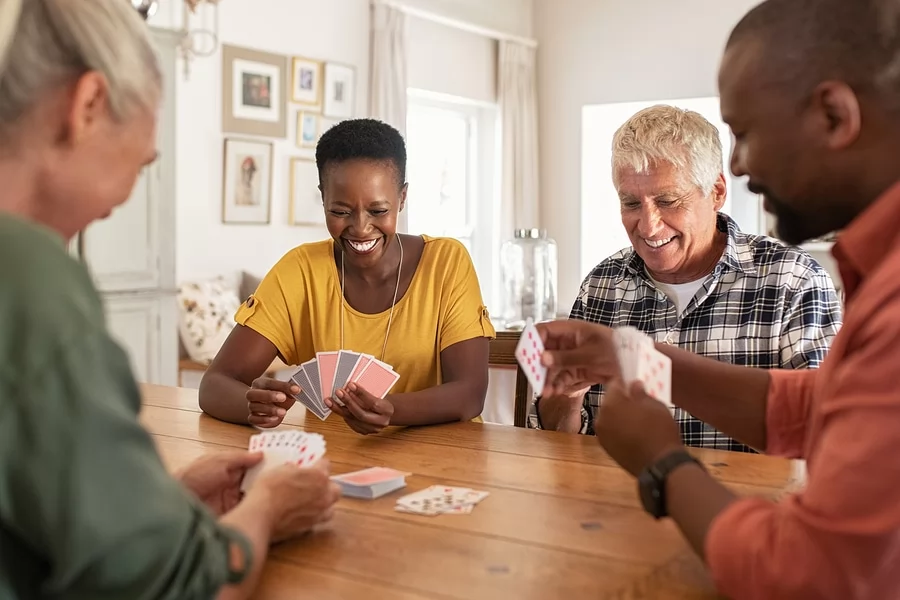 Are you a senior looking for an affordable and comfortable housing option? Housing sharing, often known as "senior homeshare" or simply "home share," may be your answer. House sharing offers many advantages compared to traditional assisted living and nursing home options, whether due to tight finances or personal preference.
But there are some potential downsides as well. In this blog post, we will explore the pros and cons of senior home shares so that you can make an informed decision about your housing needs.
What is a senior home share?
Senior homesharing is a growing trend among older adults seeking companionship and a more affordable living arrangement.
It involves a homeowner opening their home to another individual, typically someone 55 years or older, to share living expenses and create a supportive community.
Seniors who participate in homesharing often find it to be a mutually beneficial arrangement, as it can reduce social isolation and provide peace of mind knowing that someone is nearby to assist with daily tasks or in an emergency.
Pros of Senior Homesharing
Homesharing for seniors is an increasingly popular way to stay active and independent in their later years. Homesharing offers a range of benefits not typically found in other forms of senior living.
Items such as affordability, safety, and companionship are just some advantages available to seniors.
Home sharing can benefit those who may not be able to afford assisted living or nursing home facilities but still require assistance occasionally.
Home sharing provides personalized services that can often make all the difference in an elder's quality of life.
Allowing them to live independently while having a friendly housemate they know they can rely on when needed.
Ultimately, homesharing offers seniors a unique opportunity to live safely and confidently as they age with the support of someone nearby.
Affordable alternative to traditional nursing or assisted living homes
Houseshares are an inexpensive and viable alternative to traditional senior living options such as nursing homes or assisted living facilities.
Seniors looking for a safe, supportive, and comfortable environment without being burdened by the expansive cost associated with nursing homes may find senior houseshares ideal.
With senior home shares, seniors can enjoy personalized attention from friendly housemates who can provide companionship and assistance while living in more familiar surroundings.
It's an attractive arrangement for senior citizens who wish to maintain financial independence and take control of their own home life.
Senior home shares offer much-needed freedom for senior citizens without the hefty price tag that other senior living arrangements require.
Allows seniors to maintain independence and lifestyle
This affordable alternative gives older adults the autonomy to make home, safety, health, and life decisions. Home sharing provides financial relief for seniors on fixed incomes and brings peace of mind.
Knowing that they don't have to worry about giving up their living space and, most importantly, their freedom.
Promotes social engagement and relationships with other seniors
Home sharing helps promote social engagement and relationships with other senior citizens. Home sharing will enable seniors to make new friends with shared interests and experiences.
Therefore, home sharing is cost-effective and can encourage social interaction among seniors while they remain safe at home.
Cons of Senior Homesharing
While home sharing for seniors can provide an affordable option, certain drawbacks must be considered.
Seniors may feel uncomfortable sharing a home with strangers, and some homeshare situations result in disagreements between the participants or a lack of privacy.
Furthermore, home share agreements can be risky due to a general lack of regulation. It puts seniors at risk of entering into financially beneficial arrangements for home co-owners but detrimental to the senior.
Limited availability of home share partners in specific areas
Finding a senior home share partner has become an increasingly difficult feat, especially in areas with historically lower senior populations.
This lack of availability can concern senior citizens seeking affordable alternatives to nursing homes and assisted living.
Seniors may rely on house-sharing services that can't meet their needs due to limited local access. Thus making the process far more complicated than it needs to be.
Risk of safety and security issues if not properly screened
Senior home sharing is an excellent way for senior citizens to save money. Still, if it's not done correctly, there can be risks to safety and security.
Poorly screened senior home sharers might bring harmful elements into their senior residence and endanger other residents.
For this reason, it is important to thoroughly screen potential senior home sharers. Hence, everyone has peace of mind, and no one's safety is compromised.
Tips for Consideration When Entering Into a Senior Home Sharing Agreement
Senior home sharing can be an excellent way for senior citizens to stay in their own homes and save money.
Still, because it involves living with someone else, seniors must take certain precautions before entering into a senior home share agreement.
Before committing to senior home sharing, senior citizens must consider the compatibility of roommates or housemates, the legal aspects of senior housing arrangements, and access to necessary services like transportation.
Research the senior's background thoroughly, including criminal history and references
When senior citizens choose to take part in senior home share, it is important for everyone involved that their background is thoroughly researched.
This research should include personal, financial, and criminal history and references from past senior home shares.
It is vital that both parties feel comfortable with the arrangement to ensure a successful senior home share agreement.
Consider if the senior homesharing partner has any medical needs that require additional care or resources from the host home
When exploring senior homeshare options, it's essential to consider if the homesharing partner has any medical needs that require additional care or resources.
Doing so can help ensure both parties have a successful experience and avoid potential conflict. Asking about this in advance will make for a smoother senior housing transition for everyone involved.
Draft an agreement outlining responsibilities, expectations, rules, etc., for both parties involved
Senior house sharing can be a great opportunity for seniors to enjoy the companionship of another person and minimize their housing expenses.
An agreement outlining both parties' responsibilities, expectations, and rules should be drafted in advance to ensure everyone is on the same page.
This agreement should cover common areas such as typical chores, expected cleanliness levels, noise level expectations, emergency contact information, rights related to pets or guests, and safety measures.
Senior house sharing can pave the way for incredible relationships when thoughtfully navigated!
Additional homesharing resources for seniors
Matching Services
Silvernest – Silvernest is a website specifically made to match seniors to other seniors for homeshares. This website targets baby boomers or empty nesters looking to open their homes as a homeshare or rent. If you want to post your home, there is a fee of $29.99 for three months of unlimited communication with renters. If you are a renter, this service is free.
Golden Girls Network – The Golden Girls Network is another website that is specifically made for older adults, typically between the ages of 50 – 70 years old. This website does not personally match you with compatible roommates, but they provide a database of like-minded individuals looking for a homeshare. To use this service, there is a $39 fee for six months of access.
Roommates 4 Boomers – This free option is perfect for women who feel comfortable only living with other women. Roommates 4 Boomers is a women-only and senior-only (50+ years) matching service for homeshares. This website matches women based on their lifestyle, interests, and backgrounds to find the perfect companion.
Informational Resources
National Shared Housing Resource Center – The National Shared Housing Resource Center is a free source to list your home or find a homeshare but also to learn more about how homesharing works. This free service offers programs based in your area, whether you are a homeowner or renter. Although this is not a matching service, you can find specific matching services in your area through this website.
Senior Resource – This website is not a matching service for homeshare roommates, but it has a free directory with listings based on your location. The listings are senior-specific; some come with reviews and further information about the home. However, some listings do not list all the necessary details and require further research.
---
Related Content
---