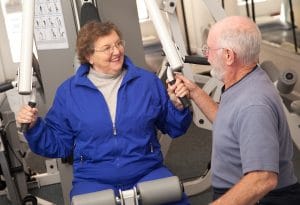 If you are looking forward to starting a steady, exciting, and rewarding exercise program, Silver Sneakers may be a suitable option for you. Getting active and setting up an exercise regime is important to keeping good health and leading a well-balanced lifestyle. Some insurance plans even offer coverage for the Silver Sneakers program. If you are wondering how to enjoy all the benefits of the extensive program and what your insurance has to offer, keep reading.
What is the Silver Sneaker Program?
Silver Sneakers is a program that promotes exercise and fitness routines for older adults. The program encourages a healthy lifestyle by offering discounted or even free gym memberships to public and private gyms across the country. If you are not a fan of the gym or do not live near a fitness facility, Silver Sneakers also offers at-home classes and equipment to give you access to exercise in whatever situation is best suited for you.
Eligibility
To be eligible for the Silver Sneakers program, you must have a healthcare plan that offers this specific program. Having the program included in your healthcare plan is often an important selling point when someone is trying to choose between different plans. To check if your insurance company offers a Silver Sneakers membership you can visit the SiverSneakers.com site to check eligibility.
Silver Sneaker Services
The Silver Sneakers program offers a variety of fitness plans and classes to suit a wide range of health conditions and lifestyles. Aside from the free or discounted gym memberships, Silver Sneakers offers its own range of instructor-led virtual classes, in-person classes, and group activities. Aside from exercise, the Silver Sneakers program aims to embody an all-around healthy lifestyle for its users and provides nutrition classes and guides as well. More information regarding these classes and what they entail can be found below.
Classes Offered By Silver Sneaker
As mentioned, the program offers a wide variety of classes that each contain their own unique benefits. No matter your age, lifestyle, or current activity level, there are classes available for every program member.
FLEX Classes
FLEX classes are instructor-led classes done on a variety of topics. Although most are activity-based, there are a few classes that are mainly focused on increasing your knowledge of nutrition and what it means to live a well-balanced lifestyle. FLEX classes can range from cardio and strength courses all the way to nutrition courses.
Live Virtual Classes
If you don't want to leave the comfort of your own home, but still want to get active, Silver Sneakers' live virtual classes are a great way to get in group activity on your own. Classes include light cardio classes, chair aerobics, barre classes, and many more. All of these workshops are offered through zoom and are a great option if you want a group atmosphere but don't want to leave your home.
On-Demand Videos
On-Demand videos are similar to the live virtual classes, but can be done at whatever time you are available. If none of the live virtual sessions fit your schedule, there are numerous instructor-led on-demand videos that can be accessed at any time.
Gym Fitness
With a Silver Sneakers membership, you get access to discounted or free memberships to over 16,000 gyms nationwide. With these memberships, you can get access to special in-person and instructor-led classes and all of the amenities gyms offer. This may include free weights, machines, pools, saunas, and more.
Group Activities
Silver Sneakers' group activities are perfect to get active while socializing and meeting a new community of people with similar lifestyles. These instructor-led classes are specifically made for older adults to offer the right support and activity level for everyone involved. Classes include, but are not limited to: circuit training, yoga, water aerobics, cardio, and more.
Is the Silver Sneaker Program Covered By Medicare?
Medicare Part A and Part B do not include the Silver Sneakers program. However, a majority of Medicare Advantage plans include this program, but it's important to check with your specific plan and benefits. In addition to Medicare Advantage, over 60 health plans across the country include a Silver Sneakers program, so it is probable that your plan will have access to it as well.
Do Medicare Supplement Plans Include Silver Sneakers Coverage?
Medigap, also known as the Medicare Supplement Plans, are private, add-on insurance plans that help protect you from gaps in Medicare Parts A & B. These gaps are typically out-of-pocket expenses in the form of deductibles, copays, or coinsurance. A few supplement plans do include the Silver Sneakers program but the program is seen more frequently in Medicare Advantage Plans. If having Silver Sneakers is important to you, make sure to verify the supplement plan you are looking to get has the program included.
Where Can You Find Insurance Programs That Include Silver Sneakers?
Programs offered under Medicare Advantage and Medicare Supplement Plans typically include the Silver Sneakers Program. These plans have a wide range of benefits available at different price points. To search for a Medicare Advantage or Supplement Plan that offers this benefit, the Silver Sneakers program developed a search tool with all the insurance programs that offer their service. The search tool can be found at the SilverSneakers website.
What To Do If Your Plan Drops Silver Sneakers
If your insurance plan is dropping program, you cannot join with a different insurance plan. However, insurance plans that drop Silver Sneakers typically replace the program with other gym benefits offered through another company. It is important to not base your insurance plan solely on Silver Sneakers in case this may happen.