Even during these cold winter months, watching your grandchildren can be an opportunity for everyone to have fun. According to a 2016 study by Boston College, emotional bonding can be beneficial for both grandparents and their grandchildren by stimulating brain function. As grandparents engage with their grandchildren, cognitive functions are exercised more frequently and help to improve mental health. There are dozens of creative and enjoyable activities that your grandkids will love doing with you despite the weather getting chillier and the sun setting earlier. Try using the following ideas to bond with and entertain your grandchildren during the winter season!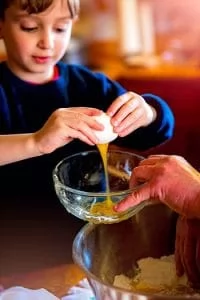 Try Out a New Recipe
Cooking is not only a great bonding experience but a bonus if your grandchildren love to eat. Start simple with an easy cookie or cake recipe that requires little technical skill. If your grandkids love the experience, try working your way up to cooking their favorite dish from scratch! If you've got a picky eater on your hands, encourage them to try a new food or to add a new ingredient to their favorite food. They'll love the snack in the end, and you'll love the process.
Have a Scavenger Hunt
If your grandchildren are visiting you, turn your home into a world of discovery with a scavenger hunt. Hide small objects around the house and write little clues to help your grandchildren find them. Make the experience more enticing by including a prize or gift for when your grandchildren find all the items. It's a fun challenge for them and an entertaining experience for you to orchestrate and watch as a grandparent.
Make Music Together
Anything can be a musical instrument when children are involved. Using kitchen utensils, pots and pans, and cardboard boxes, build a drumset for your grandkids to jam out with. Put on some karaoke for them to sing to, or help them write their own original songs about things they love. The musical possibilities are endless when you think outside of the box.
Get Crafty
Get creative by trying out a few arts and crafts activities. Your grandkids will be entertained while keeping their hands busy. Using common household items, you and your grandchildren can create imaginative characters and pieces of art that you can keep as mementos for when they get older. Decorate an empty toilet paper roll to look like a snowman, cut up cotton balls to make fake snow, or glue spare buttons to popsicle sticks to make snowflakes.
Let Out Your Inner Painter
Take your creative streak a step further by trying your hand at painting. Canvases, small tubes of paint, and paintbrushes can be found at any local crafts store at typically inexpensive prices. Be sure to wear clothes you don't mind getting dirty, and lay down a tarp or old fabric before throwing paint around. While oil-based paint is colorful and bright, watercolor paint is non-toxic, great for kids, and makes for easy cleanup.
Build a Snowman
Who said snow has to get in the way of playtime? If the weather conditions are safe, bundle up in warm layers before heading out into your yard or local playground. With gloves, collect piles of snow and build away! Building a snowman is easy fun that will keep your grandchildren entertained for an hour or two. If you or your grandkids want to be more creative, try building a snow fort or other snow creatures.
Get Active
Children are usually loaded with energy, but the new wave of tech gadgets and games can have them sitting on the couch for hours staring at a tablet or phone. Encourage them to put down the screens by engaging in some light, physical fun. This can be anything from a two-hand touch football game to a simple walk around the street with the family dog. You can get active indoors by putting on their favorite song and dancing your hearts away.
Invent a New Game
Bring the fun back inside by turning average gameplay into an exciting project. If you don't know where to start, ask your grandchildren what their favorite games are, and combine all the best elements into one unique game that you can call your own. For an easier challenge, try adding a new twist to your favorite game.
Teach Them a Hobby
Do you play an instrument, love to knit, or bake all the time? Surely, you've got hobbies of your own that you like to do in your free time. Introduce those hobbies to your grandchildren as a way of connecting with them and strengthening your bond by sharing interests. Best case scenario –– they enjoy the activity so much, they take it up on their own! Even if they may not enjoy your hobby as much as you do, it's always exciting to try new things.
Storytime
A classic activity to do with children is to sit down and read a story, but you can switch things up by creating your own. Encourage your grandchildren to imagine their own world with inventive characters and sticky situations. You can make storytime more personal by sharing stories of your own life with your grandchildren, and inviting them to do the same with you. Make storytime spooky with dim lights and candles, or make it more exciting by using props and different voices.
Hopefully, these ideas can inspire you for the next time you watch your grandchildren. Trying any of the activities above will not only be fun for all, but they'll stimulate your grandchildren's creativity and help build a positive, emotionally supportive environment for the whole family.