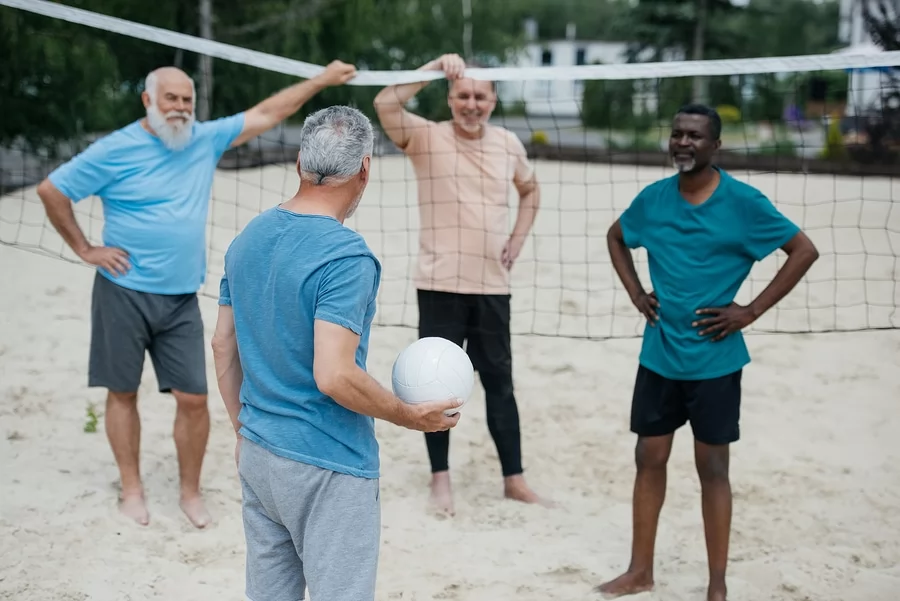 As we grow up, games are used for a variety of reasons. We play games to learn, serve as a form of entertainment, as a method to socialize with others, as a way to exercise, a way to stimulate our minds, and more. As we grow into adults, many forget the benefits and joys of playing casual games.
Playing meaningful games can have many cognitive and social benefits when we become seniors. Whether playing games indoors or going outside to get sun, there's a game suited for everyone – no matter your hobbies, age, or habits.
Indoor gaming
The most common type of gaming is indoor gaming. This can include, but is not limited to:
Board games

Puzzles

Video games

Social games
Indoor games are a great way to challenge yourself mentally, organize a social gathering, and get involved with technology. If it is a rainy day or you don't want to go outside, this is still a great way to stimulate your mind and pass some time in a fun way.
Puzzle/Board games
Puzzles and board games are great ways to challenge yourself and get together with friends any day. Most importantly, board games and puzzles stimulate your cognitive functions and can even reduce cognitive decline in older adults – while still enjoying yourself! Listed below are a few board games that can be played either solo or with friends and family:
Jenga – If you want to play something more thrilling, try Jenga. It gets more competitive as the game keeps going. This is an especially great option for social gatherings.
Ticket to Ride –

This new game will have you feeling nostalgic. Ticket to Ride can trigger old travel memories as you collect train routes and travel to your favorite cities in this award-winning board game.

Qwirkle – Another great new game you might want to try is Qwirkle. Boost your cognitive functions by matching cards with shapes and colors to win the game. It's not just fun – it's also good for your brain health.
Crossword puzzles – Crossword puzzles are classic because they are accessible, challenging, entertaining, and can be done independently. Check your local newspaper, print some out online, or access them through apps and challenge yourself with a few puzzles.
Video games
Video games are a perfect fit for anyone looking for a new hobby. Every interest has a video game genre, including action-oriented games, role-playing games, puzzles, strategy games, and logic games. Although these games are enjoyable, they have underlying challenging factors that increase cognitive, visual, and auditory functions in older adults – so they're especially good for seniors as they age.
Candy Crush Saga – Play this addicting game on mobile apps or online. Just match three candies in a row and complete challenges to progress to the next level. This never-ending-level design is a great option for a stimulating game.
Trivia Crack – This game can only be accessed as a mobile app but can be played repeatedly. Stay current on current events, jog back old memories, and test your knowledge by challenging others on

multiple topics.

Wii Sports – You will need access to a Wii game console to access this game. However, this game will challenge your motor skills (which tend to decline with age if you don't stay active). Wii Sports will allow you to simulate games like tennis, golf, bowling, baseball, and more without needing to go to a field.
World of Warcraft – If you prefer a role-playing and action-oriented game, try World of Warcraft. World of Warcraft is an MMO (Massive Multiplayer Online) type of role-playing game you play over the internet solo or with friends. You can raid bosses, collect loot, fight enemies, craft special items, and more.
SnipperClips –

Switch users will love this easy-to-play, interactive game! It stimulates visual and cognitive functions as you play with others to solve puzzles in the form of colorful shapes and scissors.
Group games
For seniors, games are often used to get a crowd together and interact for one common goal. Despite competitive factors, everyone loves a fair game. Games can provide a community aspect that can help older adults make friends with neighbors in assisted living communities or spend time with friends and family.
Musical Ball – This game is a twist on the infamous game of musical chairs. Instead of running around in circles and risking a fall, you pass around a ball. The one with the ball, when the music stops, is eliminated. This is a great way to strengthen agility and motor functions.
Bingo –

You can never go wrong with bingo! Get this game going for some old-school fun that people of all ages can enjoy together.

Name That Tune – Name that tune is a great game to play no matter where you are – all you need is some music! Just play the song and pause it after a few lyrics. Whoever guesses the song gets a point.
Charades –

This is another classic that never seems to get old. This game uses cognitive functions and physical motions to act out different words, songs, or movies. It's perfect for a social setting!

Cup Stacking – If you want to get a little physical with your selected game, cup-stacking will be great for your next group get-together. Stack cups on top of each other in different shapes and time the rounds to see who can do it the fastest.
Outdoor games
If you want to get outside and get moving, there are many options for older adults to get in some good forms of exercise. Not only will outdoor games provide entertainment, but they will also improve your physical health. When done correctly, exercise can strengthen your bones, joints, lungs, and heart. We've listed some safe and exciting outdoor games for seniors below for older adults of all physical levels:
Shuffleboard – Shuffleboard is a classic game where you slide disks into marked-off areas to score points. If you are in it to win it, hit your opponent's disks off the board to gain a higher score.
Bean Bag Toss– Also known as "Cornhole," this classic lawn game will keep older adults active and bring back some barbecue and football tailgates memories. Just toss the bean bag into the hole and score some points.
Beach Volleyball – This game is just as it implies and is a perfect way to stay active as an older adult. You only need a beach ball and another player to pass the ball back and forth in the air.
Tennis –

One of the most popular sports around the globe, tennis is a great pastime for people of all ages. There is no need to try and compete like the pros, but older adults may enjoy playing a relaxed game of tennis.

Lawn Bowling – Bowling is always a go-to sport; experiencing it outside can make it even more favorable. Just follow the rules of the classic game by knocking down as many pins as possible

!
Playing games as you age is important for your health, whether indoors or outdoors, alone or with friends. It helps keep your mind sharp, your motor skills strong, and your spirits high. Try to schedule yourself at least one game day per week. You'll notice some serious benefits sooner than you think!
---
Related Content
---