Rock Springs, Wyoming can be a lovely and affordable place to live – that is, if you don't have Medicare coverage gaps to worry about. For an increasing number of seniors in the area, healthcare costs have become too severe to handle on their own, sometimes rising into the thousands of dollars each month. Fortunately, there are a few ways to avoid having to pay those massive monthly payments. Two of the most common strategies that seniors in Rock Springs rely on to improve their access to the high-quality healthcare that they deserve are as follows: the purchase of Medicare Advantage plans, or Medicare Supplement (Medigap) Insurance plans. Let's look a little more closely at the numbers.
Facts and Figures
There are 2,169 senior citizens living in Rock Springs right now

There are 6 hospitals in the Rock Springs area where seniors can get emergency and/or in-patient care

3% of Wyoming seniors have a Medicare Advantage plan

38% of seniors have a Medicare Supplement (Medigap) plan

Which leaves 59% of seniors potentially uninsured or underinsured against costly Medicare coverage gaps!
Just by looking at the figures above, it's easy to think that healthcare isn't much of a concern in Rock Springs. However, what these figures really show is that not even half of Rock Springs' seniors are able to easily afford the healthcare that they both need and deserve. For the 59% of seniors who don't have any form of protection against the common enemy of Medicare coverage caps, spending thousands of dollars out of pocket each month is an all-to-frequent aspect of life. To make matters worse, these issues only become more frequent and more severe with age. A large number of diseases have a strong correlation with age. This means that, as you grow older, your likelihood of developing one of these adverse health conditions increases exponentially. The chart below shows five of these primary age-related illnesses and their prevalence among the senior population in the Rock Springs area.
| | |
| --- | --- |
| Disease | Prevalence in Rock Springs |
| Arthritis | 26% |
| High Blood Pressure | 31% |
| Coronary Heart Disease | 8% |
| Diabetes | 11% |
| Kidney Disease | 3% |
Healthcare Costs in Rock Springs, SD
Each of these diseases are what researchers in the healthcare field refer to as "age-related illnesses." What does that mean? To put it simply, every single one of these diseases becomes more frequent and/or more severe with age. For example, although only 3% of seniors in Rock Springs currently suffer from chronic kidney disease, that number could increase with each year as the number of people in the "65 years and older" category increases. Of course, when the frequency and severity of a disease increases, so too do the costs associated with treating that disease. There are a wide number of reasons as to why this happens, one of which being that seniors today are living far longer than seniors of yesteryear, a phenomenon that allows the frequency and severity of age-related illnesses to increase over a longer period of time, which further increases the costs of the treatments necessary to enable a longer life. Thus, the cycle continues.
| | | |
| --- | --- | --- |
| Disease | Prevalence in Rock Springs | Annual Cost of Treatment |
| Arthritis | 26% | $280 |
| High Blood Pressure | 31% | $288 |
| Coronary Heart Disease | 8% | $7,709 |
| Diabetes | 11% | $2,158 |
| Kidney Disease | 3% | $6,808 |
Medicare Advantage Savings in Rock Springs, SD
Medicare Advantage enables seniors like yourself to save considerable amounts of money each year. With Original Medicare, there are certain services that Medicare won't pay for, or will stop paying for after a fixed amount of time. This is what is known as the Medicare coverage gap. Medicare Advantage insurance is actually not controlled by the government. Rather, it is privately owned and operated. These plans are still required by law to cover all of the basics of Medicare but they also typically allow you to "spend a little more" to add improved benefits at a cost of a whopping zero dollars in premiums each month for certain qualifying seniors.
This means that you might only have to pay $0 in order to start saving money on everything from medical expenses to prescription drugs and medical equipment, benefits that Original Medicare typically falls short of providing. If you're like most seniors, the prescription drug coverage alone can save you quite a bit of money each and every month. However, the addition of the medical equipment coverage further enables seniors with chronic health conditions, such as diabetes and arthritis, to better stock their homes with important, life-saving necessities. With Medicare Advantage, you would no longer have to spend your nights wondering whether or not you're going to be able to afford more testing strips or new glucose monitors. In fact, Medicare Advantage plans that cover these necessities can help you save thousands of dollars each year, depending on the state of your illness.
The most important difference between Medicare Advantage plans and Original Medicare or Medicare Supplement (Medigap) insurance plans is that Medicare Advantage plans offer additional coverage options for both dental and vision care, whereas Original Medicare and Medigap plans neither offer vision care nor dental care. This added benefit can enable Medicare Advantage to save you even more money over the long term than otherwise possible through Medigap and certainly more than would ever be possible through Original Medicare. Of course, this isn't to say that Medigap is completely worthless, just that providers of Medigap plans focus on different aspects of your health and safety than providers of Medicare Advantage. We'll talk more about that in a minute.
Medicare Supplement (Medigap) Savings in Rock Springs, SD
Medicare Supplement insurance, unlike Medicare Advantage, doesn't completely replace your Original Medicare coverage. Rather, it supplements it by adding additional coverage options to help you while you struggle to pay for the Medicare coverage gaps, hence the phrase "Medicare Supplement." The bulk of these plans are designed specifically with expenses pertaining to Medicare Part A in mind and provide benefits for anything from hospital stays to in-patient medical services, making them great options for seniors with age-related heart or kidney disease. Medicare Part A costs otherwise tend to pose an insurmountable burden to people suffering from these conditions, leading many of them to be forced to either give up their independence and go back to living with their children or to forgo medical care altogether and give up their quality of life. To avoid either of these two outcomes, it is typically best to choose either a Medicare Advantage plan or one of the ten Medigap plans.
The first category of Medigap coverage plans refers to those plans that provide benefits solely for costs related to Medicare Part A coverage gaps. These plans include Plans A, D, K, and L and provide benefits that make them ideal for seniors who suffer from severe and chronic illnesses. In patients such as these, Medicare Part A expenses can be astronomically high, which can price many seniors out of the healthcare market. However, by enrolling in one of these four Medigap plans, these seniors can save thousands of dollars every year, meaning that the savings would increase exponentially over time.
If you require help covering both your Medicare Part A and your Medicare Part B expenses, then you're going to want to consider enrolling in a plan of the second category of Medigap options, which includes Medicare Supplement Plans B, C, F, G, M, and N. Whereas the first category of Medicare Supplement plans only covers expenses incurred as a result of Medicare Part A treatments, these six plans ensure that you have ample access to both Medicare Part A and Medicare Part B. Unfortunately for new enrollees, Plan F will no longer be available for purchase after the end of 2020. As of 2021, you will need to enroll in one of the other plans in the second category of Medigap insurance in order to ensure that you can maintain similar healthcare benefits.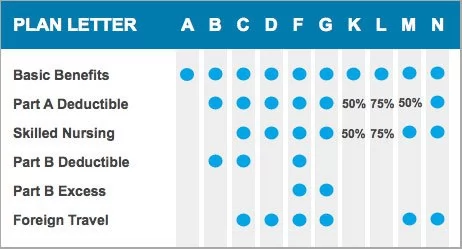 Although Medicare Supplement (Medigap) plans can save you a large sum of money in both the short-term as well as the long-term, there are a few key disadvantages of these plans. The primary disadvantage being that Medigap supplements do not include coverage for prescription drugs. This means that, despite the fact that you might need to purchase hundreds of dollars worth of prescription drugs every month, a price that your Medicare had been covering before a certain point, you will likely soon find that that money is coming almost entirely out of your pocket rather than from your insurance. Fortunately, the costs associated with these prescriptions is offset easily enough by a Medicare Part D prescription drug plan. Such plans are typically quite affordable, particularly in Rock Springs.
It is increasingly important to make sure that you take the proper steps to ensure a happy and healthy future for yourself and your family. At the end of the day, your health is your responsibility and your future self will thank you for taking the time to secure proper insurance sooner rather than later. Healthcare costs are on the rise, particularly in Wyoming. This means that the longer you wait, the more at-risk you're going to be. So don't wait! Visit Medigap.com and start shopping for coverage today. Take back control of your health. Take back your life.
| | | | |
| --- | --- | --- | --- |
| Medigap Plan | Minimum Monthly Premium | Maximum Monthly Premium | Average Estimated Monthly Premium (Part B Premium Included) |
| Plan A | $90 | $224 | $293 |
| Plan B | $142 | $266 | $340 |
| Plan C | $164 | $346 | $391 |
| Plan D | $173 | $288 | $366 |
| Plan F | $166 | $302 | $370 |
| Plan F (high deductible) | $45 | $92 | $204 |
| Plan G | $172 | $295 | $369 |
| Plan K | $69 | $134 | $237 |
| Plan L | $120 | $189 | $290 |
| Plan M | $142 | $239 | $326 |