Whether you're a snowbird based out of Laramie, Wyoming or whether you still enjoy those frosty winters, spending your golden years in Laramie gives you some unique opportunities and challenges. One of the challenges you may not know about – aside from the snow and the cold – has to do with your Medicare. You might not be receiving as much coverage as you think – and that lack of coverage could cost you tens of thousands of dollars later in life if you aren't careful! But we have plenty of helpful info right here on this page that can get you all the coverage you'll ever need.
Facts and Figures
There are 2,890 senior citizens living in Laramie right now

There are 5 hospitals in the Laramie area where seniors can get emergency and/or in-patient care

3% of Wyoming seniors have a Medicare Advantage plan

38% of seniors have a Medicare Supplement (Medigap) plan

Which leaves 59% of seniors potentially uninsured or underinsured against costly Medicare coverage gaps!
Being a Laramie resident, there's almost a 1 in 3 chance that you have one of the chronic diseases listed in the chart below. If that's true, then you need to act fast and get your medicare coverage gaps insured right away. Even if your health isn't in dire straits now, that will likely change in the future given the diagnosis of a chronic disease. And there's a high likelihood that the treatment and care you need won't be available for an affordable price due to Medicare coverage gaps.
| | |
| --- | --- |
| Disease | Prevalence in Laramie |
| Arthritis | 26% |
| High Blood Pressure | 28% |
| Coronary Heart Disease | 7% |
| Diabetes | 9% |
| Kidney Disease | 3% |
Healthcare Costs in Laramie, WY
Let's take a look at how high blood pressure (which is just one example of many) can cost you thousands of dollars in out-of-pocket expenses due to medicare coverage gaps. There are a lot of different medications your doctor might prescribe you to treat the condition, and many of them aren't cheap. This could end up putting you in the "donut hole" of Medicare Part D coverage where you pay a substantial amount of money out-of-pocket for your prescriptions. High blood pressure could also lead to something like a heart attack, which could put you in the hospital for several days or even weeks. Unfortunately, Medicare only pays for relatively short hospital stays – anything beyond that, and you'll be paying for those hospital bills 100% out-of-pocket. Thankfully, if you purchase a Medicare supplement insurance policy, you won't have to deal with this on your own. But if you leave yourself uncovered, you will.
| | | |
| --- | --- | --- |
| Disease | Prevalence in Laramie | Annual Cost of Treatment |
| Arthritis | 26% | $291 |
| High Blood Pressure | 28% | $354 |
| Coronary Heart Disease | 7% | $9,860 |
| Diabetes | 9% | $2,163 |
| Kidney Disease | 3% | $8,687 |
Medicare Advantage Savings in Laramie, WY
Your first option, as far as supplemental coverage is concerned, is Medicare Advantage. When you sign up for Medicare Advantage, you aren't just getting a different type of Medicare. You're opting out of a federally operated system and instead choosing to let a private health insurance company manage all of your health care needs from now until the day you die. Thankfully, these companies are at least regulated closely enough that they must offer you the same benefits you would get with Original Medicare. They can't offer you anything less. Many of them will actually offer more benefits in exchange for a higher monthly premium. But since the government is paying into your Medicare Advantage policy, those funds greatly reduce your monthly Medicare Advantage premium – and some qualifying seniors can even get it for as little as $0 per month.
Medicare Advantage Plans have a lot more customization options compared to what else might be available near you. With other insurance policies like Medigap, there's certain coverages you have to purchase separately from other providers. But with Medicare Advantage, you can put all of these coverages and more on to the same policy. Many seniors like this convenience, and some are fortunate enough that this is also the least expensive option in their area.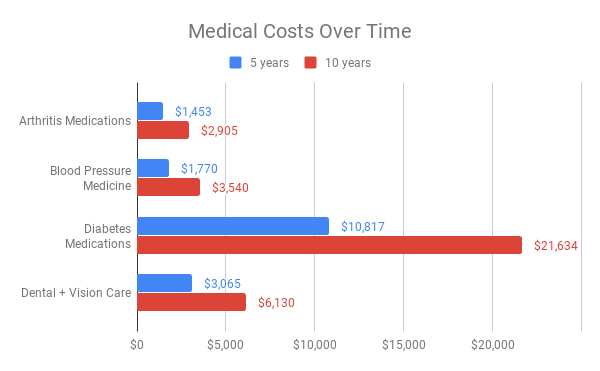 You can switch to Medicare Advantage during any Open Enrollment Period, and you can switch out of it and opt back into the federal Medicare program in the same way. Some seniors may need to take advantage of this flexibility as their medical needs change over time, and as the insurance options in their area change, too. While it's important to try and make the best decisions early in your retirement years, you should know that you won't have to feel trapped into any specific plan for the rest of your life.
Medicare Supplement (Medigap) Savings in Laramie, WY
Medicare supplement insurance – Medigap – is good protection for anyone who wants to keep their federal Medicare benefits. There are 10 total Medigap plans to choose from, but you can only choose one. These policies do exactly what they say they do on the label: they supplement the gaps in Original Medicare coverage. Medicare pays first, Medigap pays second if you run into a coverage gap, and only after those two entities sort things out do you ever see a bill.
There are a total of 10 standardized plans which offer benefits starting with the gaps in Medicare Part A. The plans which specifically protect you from Part A coverage gaps are Medigap Plans A, D, K, and L. With one of these policies, you won't suddenly find yourself drowning in thousands of dollars in medical debt if you require an extended hospital stay, multiple blood transfusions, or expensive end-of-life care. These four plants typically have the lowest monthly premium because they don't cover any gaps in Medicare Part B coverage.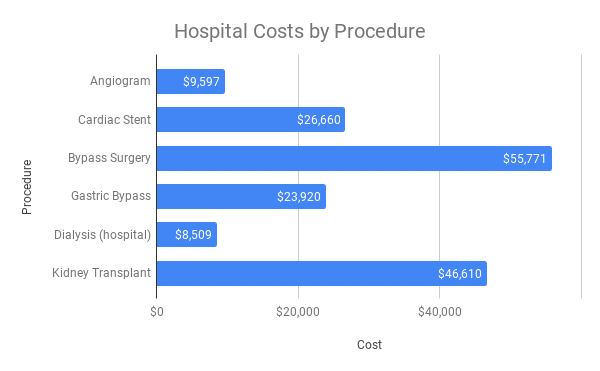 The same goes for the Medigap plans which cover the gaps in Part B coverage: plans B, C, F, G, M, and N. Unlike the other four plans, these 6 Medigap plans cover Medicare Part A and varying degrees of Medicare Part B coverage gaps. There are no Medigap plans which cover Part B gaps, but not Part A. This makes sense, since there are more Part A coverage gaps, and they tend to be more expensive than Part B coverage gaps. Part B coverage gaps apply to things like foreign travel insurance, co-pays, coinsurance, and deductibles. Just so you know: Plan F, the most comprehensive Medigap plan available for purchase right now, is scheduled to be phased out by the end of 2020. So if you want the most comprehensive Medigap plan at the best price, be sure to try and enroll before January 2021 or else you may miss your opportunity.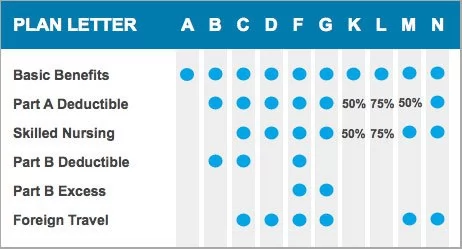 Most of the time, especially in areas like Laramie, Medigap monthly premiums are cheaper than the costs associated with Medicare Advantage. Part of that is because you will have to purchase separate dental, vision, and prescription drug coverage on your own. Unfortunately, Medigap insurance doesn't offer any of these coverages anymore. But dental and vision insurance from private providers is usually fairly affordable, especially if you look for senior discounts. Medicare Part D offers prescription drug coverage and assistance for seniors over the age of 65; just be wary of the Medicare Part D "donut hole" coverage gap. It could leave you paying for prescriptions out-of-pocket depending on how much they cost.
Are you confused yet? If so, you're not alone. It's actually more common to be confused than not at this stage of the shopping process. But that's why we're here. We have Medicare insurance experts and friendly customer service representatives waiting to take your call. Just reach out to us and we'll be more than happy to show you how to save the most money on the best Medicare supplement insurance in your area.
| | | | |
| --- | --- | --- | --- |
| Medigap Plan | Minimum Monthly Premium | Maximum Monthly Premium | Average Estimated Monthly Premium (Part B Premium Included) |
| Plan A | $90 | $224 | $293 |
| Plan B | $142 | $266 | $340 |
| Plan C | $164 | $346 | $391 |
| Plan D | $173 | $288 | $366 |
| Plan F | $166 | $302 | $370 |
| Plan F (high deductible) | $45 | $92 | $204 |
| Plan G | $172 | $295 | $369 |
| Plan K | $69 | $134 | $237 |
| Plan L | $120 | $189 | $290 |
| Plan M | $142 | $239 | $326 |