Medicare Supplement Insurance in Cheyenne, Wyoming
There's a big problem for seniors in Cheyenne, Wyoming right now. As many as 59% of them don't have any health care coverage whatsoever to protect themselves financially from their Medicare coverage gaps. Why is this a problem? Well, it's a problem for several reasons; but the most important reason is your nest egg. Without proper financial protection from these inevitable medical expenses, you can lose everything you've worked for at a time in your life when you are least able to recoup those losses. But with the right supplemental insurance policy, you can protect yourself and enjoy your golden years with solid financial security.
Facts and Figures
There are 9,977 senior citizens living in Cheyenne right now

There are 5 hospitals in the Cheyenne area where seniors can get emergency and/or in-patient care

3% of Wyoming seniors have a Medicare Advantage plan

38% of seniors have a Medicare Supplement (Medigap) plan

Which leaves 59% of seniors potentially uninsured or underinsured against costly Medicare coverage gaps!
If you don't have a lot of experience in the medical field, you can be forgiven for not knowing how disastrous and expensive care for chronic illnesses can be. Most seniors are afraid of having their retirement savings wiped out by something like a cancer diagnosis – but the reality is that your chronic illnesses will do that a lot quicker than anything else. Just take a look at the chart below. There's nearly a one-in-three chance that you are one of the seniors living in Cheyenne right now who has already been diagnosed with a chronic illness. And if this is so, then your problems are only just beginning.
| | |
| --- | --- |
| Disease | Prevalence in Cheyenne |
| Arthritis | 25% |
| High Blood Pressure | 29% |
| Coronary Heart Disease | 6% |
| Diabetes | 8% |
| Kidney Disease | 2% |
Healthcare Costs in Cheyenne, WY
To understand why this happens the way it does, let's take a closer look at kidney disease as an example. Kidney disease is something that gets worse over time, no matter what you do. But if you see the right doctors frequently enough and take the right medications, you can at least give yourself a longer and higher quality of life. But all of that doctor care, all of those medications, and the eventual, regular dialysis treatments you will need to keep your kidney disease in check are not cheap. And guess what? The more severe your kidney disease gets, the less of those medical expenses you will get covered by Medicare.
| | | |
| --- | --- | --- |
| Disease | Prevalence in Cheyenne | Annual Cost of Treatment |
| Arthritis | 25% | $291 |
| High Blood Pressure | 29% | $354 |
| Coronary Heart Disease | 6% | $9,597 |
| Diabetes | 8% | $2,163 |
| Kidney Disease | 2% | $8,509 |
Medicare Advantage Savings in Cheyenne, WY
One of the reasons there are so many seniors in Wyoming who are walking around with insufficient coverage is because Medicare Advantage isn't very popular there. Only 3% of residents have decided to purchase a Medicare Advantage plan. Granted, Medicare Advantage can be problematic in a big state like Wyoming. This is especially true if you've had bad experiences with the HMO and/or PPO networks that most Medicare Advantage plans rely on in order to provide care for their customers. These medical networks tend to be more restrictive and offer less quality care in states like Wyoming; which can explain why so few people have chosen this option.
Still, if you live in a larger area or have access to better medical networks via Medicare Advantage, you might want to think about it. It gives you the convenience of managing all of your medical care – including your Original Medicare benefits, any supplemental coverage you purchase to cover your gaps, prescription drug coverage, dental, and even vision – all under the same plan. But you won't have to pay as much as you think you will for this level of comprehensiveness. Essentially, Medicare Advantage replaces your government Medicare benefits (Parts A and B) with a private health insurance plan that promises to deliver the exact same benefits or more (for a price). But the price you pay in monthly premiums is drastically discounted because Medicare funds are used to give you a serious discount.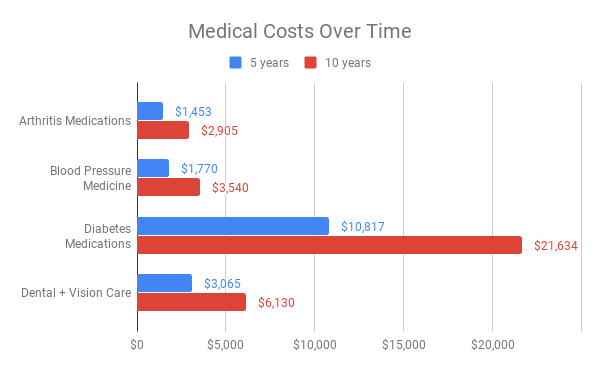 Of course, the more coverage you buy, the higher your monthly premium will be. Sometimes this can make Medicare Advantage plans prohibitively expensive for seniors who can't afford that much of a monthly premium. Still other seniors may be perfectly content holding onto their federal benefits and working around the inconvenient holes in their Medicare coverage. Medicare supplement insurance, also known as Medigap, provides a convenient alternative to seniors who can't get the most benefit from Medicare Advantage policies.
Medicare Supplement (Medigap) Savings in Cheyenne, WY
In some ways, Medigap insurance is the opposite of Medicare Advantage. You're only trying to purchase those benefits that you absolutely need, not putting all of your health care needs onto the same policy. And you get to keep your federal Medicare benefits, whereas you would have to give them up in exchange for something equal or better with Medicare Advantage. You have ten different Medigap plans to choose from, but you cannot customize your coverage; Medicare Advantage, on the other hand, it's just one policy that you get to customize to meet your specific needs.
Out of the 10 standardized Medigap plans that you can choose from, some of them only focus on the gaps in Medicare Part A. So you'll get financial protection from Medicare Part A coinsurance charges associated with long hospital stays, blood transfusions, and skilled nursing facility care – among others. Medigap plans A, D, K, and L are the plans you want to look at if you are only worried about Medicare Part A coverage gaps. Although you won't get any financial protection from Part B charges, you will get to save money by paying a lower monthly premium for these less comprehensive plans.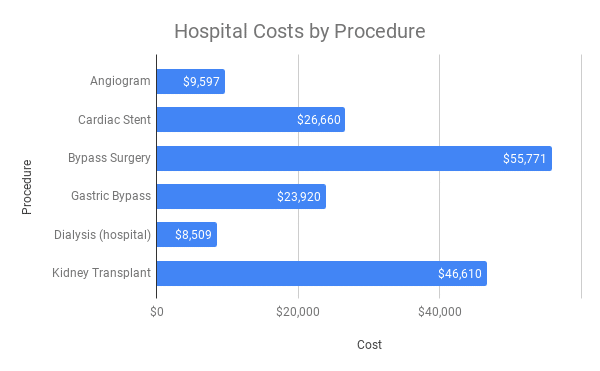 Or you could go in the other direction and aim for something more comprehensive instead. A truly comprehensive plan – like Medigap Plan F, for example – protects you from all of the gaps in Medicare Parts A and B. Less comprehensive plans will protect you from all of the gaps in Medicare Part A and most but not all of the gaps in Medicare Part B. The more comprehensive plans like Plan F are getting phased out at the end of calendar year 2020. So if you want to get the best coverage your money can buy, you'll have to enroll quickly – or settle for less coverage if you wait to enroll.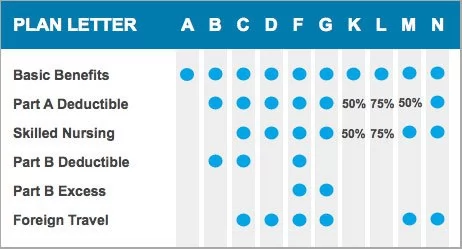 Since Medigap is only concerned with protecting you from Medicare coverage gaps, you won't be able to get coverage for vision, dental, or prescription drugs via your Medigap provider. But this isn't a deal-breaker for the 38% of seniors in Cheyenne who have a Medigap plan. How do they get around it? Many of them purchase their own private dental and/or vision coverage from local insurance agencies. Many are allowed to sell vision and dental coverage at any time of the year without any special enrollment for an agreeable price – and may even offer good discounts for senior citizens. You can also enroll in Medicare Part D, which is the national prescription drug program. Although if you take a lot of medications – and especially those medications are expensive – you'll want to look up more information on the "donut hole" coverage gap which could leave you temporarily paying for up to 25% of your prescription costs out-of-pocket if you exceed your annual maximum.
There's a lot of confusion about Medicare, what it covers, what it doesn't cover, and how best to protect yourself from the uncertainty. We are more than ready and willing to help. We hope this information you've read today has been helpful – but if you still have questions, we have answers! Call or email us today. We will get back to you ASAP in order to help you make this important decision.
| | | | |
| --- | --- | --- | --- |
| Medigap Plan | Minimum Monthly Premium | Maximum Monthly Premium | Average Estimated Monthly Premium (Part B Premium Included) |
| Plan A | $60 | $222 | $277 |
| Plan B | $107 | $253 | $316 |
| Plan C | $113 | $287 | $336 |
| Plan D | $97 | $243 | $306 |
| Plan F | $115 | $284 | $335 |
| Plan F (high deductible) | $29 | $75 | $188 |
| Plan G | $99 | $244 | $307 |
| Plan K | $46 | $92 | $205 |
| Plan L | $78 | $126 | $238 |
| Plan M | $103 | $146 | $260 |
| Plan N | $82 | $221 | $287 |