How much do you know about your Medicare coverage benefits? Do you know whether you have a Medicare Advantage plan, Original Medicare, or something else? You'd be surprised how many seniors – especially seniors who are living in Milwaukee – have trouble answering these basic questions. If you're struggling to answer them yourself, then you've come to the right place. Not knowing the answer to these questions can make you vulnerable to tens of thousands of dollars in unexpected medical costs due to the disastrous gaps in your Medicare coverage benefits! Read on to learn how you can protect yourself from life-altering medical bills.
Senior Medicare in Milwaukee: Facts and Figures
There are 59,202 senior citizens living in Milwaukee right now
There 11 hospitals in the Milwaukee area where seniors can get emergency and/or in-patient care
39% of Wisconsin seniors have a Medicare Advantage plan
26% of seniors have a Medicare Supplement (Medigap) plan
Which leaves 35% of seniors potentially uninsured or underinsured against costly Medicare coverage gaps!
Do you have any of the chronic health conditions listed in the table below? If you do, then it's more important for you to make sure the gaps in your Medicare coverage benefits are taken care of than it is for people who are relatively healthy. Things like high blood pressure and arthritis are more prevalent in Milwaukee than they are in a lot of other places. Managing chronic conditions can get expensive if you aren't careful and you don't stay on top of your healthcare. And things can get more expensive still if you have gaps in your Medicare coverage that you need to worry about.
| | |
| --- | --- |
| Disease | Prevalence (in Milwaukee) |
| Arthritis | 24% |
| High Blood Pressure | 35% |
| Coronary Heart Disease | 6% |
| Diabetes | 12% |
| Kidney Disease | 3% |
Healthcare Costs in Milwaukee, WI
Having a chronic condition like diabetes or coronary heart disease means that the condition won't go away no matter how hard you try. You will likely require medical care to manage these conditions for the rest of your life, which could cost you a pretty penny. Below is an estimate of how much someone might expect to pay for the cost of treatment with these conditions. Assuming you don't have the gaps in your Medicare coverage taken care of, these expenses could be largely or completely your responsibility out-of-pocket.
| | | |
| --- | --- | --- |
| Disease | Prevalence (in Milwaukee) | Annual Cost of Treatment |
| Arthritis | 24% | $304 |
| High Blood Pressure | 35% | $180 |
| Coronary Heart Disease | 6% | $9,108 |
| Diabetes | 12% | $2,208 |
| Kidney Disease | 3% | $8,106 |
Medicare Advantage Savings in Milwaukee, WI
One way Milwaukee seniors choose to protect themselves from Medicare coverage gaps is through a Medicare Advantage plan. It is also sometimes referred to as Medicare Part C in Wisconsin. But one thing most people don't know about Medicare Advantage is that it is not run or administered by the federal government. A private insurance company handles your benefits, your claims, and all of the technical stuff; the government just approves the plan and pays a large chunk of the monthly premium on your behalf. Because of this, some Medicare Advantage plans can cost as little as $0 per month for qualified seniors.
One of the reasons Medicare Advantage is so popular among Milwaukee seniors is because of how customizable it is. Your base plan will start with identical benefits that you would get from Medicare Parts A and B. It legally must offer you the exact same benefits or else the insurance company would be breaking the law by offering you less. From there, you can talk to your insurance agent and choose to purchase additional coverage, usually for a more expensive premium. Not only does this allow you financial protection from the specific Medicare coverage gaps that you are worried about, but it can give you access to medical benefits that you wouldn't normally get from Original Medicare.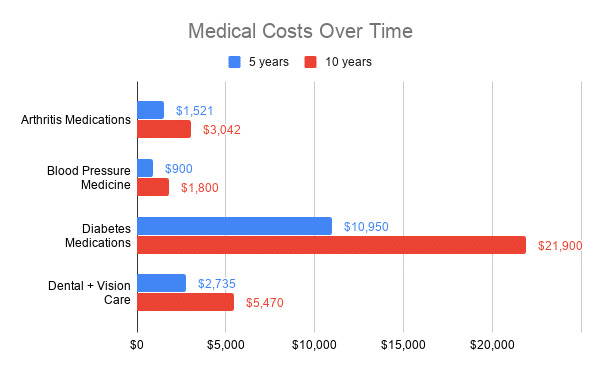 Some of these medical benefits include vision or dental coverage. They may also include a prescription drug program. To get similar coverage outside of a Medicare Advantage plan, you would have to sign up for Medicare Part D prescription drug coverage from the federal government and you would have to purchase private vision and dental health insurance from separate companies. But getting this coverage through a Medicare Advantage plan means that all of your medical needs will be managed by the same company. This very valuable convenience helps streamline the healthcare process for many seniors who would be otherwise overwhelmed by it.
Medicare Supplement (Medigap) Savings in Milwaukee, WI
But not every senior who lives in Milwaukee sees Medicare Advantage as the best value. Some seniors are perfectly happy with the Medicare benefits they have, and don't need some big, complicated, customized plan for themselves. For these people, Medicare Supplement Insurance in Wisconsin is a better value. It focuses on plugging the holes in Traditional Medicare coverage only, which can make things a lot less expensive for many seniors.
Let's say you don't have any of the chronic conditions we discussed earlier, so preventative care and management aren't an issue for you. In that case, you could save a decent amount of money by focusing on a Medigap policy which only covers the hospital expenses that Medicare doesn't cover. These gaps can be easily and affordably covered by Medigap plans A, D, K, and L. Things like extended hospital stays, hospital coinsurance, and even blood transfusions would otherwise be formidably expensive. And all you really need to do is pay one low premium per month in order to get that financial protection.
Odds are good that you will need some financial help with your Medicare Part B coverage gaps, though. Even if you don't have chronic conditions to manage now, there's a high likelihood you will have them in the future. In that case, you might want to take a closer look at Medigap plans B, C, D, F, G, M, or N in order to protect you from these financial expenses. Excess charges, outpatient medical expenses, and medical supplies are particularly pricey when you don't have your Medicare Part B coverage gaps taken care of. Medigap Plan F is the most comprehensive because of how much financial assistance you get with your Medicare Part B deductible; unfortunately, this plan will be phased out by the end of 2020 and no longer available as of 2021. So if you are particularly concerned with this expense, we suggest you get on the ball quickly.
Like Medicare Advantage, Medigap policies are administered by private companies. For the more comprehensive plans, all you really need to worry about is paying your premium every month on time and you will enjoy those benefits for the rest of your life. You cannot be suddenly rejected due to a change in your health status. The only other instance in which you could lose your Medigap coverage is if the company goes under financially.
Due to the laser focus of Medigap coverage, you may have to put a little extra work in if you want dental, vision, or prescription drug coverage. Medigap policies don't provide for any of these. This is because Medicare Part D is designed to help seniors with their prescription drug costs. This is also because there is no federal mandate for vision or dental coverage for seniors, despite how frequently they need this type of care. But you can shop around private companies in your area who will offer you this type of coverage. Some may even offer discounts for seniors. And, unlike Medicare Advantage companies who choose your medical networks, dentists, and optometrists for you, you might have the freedom to choose any provider you wish.
Getting older isn't easy. And paying for your medical care is even more challenging still. But for seniors who are living in Milwaukee, we can make that process a lot simpler. We strongly encourage you to keep browsing our website for more vital information on Medicare Advantage, Medicare Supplement Insurance, and the potentially expensive gaps in Medicare coverage which most seniors don't know they are vulnerable to. If you get confused or you need help sorting everything out, please contact us for more information! We would love to help you get the medical coverage you need to enjoy your golden years the most.
| | | | |
| --- | --- | --- | --- |
| Medigap Plan | Minimum Monthly Premium | Maximum Monthly Premium | Average Estimated Monthly Premium (Part B Premium Included) |
| High Deductible Plan | $40 | $235 | $273 |
| 50% Cost Sharing Plan | $76 | $117 | $232 |
| Medigap Basic Plan | $93 | $228 | $296 |
| 25% Cost Sharing Plan | $97 | $148 | $258 |