South Burlington, Vermont, has just about everything that you might want in a retirement community. With 10 hospitals, there is plenty of access to healthcare. Unfortunately, if you're on Medicare, you still might not be able to afford to get the treatment that you both need and deserve. Medicare coverage gaps might leave you with the choice to either avoid receiving treatment for your symptoms or to spend thousands of dollars in out-of-pocket expenses every year. Fortunately, seniors in South Burlington have discovered two potential ways out: enroll in a Medicare Advantage plan or enroll in a Medicare Supplement plan.
Facts and Figures
There are 3,628 senior citizens living in South Burlington right now

There is only 1 hospital in the South Burlington area where seniors can get emergency and/or in-patient care

8% of Vermont seniors have a Medicare Advantage plan

35% of seniors have a Medicare Supplement (Medigap) plan

Which leaves 57% of seniors potentially uninsured or underinsured against costly Medicare coverage gaps!
As the figures above show, just over one out of every two seniors in the South Burlington area don't have the reliable and consistent access to healthcare that they both need and deserve. By relying on Original Medicare to meet their healthcare needs, they are risking thousands of dollars every year. If you're one of those seniors, then your problems are only going to worsen with time. Healthcare professionals have long written about the problem of age-related illnesses, illnesses that become more common as you age. In addition to the increased risk of developing an additional illness, your risk of developing new or worsening symptoms related to your existing conditions also increases. That means that, while your current conditions are worsening in both frequency and severity of symptoms, you may also be developing yet another illness with a whole list of additional symptoms. The data below demonstrate just how likely that might be for you.
| | |
| --- | --- |
| Disease | Prevalence in South Burlington |
| Arthritis | 17% |
| High Blood Pressure | 19% |
| Coronary Heart Disease | 4% |
| Diabetes | 6% |
| Kidney Disease | 2% |
Healthcare Costs in South Burlington, VT
As you age, your healthcare costs are going to increase. Even if you maintain perfect health and your symptoms remain the same year after year, you're going to see higher healthcare costs each passing year. Why? Because medical costs are the rise in almost every category, whether you use your benefits or not. Unfortunately, for many seniors, having symptoms that remain the same from one year to the next is little more than a dream. For most seniors, symptoms increase in frequency and severity as you age, further driving up healthcare costs. Since seniors are living longer lives now than ever before, there will also be more time in your life for both of these phenomena to take effect. That means that your healthcare costs will be able to increase to higher levels than other generations.
| | | |
| --- | --- | --- |
| Disease | Prevalence in South Burlington | Annual Cost of Treatment |
| Arthritis | 17% | $294 |
| High Blood Pressure | 19% | $356 |
| Coronary Heart Disease | 4% | $9,581 |
| Diabetes | 6% | $2,173 |
| Kidney Disease | 2% | $7,879 |
Medicare Advantage Savings in South Burlington, VT
Medicare Advantage plans aim to make treatment of your illnesses as comprehensive and as worry-free as possible. This is done through the implementation of a private insurance plan that completely replaces your government insurance plan. Of course, the government still heavily regulates Medicare Advantage plans and the law requires that these plans provide – at the very minimum – the same level of care as Original Medicare plans. Furthermore, most providers of Medicare Advantage will offer the option to add additional coverage benefits to your plan on the condition that you pay higher premiums. But since the government takes care of most or all of your premiums, you can still end up paying no more than $0 per month for your healthcare coverage.
Many Medicare Advantage plans come with the option of adding prescription drug coverage. These plans are typically quite comprehensive, even going so far as to cover medical equipment like glucose monitors and testing strips, although the exact benefits vary from provider to provider. If you happen to be suffering from arthritis, high blood pressure, diabetes, or any other illness that requires a heavy dependence on prescription medications, you might find that one of these comprehensive plans to be far better than what you could get through Medicare Part D prescription drug coverage. For seniors with these conditions who rely on Medicare Advantage for their prescription drug coverage needs, the savings can really add up over time.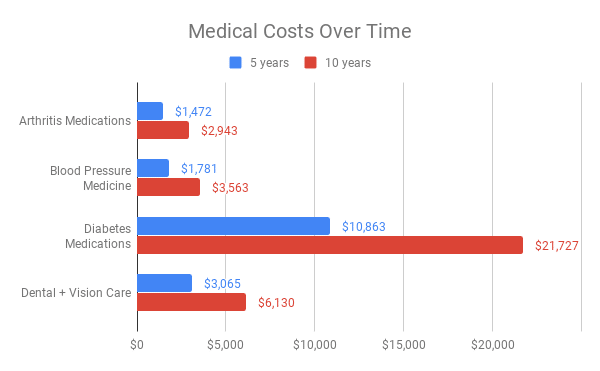 Medicare Advantage providers also frequently provide the option of adding dental and vision care coverage directly to your Medicare Advantage plan. This is particularly great because many seniors find that their need for vision and dental care begin to increase significantly as you age but Original Medicare provides little to no benefit of any kind related to either of those two treatment categories. In fact, neither Original Medicare nor Medicare Supplement Insurance are capable of adding anywhere near the same level of benefits related to vision care or dental care as are possible under Medicare Advantage.
Medicare Supplement (Medigap) Savings in South Burlington, VT
More commonly known as Medigap, Medicare Supplement insurance serves to supplement your Original Medicare plan. That means that you don't have to deal with the hassle of entirely replacing your existing Medicare plan; rather, you just have to add a few additional coverage benefits on top of your existing plan. Each of the ten plans available for you to choose from provide a wide array of benefits to seniors struggling with high out-of-pocket expenses as a result of the Medicare coverage gaps of Medicare Part A, which can be an otherwise insurmountable barrier for many seniors suffering from age-related heart or kidney disease.
The first category of plans includes those that only provide benefits related to Medicare Part A coverage gaps. That includes Medigap types A, D, K, and L. These plans are great for seniors who need help affording things like hospital stays, blood transfusions, and skilled nursing care, but also cover much more than that. Unfortunately, the extent of these coverage options is confined exclusively to Medicare Part A's coverage gaps. If you are struggling with the high out-of-pocket expenses of Medicare Part B coverage gaps as well, you will want to look into the second category of Medigap plans.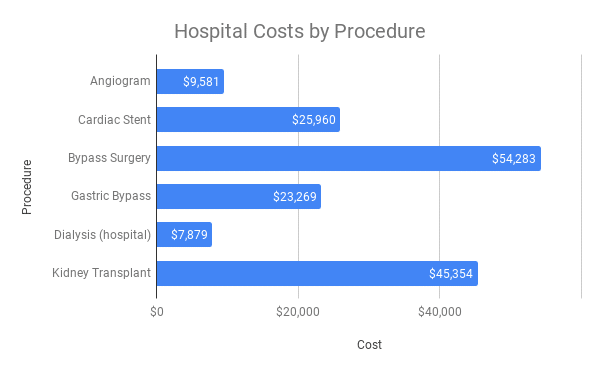 The second batch of plans that you should know about are Medigap plan types B, C, F, G, M, and N. You will need one of these plans if you want a Medigap plan type that covers both Medicare Part A coverage gaps as well as Medicare Part B coverage gaps. Unfortunately, not all of these plans are going to last forever. Medicare Supplement Plan F is set to be discontinued beginning in 2021, meaning that 2020 is officially the last year to enroll in the plan. If you, like many other seniors, would prefer Medigap Plan F, you will have to enroll soon, and be sure to pay your monthly premiums on time. If you make a late payment, if the company goes under, or if you choose to enroll in a different plan, you'll lose your Plan F benefits forever.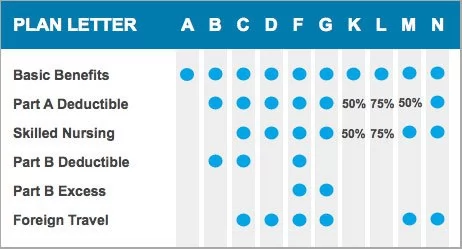 Obtaining prescription drug coverage, vision care coverage, and dental care coverage while on Medicare Supplement insurance is not as difficult as you might think it is. To obtain prescription drug coverage that tends to be sufficient for satisfying the needs of most seniors in the system, you can enroll in Medicare Part D prescription drug coverage. If you happen to be on a large number of prescription medications or require a vast amount of minor medical equipment, then you might not be fully helped by a Medicare Part D plan. In that case, you could look into a Medicare Advantage plan in order to avoid the "donut hole" coverage gap in Medicare Part D prescription drug coverage. To obtain vision and dental care, you can simply contact a local provider of those two insurance types in the South Burlington area. Since neither vision nor dental insurance requires that you go through the Open Enrollment Period, you can enroll in either of these two plans without waiting for "the right time."
While living in South Burlington, Vermont can be great for a wide variety of reasons, one of those reasons is absolutely not the presence of affordable healthcare options. One way or another, living with Original Medicare can lead seniors to financial ruin and/or result in your loss of your financial or healthcare independence. If you wait, the risk of that happening only increases, so don't take too long. Head over to Medigap.com today and start shopping for the plan that is best for you. If you still have questions, as many people do, feel free to contact one of our experts who will be glad to help. Start by checking out a few quotes below.
| | | | |
| --- | --- | --- | --- |
| Medigap Plan | Minimum Monthly Premium | Maximum Monthly Premium | Average Estimated Monthly Premium (Part B Premium Included) |
| Plan A | $92 | $172 | $268 |
| Plan B | $145 | $228 | $322 |
| Plan C | $157 | $247 | $338 |
| Plan D | $141 | $276 | $344 |
| Plan F | $158 | $279 | $354 |
| Plan F (high deductible) | $41 | $89 | $201 |
| Plan G | $176 | $224 | $336 |
| Plan K | $70 | $130 | $236 |
| Plan L | $122 | $142 | $268 |
| Plan M | $164 | $164 | $300 |
| Plan N | $119 | $194 | $292 |