How well prepared for retirement do you think you are? Because if you aren't prepared to deal with the expensive gaps in your Original Medicare coverage, then you aren't as ready for retirement as you think you are. But we can fix that here, today. Below, we're going to talk about the different types of Medicare supplement insurance options you have as a newly retired senior citizen. Once you're done reading, you'll be that much more prepared to get the most out of your golden years.
Facts and Figures
There are 9,124 senior citizens living in Pawtucket right now

There are 2 hospitals in the Pawtucket area where seniors can get emergency and/or in-patient care

37% of Rhode Island seniors have a Medicare Advantage plan

19% of seniors have a Medicare Supplement (Medigap) plan

Which leaves 44% of seniors potentially uninsured or underinsured against costly Medicare coverage gaps!
Do you know the difference between chronic and acute disease? An acute disease is something like an unexpected cancer diagnosis, or breaking a bone after a fall. Chronic disease, on the other hand, is more akin to diabetes or heart disease. Unlike acute disease, chronic conditions will never go away. Once you get a diagnosis, you're stuck with it for life. So the longer you can stay healthy and avoid coming down with a chronic illness, the better off your golden years will be – and the more money you'll save on your health care expenses, too.
| | |
| --- | --- |
| Disease | Prevalence in Pawtucket |
| Arthritis | 27% |
| High Blood Pressure | 33% |
| Coronary Heart Disease | 7% |
| Diabetes | 11% |
| Kidney Disease | 3% |
Healthcare Costs in Pawtucket, RI
Why is chronic disease so physically and financially devastating for seniors? Let's use high blood pressure as an example. If you get diagnosed with high blood pressure earlier on in life, you'll have to spend more time visiting your doctor in order to monitor your condition. Eventually, if you can't get your blood pressure under control, you'll have to start taking prescription drugs. Chronically high blood pressure that stays elevated for years or decades could eventually lead to coronary heart disease and cause other health problems like kidney disease. The medications, outpatient treatments, and even major surgeries necessary to extend your quality and quantity of life can take a huge chunk out of your savings. The figures quoted in the chart below are basically just the tip of the iceberg.
| | | |
| --- | --- | --- |
| Disease | Prevalence in Pawtucket | Annual Cost of Treatment |
| Arthritis | 27% | $291 |
| High Blood Pressure | 33% | $354 |
| Coronary Heart Disease | 7% | $8,023 |
| Diabetes | 11% | $2,163 |
| Kidney Disease | 3% | $7,886 |
Medicare Advantage Savings in Pawtucket, RI
At 37% enrollment, Medicare Advantage is one of the most popular options in all of Rhode Island. And there are many reasons for that. Medicare Advantage is actually a private health insurance policy issued by a private company, so it's more similar to the kind of insurance seniors have been used to all their lives while they were employed. But it has all of the coverage you would normally get from Medicare Parts A and B, and often includes additional coverage options depending on what you and your insurance agent think is best. Best of all, the government will pay for a substantial portion of your monthly premium and can even make it as affordable as $0 per month.
One of the reasons Medicare Advantage insurance companies do so well in places like Rhode Island is because they offer the chance for customers to control which extra coverage is added to their plan. Seniors can add vision, dental, and even prescription drug coverage to their Medicare Advantage plan so that all of their health care needs are managed under a single entity and policy. This helps make things less confusing when it comes time to file claims, get reimbursements, and manage their health care expenses.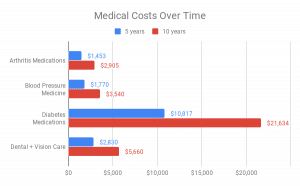 But Medicare Advantage plans aren't for everybody. Some seniors can't get all of the benefits they need on their Medicare Advantage plan without the monthly premiums becoming prohibitively expensive. Other Rhode Island seniors may not need that much coverage – they may only be concerned with the gaps in Original Medicare, and nothing more. For anyone who falls into this category, there's another option you can take a look at: Medicare Supplement Insurance (Medigap).
Medicare Supplement (Medigap) Savings in Pawtucket, RI
Only 19% of Rhode Island seniors have chosen Medigap insurance over Medicare Advantage, but that number is nothing to sneeze at. It means that 19% of people just like you are more concerned with taking out a surgical strike on their Medicare coverage gaps as opposed to purchasing a big, fancy Cadillac plan from a private insurance company. There are actually 10 Medigap insurance plans you can choose from, but the one that's right for you might be different from your neighbor across the street, your best friend, or a family member of the same age.
Let's start by talking about Medigap plans A, D, K, and L. These plans are the least expensive when compared to all of the other Medigap plans, and there's a specific reason for this. These plans only cover the gaps in Medicare Part A. Medicare Part A, as you may already know, has to do with hospital expenses. So if you're worried about needing extra blood transfusions, extended hospital stays, and the like, then you might want to take a closer look at one of these plans. On the other hand, if you are also concerned with the coverage gaps associated with Medicare Part B, then you want to take a closer look at the next group of Medigap plans.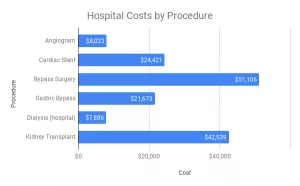 That group includes Medigap plans B, C, F, G, M, and N. These plans help pay for gaps in Medicare Part B, which include expenses such as coinsurance, co-pays, other cost-share charges, and things like foreign travel. The most comprehensive of all the Medigap plans is Medigap Plan F. But 2020 is the final year where seniors who are new to Medicare will be eligible to enroll. If you can enroll now, you can get grandfathered into the program and receive Medigap Plan F benefits for life – as long as you pay your premiums on time and your provider stays financially solvent, that is.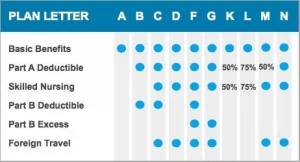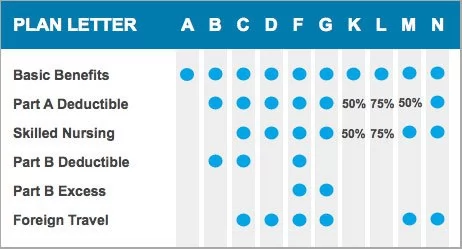 One disadvantage which drives some seniors away from Medigap insurance is the fact that you cannot add additional coverage to it the way you can with a Medicare Advantage plan. So if you need vision or dental, you'll have to go outside of Medicare and Medigap in order to find local providers near you. But this can usually be done easily and cheaply, and you may even qualify for a senior discount. If you still need prescription drug coverage, look no further than Medicare Part D. Just be aware that there is a donut hole coverage gap which exists between your yearly maximum and your catastrophic coverage threshold. If you end up in this gap at any point during the year, you may have to pay a maximum of 25% of your prescription costs out-of-pocket.
So, how are you feeling about your health care coverage right now? Are you feeling confident that you will be financially protected from the problematic gaps in Original Medicare coverage? Or are you still unsure what to do in order to protect yourself and your savings? If it's the latter, let us help. You can call or email us right now and one of our customer service experts will be happy to help you find the coverage that's right for you.
| | | | |
| --- | --- | --- | --- |
| Medigap Plan | Minimum Monthly Premium | Maximum Monthly Premium | Average Estimated Monthly Premium (Part B Premium Included) |
| Plan A | $73 | $583 | $464 |
| Plan B | $108 | $203 | $291 |
| Plan C | $129 | $232 | $316 |
| Plan D | $129 | $196 | $298 |
| Plan F | $130 | $230 | $316 |
| Plan F (high deductible) | $31 | $232 | $267 |
| Plan G | $110 | $197 | $289 |
| Plan K | $41 | $99 | $206 |
| Plan L | $72 | $139 | $241 |
| Plan M | $118 | $144 | $267 |
| Plan N | $86 | $176 | $267 |