How much do you know about your Medicare coverage benefits? Do you know whether you have a Medicare Advantage plan, Original Medicare, or something else? You'd be surprised how many seniors – especially seniors who are living in Milwaukee – have trouble answering these basic questions. If you're struggling to answer them yourself, then you've come to the right place. Not knowing the answer to these questions can make you vulnerable to tens of thousands of dollars in unexpected medical costs due to the disastrous gaps in your Medicare coverage benefits! Read on to learn how you can protect yourself from life-altering medical bills.
Facts and Figures
There are 7,552 senior citizens living in Roswell right now

There are 5 hospitals in the Roswell area where seniors can get emergency and/or in-patient care

33% of New Mexico seniors have a Medicare Advantage plan

19% of seniors have a Medicare Supplement (Medigap) plan

Which leaves 48% of seniors potentially uninsured or underinsured against costly Medicare coverage gaps!
As you get older, certain chronic diseases are more common than others. But just because these diseases are common doesn't mean that their treatment costs get more reasonable with age. If anything, some of them get increasingly expensive as the issue gets worse. Certain conditions like arthritis or high blood pressure may only require relatively affordable prescriptions or topical drug store ointments to help manage; others could require lengthy and expensive hospital stays.
| | |
| --- | --- |
| Disease | Prevalence in Roswell |
| Arthritis | 27% |
| High Blood Pressure | 27% |
| Coronary Heart Disease | 6% |
| Diabetes | 10% |
| Kidney Disease | 3% |
Healthcare Costs in Roswell, NM
It's not just that more popular diseases are more expensive to treat; it's that as they progress over time, it becomes more expensive to manage the symptoms. Arthritis, for example, may not cost you very much money in over-the-counter pain creams or anti-inflammatory prescription drugs – but as you get older, you may require expensive steroid shots directly into the joints or even surgery in order to manage your pain. And that's just one example of how chronic conditions can start out relatively inexpensive but become more costly over time.
| | | |
| --- | --- | --- |
| Disease | Prevalence in Roswell | Annual Cost of Treatment |
| Arthritis | 27% | $291 |
| High Blood Pressure | 27% | $354 |
| Coronary Heart Disease | 6% | $9,612 |
| Diabetes | 10% | $2,163 |
| Kidney Disease | 3% | $8,506 |
Medicare Advantage Savings in Roswell, NM
In order to protect yourself from these costly Medicare coverage gaps, you should invest in a comprehensive Medicare Supplement Insurance plan, and you should invest early. As you saw above, more than 1/3 of Roswell seniors have chosen to protect themselves from these costly coverage gaps with a Medicare Advantage plan. When you choose Medicare Advantage, you choose to replace your Original Medicare benefits with a private health insurance policy from a company which must, by law, offer you the exact same benefits you would get from Original Medicare. Many policies offer you more than what you would get from Medicare Part A and Medicare Part B alone. The government then pays a share of your monthly premium for you, which means your monthly premiums could end up being as little as $0 each month.
Another reason senior citizens like Medicare Advantage plans is because of their flexibility. Most Medicare Supplement Insurance policies come with pre-packaged options that don't let you customize the plan; Medicare Advantage is the opposite. Depending on the company and the insurance policy, you can choose to supplement exactly what you need – nothing more, and nothing less. But figuring out exactly what you need can be tricky, which is why other seniors prefer a prepackaged option for the sake of simplicity.
Some of the additional benefits that Medicare Advantage offers include vision and dental. On almost any other Medicare program, you would have to get private coverage separately from a private company for vision and/or dental. You would have to manage those benefits separately from your medical benefits, which can get complicated for some. On the other hand, it's not always guaranteed that the dental and vision coverage you get with a Medicare Advantage plan will be the best options available for the best value in your area. That's why it's so important to shop around.
Medicare Supplement (Medigap) Savings in Roswell, NM
If Medicare Advantage isn't an option for you, the next most obvious Medicare supplement coverage option would be a Medigap policy. Medigap policies are smaller in scope and specifically targeted to protect you from the costs associated with Medicare Parts A and B coverage gaps. They aren't designed to replace your Medicare the way Medicare Advantage does. They only plug the holes in the leaky ship which is Medicare so that you don't end up financially sunk.
They will be the most affordable if you pick a Medigap plan which focuses on hospital costs. These plans are designated by letters: specifically plans A, D, K, and L. If you're worried about uncovered hospital costs or getting your end-of-life care taken care of financially, you will definitely want a Medigap plan which focuses on these coverage gaps. Otherwise, it could end up costing you tens of thousands of dollars or more in uncovered hospital expenses.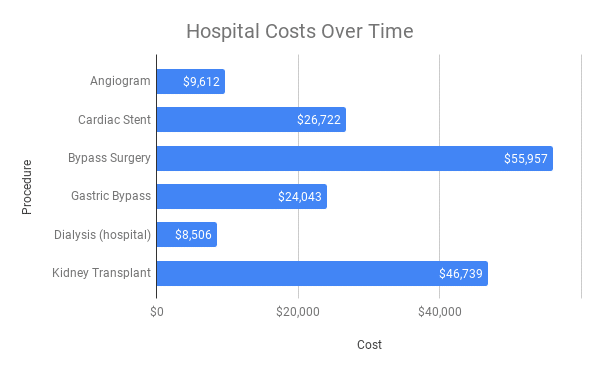 But some seniors are also worried about the gaps in Medicare Part B coverage. Over time, things like outpatient procedures, medical supplies, coinsurance costs, and more can add up – but not all of them are covered by Medicare Part B. That's where Medigap plans B, C, F, G, M, and N come in. They cover various holes in Medicare Part B coverage, they can help you pay for coinsurance or other cost share expenses, and they can even help you with the Part B premium you owe the federal government each month. Currently, if you want the most comprehensive coverage available, you should look at Plan F. But if you're in the market, you should grab it quickly while it is still around. Plan F is going to be retired at the end of 2020 and will no longer be available for purchase as of 2021.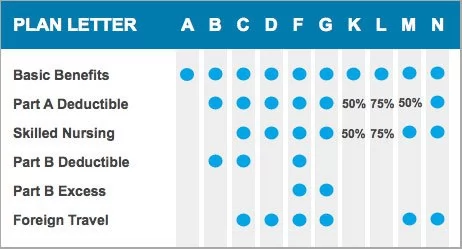 Because Medigap policies are limited in scope, you won't have the option to truly customize your coverage the way you would with Medicare Advantage. This means that you're basically on your own when it comes to prescription drugs, dental, or vision. This doesn't mean you can't get coverage for those things at all; it just means you won't be able to get coverage through your Medigap Supplement Insurance company. You can still sign up for the Medicare Part D prescription drug program if you choose to remain enrolled in Medicare. And you may have more flexibility with your dental and/or vision care because you won't be limited to choosing only those providers selected by your insurance company the way you would with Medicare Advantage.
Living in Louisville presents unique challenges and opportunities for seniors these days. This is especially true when it comes to getting your medical care at an affordable cost. Unfortunately, our broken healthcare system is so unnecessarily complicated that things can get very expensive very quickly if we aren't careful. The best way to financially protect yourself is to discuss your options with one of our Medicare experts. We have agents standing by right now who can answer questions for you and help you clear up the confusion so you can make the right decision for yourself.
| | | | |
| --- | --- | --- | --- |
| Medigap Plan | Minimum Monthly Premium | Maximum Monthly Premium | Average Estimated Monthly Premium (Part B Premium Included) |
| Plan A | $64 | $200 | $268 |
| Plan B | $86 | $227 | $292 |
| Plan C | $98 | $258 | $314 |
| Plan D | $91 | $192 | $277 |
| Plan F | $102 | $215 | $294 |
| Plan F (high deductible) | $26 | $64 | $181 |
| Plan G | $91 | $171 | $267 |
| Plan K | $40 | $85 | $198 |
| Plan L | $68 | $105 | $222 |
| Plan M | $88 | $122 | $241 |