There's a growing problem among senior citizens in Great Falls, Montana. A large number of you – upwards of 50% right now – don't have any Medicare supplement insurance to protect yourself from costly Medicare coverage gaps. Luckily, it's not too late to do something about it. Your two main options in Montana right now are either Medicare Advantage, or a Medicare supplement policy. Which one you choose will largely depend on your personal circumstances – which is why we're going to go over them right now so you can make the best possible decision for yourself.
Facts and Figures
There are 10,624 senior citizens living in Great Falls right now

There are 6 hospitals in the Great Falls area where seniors can get emergency and/or in-patient care

20% of Montana seniors have a Medicare Advantage plan

30% of seniors have a Medicare Supplement (Medigap) plan

Which leaves 50% of seniors potentially uninsured or underinsured against costly Medicare coverage gaps!
Do you have a chronic illness? According to the data in the chart below, nearly 30% of seniors in the Great Falls area are suffering from some sort of chronic condition. And if you're already one of them, but you don't have sufficient Medicare supplement coverage, you're putting yourself at a huge risk. Yes, things like cancer or a hip fracture from an unexpected fall can be very expensive and a huge strain on your retirement account – but worse than that is the financial devastation the chronic illness can do to your savings.
| | |
| --- | --- |
| Disease | Prevalence in Great Falls |
| Arthritis | 27% |
| High Blood Pressure | 29% |
| Coronary Heart Disease | 5% |
| Diabetes | 10% |
| Kidney Disease | 3% |
Healthcare Costs in Great Falls, MT
You might not think much of your chronic illness (or illnesses) right now, but they will get worse over time. That is the unfortunate nature of chronic disease; it is progressive in nature. And once you get a diagnosis, there's no going back. Yes, you can mitigate the symptoms and the effects with prompt and frequent doctor care, the right prescriptions, outpatient treatments, and even occasional hospital care. All of this can help extend your life and improve your quality of life for many years to come. But you may also eventually need skilled nursing facilities or even hospice care because of your chronic conditions – and where will you be when all of these gaps in your Medicare coverage start burying you with out-of-pocket medical costs?
| | | |
| --- | --- | --- |
| Disease | Prevalence in Great Falls | Annual Cost of Treatment |
| Arthritis | 27% | $291 |
| High Blood Pressure | 29% | $354 |
| Coronary Heart Disease | 5% | $9,380 |
| Diabetes | 10% | $2,163 |
| Kidney Disease | 3% | $8,509 |
Medicare Advantage Savings in Great Falls, MT
Medicare Advantage is not the favorite in Montana – Only 20% of seniors have purchased a Medicare Advantage plan – but that number is still nothing to sneeze at. When you purchase Medicare Advantage, you are, in fact, purchasing private health insurance. It's just private health insurance that's designed to look exactly like Medicare Parts A and B. It has to offer at least identical benefits or else the Medicare Advantage provider in question is breaking the law. It also replaces your federal benefits and prevents you from staying enrolled in Original Medicare or signing up for Medicare Part D prescription-drug coverage.
But the seniors who enroll in Medicare Advantage don't feel this is a cause for concern for a few reasons. Number one, they can get equal or more coverage with Medicare Advantage by purchasing extra coverage, including dental, vision, and prescription drugs. The monthly premiums aren't as high as you would expect them to me because federal funding from the Medicare program will subsidize your monthly premium – sometimes to the tune of $0 per month out of your pocket. And many seniors like the fact that they can get all of their medical care in coverage benefits under a single plan, making claims filing and other insurance hazards that much less of a hassle.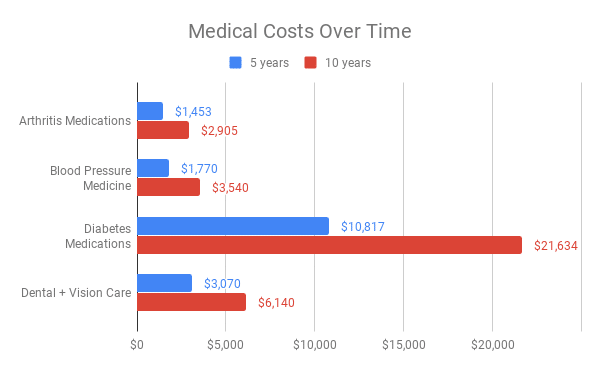 But for the majority of seniors in Montana who are avoiding Medicare Advantage, there are reasons for that decision as well. Sometimes even with federal subsidies, the cost of your monthly premiums under Medicare Advantage is too expensive. Some Montananshey trash may have just had it with private insurance over the years, and feel that their government benefits are less of a hassle. Still others may just find a better value, financially or otherwise, in doing business with a Medicare Supplement Insurance company as opposed to a Medicare Advantage provider.
Medicare Supplement (Medigap) Savings in Great Falls, MT
There are many ways in which Medigap insurance and Medicare Advantage are exact opposites. Medicare Advantage plans are large and comprehensive – Medigap, on the other hand, is smaller and only concerns itself with the gaps in your Medicare coverage. You can customize your Medicare Advantage plan; you cannot customize Medigap insurance, but you do have 10 different plans you can choose between in order to get the coverage that meets your needs. And as we stated earlier, Medicare Advantage replaces your federal benefits, whereas Medigap lets you keep your Medicare benefits but adds a little extra to it in order to protect you from costly Medicare coverage gaps.
Some of those expensive Medicare coverage gaps come from Medicare Part A hospital expenses – but you can protect yourself with Medigap plans A, D, K, or L. These four plans, because they only cover Medicare Part A, will save you money over the long-term with lower monthly premiums. In the process, they will also protect you from exorbitant coinsurance costs after extended hospital stays, excess blood transfusions, hospice care, and more.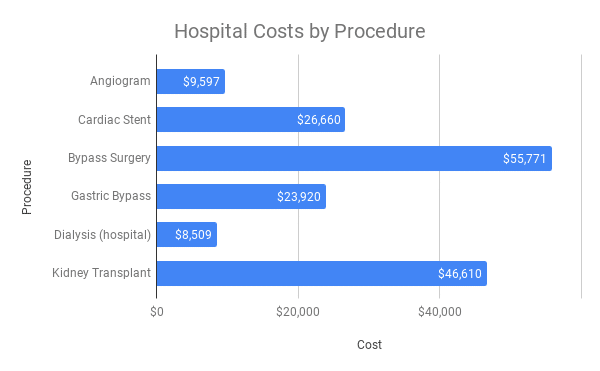 But there are six other plans – plans B, C, G, F, M, and N – which you will want to take a look at before you settle on one of the other four. These six plans tend to have higher premiums than the other four, but that's because they help protect you from the gaps in Medicare Part B as well as Part A. Your Part B deductible, Part B excess charges, and foreign travel benefits could also end up costing you a lot of money if you purchase a less comprehensive Medigap plan. Medigap Plan F is the most comprehensive by far, but it won't be around for much longer. Lucky seniors who can enroll before the end of 2020 can get grandfathered into the program now – or settle for a less comprehensive plan if they are ineligible before January 1st, 2021.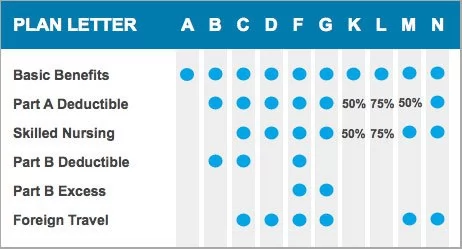 Medigap plans can be a little rigid in that you are not allowed to pick and choose which benefits to purchase the way you can with Medicare Advantage. You must choose the plan that best fits your needs with regard to Medicare coverage gaps, and then you're on your own when it comes to vision, dental, and prescription drug coverage. But vision and dental insurance isn't hard to come by, especially for senior citizens who may qualify for age-related discounts. And Medicare Part D is a very comprehensive prescription drug program which drastically reduces your prescription costs as long as you stay below your annual maximum each year.
Do you want to take a 50-50 Gamble on your financial future and the sanctity of your retirement savings? Or do you want to choose a Medicare supplement today that can protect you and your nest egg from disastrous medical bills? If you are still here, we assume you fall into the latter category. And we are here to help. We understand these decisions can be confusing and stressful. Our experts are standing by, waiting for your email or your phone call. Together, we can help you find the supplement you need at a price you can afford so you can stop worrying about it and enjoy your golden years the way you deserve to.
| | | | |
| --- | --- | --- | --- |
| Medigap Plan | Minimum Monthly Premium | Maximum Monthly Premium | Average Estimated Monthly Premium (Part B Premium Included) |
| Plan A | $67 | $183 | $261 |
| Plan B | $90 | $227 | $294 |
| Plan C | $107 | $262 | $320 |
| Plan D | $103 | $221 | $298 |
| Plan F | $110 | $260 | $321 |
| Plan F (high deductible) | $27 | $89 | $194 |
| Plan G | $96 | $217 | $292 |
| Plan K | $42 | $107 | $210 |
| Plan L | $74 | $151 | $248 |
| Plan M | $97 | $194 | $281 |
| Plan N | $76 | $194 | $271 |