Great views, great ways to relax on Sunday morning, great Atlantic seafood. South Portland, Maine has it all! But how does South Portland hold up when it comes to medical costs and healthcare accessibility? The answer is: not too well. Unfortunately, thousands of seniors in South Portland are currently going without the proper insurance programs that they need in order to stave off poverty and poor health. However, there are thousands of other seniors in the area that don't suffer from these circumstances. What is the difference between these two groups of people? One has Medicare Advantage or Medigap supplement insurance and the other doesn't. While the former group typically enjoys high-quality healthcare at little to no cost, the latter tends to either pay fully out of pocket during the Medicare coverage gap or go without healthcare altogether. Let's take a look at the specific numbers below to get a better idea of where you fit in.
Facts and Figures
There are 4,173 senior citizens living in South Portland right now

There are 7 hospitals in the South Portland area where seniors can get emergency and/or in-patient care

27% of Maine seniors have a Medicare Advantage plan

28% of seniors have a Medicare Supplement (Medigap) plan

Which leaves 45% of seniors potentially uninsured or underinsured against costly Medicare coverage gaps!
These numbers mean that there are a total of roughly 1,877 seniors who are stuck with having to deal with the unwarranted expenses of Medicare coverage gaps. Either these seniors are paying massive amounts of cash out-of-pocket in private premiums or they're electing to go without the healthcare that they both need and deserve. This might not seem like much of a concern at first – after all, these seniors might simply be healthier than the other 55% – however, the prevalence of many chronic illnesses increases with age. The chart below details a few of the most common diseases among seniors in South Portland. Of course, it is important to keep in mind that many seniors can potentially be diagnosed with more than one of these illnesses, further increasing the need for proper healthcare coverage. Take a look for yourself:
| | |
| --- | --- |
| Disease | Prevalence in South Portland |
| Arthritis | 29% |
| High Blood Pressure | 32% |
| Coronary Heart Disease | 5% |
| Diabetes | 8% |
| Kidney Disease | 3% |
Healthcare Costs in South Portland, ME
Unfortunately, as the symptoms of these age-related illnesses worsen over time, so too do the costs of treatment for those conditions. The reason for this is relatively straight forward but bears some looking into: more doctor's visits with greater pain and suffering equates to spending more money to pay for those doctor's visits as well as the various tests and treatments used to both monitor and treat your condition. Furthermore, advances in modern medical technology are enabling seniors to live longer and longer with each passing year full of scientific innovation. Unfortunately, the downside of that is that the frequency and severity of age-related illnesses is able to increase more than ever before.
| | | |
| --- | --- | --- |
| Disease | Prevalence in South Portland | Annual Cost of Treatment |
| Arthritis | 29% | $294 |
| High Blood Pressure | 32% | $356 |
| Coronary Heart Disease | 5% | $9,860 |
| Diabetes | 8% | $2,173 |
| Kidney Disease | 3% | $8,687 |
Medicare Advantage Savings in South Portland, ME
Medicare Advantage, on the other hand, can prevent the vast majority (if not all) of these extra expenses. That's the glory of being proactive in your healthcare. A great and common analogy is that it's easier to prevent the car from running out of gas than to walk back to the nearest station after breaking down on the highway. Unlike Original Medicare, Medicare Advantage plans are entirely privately owned and operated, meaning that they are susceptible to the same market forces that helped you create your nest egg in the first place. However, this doesn't mean that you're going to lose your Medicare benefits by switching to Medicare Advantage. Even though Medicare Advantage replaces your Original Medicare, these plans are required by law to provide the same exact benefits. They also have the added benefit of offering more coverage options, often at or near zero dollars a month in premiums.
One of the most commonly selected additional coverage options that seniors can choose to pay into with their Medicare Advantage plans is the prescription drug coverage option. This provides far more specialized benefits than those associated with Original Medicare. These benefits can be further expanded to also cover medical necessities and equipment such as glucose monitors and testing strips. If you have a chronic health condition, such as chronic heart disease, diabetes, or chronic kidney disease, this is one option that you should consider. Over the five- and ten-year timeframes, you could potentially stand to save tens of thousands of dollars that would otherwise go right back to the very same government that has suspended your healthcare coverage.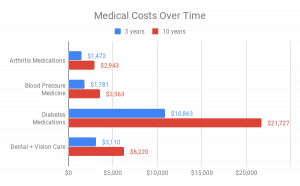 These benefits alone already make Medicare Advantage plans among the most comprehensive policies available to seniors in South Portland, but the benefits don't stop there. Providers of Medicare Advantage plans typically also offer the option for vision and dental coverage, further expanding the range of healthcare options that you have at your disposal. These benefits are unique to Medicare Advantage. In fact, the purchase of these benefits isn't even possible if you are on a Medigap or Original Medicare coverage plan, because neither of those plans offer them. Of course, there are a couple ways to get around this lack of coverage for Medigap patients, but it is considerably more complicated.
Medicare Supplement (Medigap) Savings in South Portland, ME
You may have heard the phrases "Medicare Supplement" and "Medigap" used interchangeably in the past. The reason for that is that they are one and the same thing. Unlike Medicare Advantage insurance, Medigap insurance does not replace your Original Medicare coverage. Rather, it supplements it, as the name suggests. The majority of these plans are less comprehensive than the Medicare Advantage plans mentioned above. In fact, a few Medigap plans are even less comprehensive than others, making them more affordable for some seniors. All in all, there are ten primary Medigap plans and each falls into one of two categories.
What do you do when your Medicare Part A costs are too high and are preventing you from seeking the help that you need and deserve? Enroll in a Medigap supplement plan type A, D, K, or L. These policies are designed specifically to help you afford the costs that your Medicare Part A plan doesn't cover, which is a critical factor in saving you tens of thousands of dollars over your lifetime. Without this sort of coverage, you will remain at risk not only of a sudden worsening of your health but also of suddenly being forced out of retirement. Needless to say, this is an unsustainable combination.
That said, there are a large number of Medicare Supplement plans that help to cover expenses related to Medicare Part A as well as expenses related to Medicare Part B. Such plans include Medigap type B, C, F, G, M, and N. As with plans A, D, K, and L, each of the plans mentioned above bear differences that, in some cases, can be subtle and hard to spot. This further highlights the need to speak with an expert before deciding which plan is right for you.
Also, you should be sure to note that Medigap type F plans will no longer be available after 2020. If you want to get grandfathered into a Plan F policy, be sure to purchase one before 2021 in order to be eligible.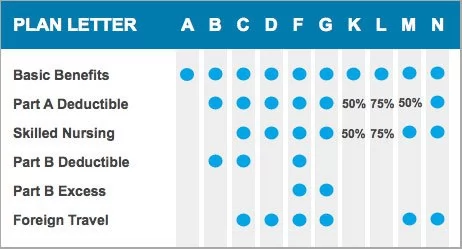 Another important thing to note about Medigap coverage plans is that they do not offer coverage benefits for dental or vision care. However, before you start thinking that your preferred option was just dashed right before your eyes, consider this: private vision and dental insurance coverage is typically some of the cheapest insurance on the market with many policies only cost a minuscule fraction of what some people pay for their healthcare coverage. This means that you could easily buy a private plan tailored to your specific needs and wants without spending anywhere nearly as much as you would be with Original Medicare. Not only that, but Medigap insurance plans also tend to come with options for Part D prescription drug coverage, which stands to help you save quite a bit of money each month. The specifics of exactly how much you'll save will depend on how many prescriptions you take each month. The more you take, the more a Medigap plan will save you.
Amid the increased prevalence of age-related illnesses in South Portland, steadily rising healthcare costs, and lifespan-lengthening healthcare discoveries, it is more important now than ever before to be proactive in securing your healthcare needs and protecting yourself against untimely accidents. Nobody likes to lose their independence and be forced to fall back on their family for support. So don't! Take your healthcare into your own hands and begin shopping online for coverage options at Medigap.com today.
| | | | |
| --- | --- | --- | --- |
| Medigap Plan | Minimum Monthly Premium | Maximum Monthly Premium | Average Estimated Monthly Premium (Part B Premium Included) |
| Plan A | $90 | $224 | $293 |
| Plan B | $142 | $266 | $340 |
| Plan C | $164 | $346 | $391 |
| Plan D | $173 | $288 | $366 |
| Plan F | $166 | $302 | $370 |
| Plan F (high deductible) | $45 | $92 | $204 |
| Plan G | $172 | $295 | $369 |
| Plan K | $69 | $134 | $237 |
| Plan L | $120 | $189 | $290 |
| Plan M | $142 | $239 | $326 |