Everyone thinks life gets easier after you retire. But this isn't always the case – especially when it comes to your Medicare. Medicare Parts A and B are fairly comprehensive, but there are some expenses they simply won't cover. And if you don't protect yourself with a Medicare supplement insurance policy, you could be paying for those expenses 100% out-of-pocket. But this doesn't have to happen to you. Keep reading if you want to learn more about what your options are and what you can do to protect yourself from these expensive Medicare coverage gaps.
Facts and Figures
There are 5,418 senior citizens living in Bangor right now

There are 7 hospitals in the Bangor area where seniors can get emergency and/or in-patient care

27% of Maine seniors have a Medicare Advantage plan

28% of seniors have a Medicare Supplement (Medigap) plan

Which leaves 45% of seniors potentially uninsured or underinsured against costly Medicare coverage gaps!
Let's take a minute to talk about chronic disease. It's not the nicest of topics to discuss, but it becomes more necessary to talk about the older you get. Many seniors are afraid of sudden, traumatic injuries or surprise diagnosis like cancer. And these are legitimate concerns, to be fair. But chronic disease is a much more likely problem that almost everyone will have to deal with in their lifetime – and a potentially much more expensive one, too. Just look at the rates of chronic disease that exist in Bangor today (outlined in the chart below).
| | |
| --- | --- |
| Disease | Prevalence in Bangor |
| Arthritis | 27% |
| High Blood Pressure | 29% |
| Coronary Heart Disease | 4% |
| Diabetes | 9% |
| Kidney Disease | 2% |
Healthcare Costs in Bangor, ME
Why are we talking about chronic conditions? Because the odds are high that you will be diagnosed with one in your lifetime – if you haven't got one already. And the longer you live, the more likely you are to get that diagnosis. You may even get more than one. Also, the longer you live, the more expensive it will be to treat your chronic illness(es). The chart below outlines some estimated costs of the most common chronic diseases among the elderly for one year. But if you end up living five years or 10 years or more past your initial diagnosis, those costs will add up!
| | | |
| --- | --- | --- |
| Disease | Prevalence in Bangor | Annual Cost of Treatment |
| Arthritis | 27% | $291 |
| High Blood Pressure | 29% | $354 |
| Coronary Heart Disease | 4% | $9,860 |
| Diabetes | 9% | $2,163 |
| Kidney Disease | 2% | $8,687 |
Medicare Advantage Savings in Bangor, ME
According to the statistics we mentioned earlier, 20% of Bangor seniors have decided to Forfeit their federal Medicare benefits and instead purchase a private Medicare Advantage insurance policy. These insurance policies, which are offered by private companies and very closely mimic the health insurance that most Americans have, effectively replace Original Medicare. but if you're lucky, you may be able to snag one of these policies for as little as $0 per month in premiums.
Fortunately, most companies which sell Medicare Advantage policies do so legally and even offer additional coverages to help make their policies more attractive and increase their customer base. Many of these Medicare Advantage plans start by offering extra coverage which protects you from typical Medicare gaps, like coverage for extended hospital stays or extra blood transfusions. They may also offer you better rates on coinsurance, excess charges, and prescription drug prices.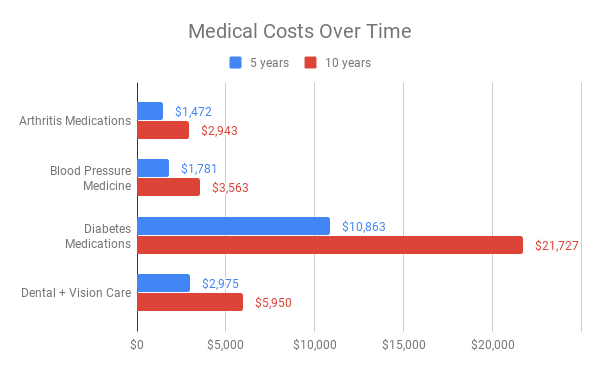 Other popular types of coverage you can add to your Medicare Advantage plan include dental and vision. Then again, these might not be available in all areas. And even if they are, there's no guarantee they will be cheaper than other local providers. That being said, combining your drug coverage, dental, and vision coverage under one single insurance policy can be a huge boon to seniors who benefit from that convenience. But that convenience may come at a price for others – so it's especially important to shop around and compare prices if you are on a budget.
Medicare Supplement (Medigap) Savings in Bangor, ME
Medigap, on the other hand, doesn't replace your Medicare benefits the way Medicare Advantage does. Instead, it supplements just those coverage gaps that Original Medicare won't pay for. So instead of receiving a hospital bill or an invoice from your doctor for an expense related to coverage gaps, your Medigap supplement will handle most of those expenses. You will only ever see a bill after Medicare and Medigap have both pitched in their fair share.
Medigap policies are designed around specific coverage gaps associated with Medicare Part A and Medicare Part B. The Medigap policies which protect you from Medicare Part A coverage gaps are plans A, D, K, and L. These four plans typically cost less than the other six, because the other six plans also incorporate Part B coverage gap benefits as well. But it's important to talk about Medicare Part A gaps in coverage because they are the most expensive, especially with regard to end-of-life care. Seniors who don't anticipate out-of-pocket costs from Medicare Part B coverage gaps tend to choose one of these for plans first in order to save themselves money in monthly premiums. But at the end of the day, purchasing a policy that only protects against Medicare Part A coverage gaps may not be enough.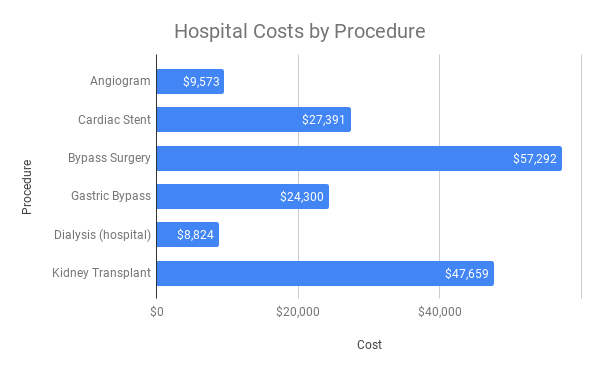 The other six plans – Plans B, C, F, G, M, and N – are the ones you want to look at if you are concerned with Medicare Part B expenses. All of these plans start with helping you cover Part A expenses and then extend themselves to cover things like your Part B deductible costs or Part B excess charges. Deductibles and excess charges alone can be quite expensive, so it's important to cover yourself financially if you want to be protected from them.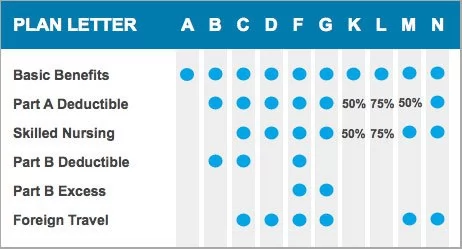 Medigap Insurance unfortunately doesn't leave room for you to add other coverage like dental, vision, or prescription drugs. You can get these coverages, but you'll have to purchase them separately. Private insurance companies near you are likely offering good vision and dental coverage for fairly reasonable prices – and may even offer senior discounts. Medicare Part D is the most common option four people on Medicare who need help with prescription drugs. Just be wary that there is a coverage gap associated with Medicare Part D known as the "donut hole" which Medigap Insurance cannot help you with.
As far as our services go, we can only provide you with information; once you have that information, it's up to you to make the best decision possible. But you don't have to make it alone. We are here to help. You can contact us directly if you have questions, and one of our customer service agents will get back to you as soon as possible to help you sort things out. With our help, you can find the most affordable Medicare supplement insurance available in your area!
| | | | |
| --- | --- | --- | --- |
| Medigap Plan | Minimum Monthly Premium | Maximum Monthly Premium | Average Estimated Monthly Premium (Part B Premium Included) |
| Plan A | $90 | $224 | $293 |
| Plan B | $142 | $266 | $340 |
| Plan C | $164 | $346 | $391 |
| Plan D | $173 | $288 | $366 |
| Plan F | $166 | $302 | $370 |
| Plan F (high deductible) | $45 | $92 | $204 |
| Plan G | $172 | $295 | $369 |
| Plan K | $69 | $134 | $237 |
| Plan L | $120 | $189 | $290 |
| Plan M | $142 | $239 | $326 |