How much do you know about your Medicare coverage gaps? There are a lot of seniors out there who don't know that Medicare won't necessarily cover all of your medical expenses. There are some things – some very pricey things, in fact – that it won't cover. You need to be aware of what those expenses are, and what you can do to protect yourself from them. You have options. We're going to present some of them to you today, and help you figure out which options are the best ones for you.
Facts and Figures
There are 28,807 senior citizens living in Baton Rouge right now
There 10 hospitals in the Baton Rouge area where seniors can get emergency and/or in-patient care
33% of North Carolina seniors have a Medicare Advantage plan
17% of seniors have a Medicare Supplement (Medigap) plan
Which leaves 50% of seniors potentially uninsured or underinsured against costly Medicare coverage gaps!
Here's the thing most people don't realize about getting older: it's not necessarily the serious diseases that will cost you the most money. It's the long-term, chronic diseases that will secretly come for your life savings. Something as seemingly innocuous as a little joint pain can eventually develop into chronic arthritis which hurts every time you move. Your Mobility, Independence, and quality of life will start to decrease if you don't get proper medical treatment for it. And with seniors living longer and longer these days, getting that treatment becomes increasingly more expensive over time. Below we have a snapshot of how prevalent most of these chronic ailments currently are among Baton Rouge seniors.
| | |
| --- | --- |
| Disease | Prevalence (in Baton Rouge) |
| Arthritis | 23% |
| High Blood Pressure | 38% |
| Coronary Heart Disease | 7% |
| Diabetes | 13% |
| Kidney Disease | 3% |
Healthcare Costs in Baton Rouge, LA
Chronic disease usually starts with a prescription drug, extra blood work, and more frequent doctor appointments so that you can stay on top of the situation. Usually, though, it escalates over time. You need more drugs in higher doses in order to treat the same condition, you need more frequent doctor appointments to discuss your blood work, and those tests become increasingly more specialized and expensive. Before you know it, you're looking at major surgery and physical therapy just to maintain your quality of life. Take a look at the chart below to get an idea of how much chronic disease can end up costing you as you get older. Unfortunately, the bad news is that some of the estimates below are very, very conservative ones.
| | | |
| --- | --- | --- |
| Disease | Prevalence (in Baton Rouge) | Annual Cost of Treatment |
| Arthritis | 23% | $280 |
| High Blood Pressure | 38% | $288 |
| Coronary Heart Disease | 7% | $7,261 |
| Diabetes | 13% | $2,158 |
| Kidney Disease | 3% | $6,491 |
Medicare Advantage Savings in Baton Rouge, LA
Most seniors typically decide between one of two options for their Medicare coverage gaps: Medigap, or Medicare Advantage. We're going to focus on the latter first. Medicare Advantage is private health insurance which some seniors purchase instead of accepting federal Medicare benefits. The money they have paid into the Medicare system instead goes to whichever insurance company they decide to purchase a policy from in order to help pay their monthly premium. For some lucky seniors, the amount of money the federal government pays each month to their insurance provider is enough to completely eliminate their monthly premium. But that depends on whether or not they choose to purchase additional coverage options.
From there, Medicare Advantage works very similarly to the private health insurance plans that most Americans are familiar with. You pay a monthly premium (if you have one), your insurance company fronts the bill for your doctor, hospital, and other medical needs, and you are responsible for things like coinsurance, co-payments, and prescription drugs. Many Medicare Advantage plans come with prescription drug coverage built into the base plan. That's another thing we forgot to mention: the benefits you get on day one with any Medicare Advantage plan will be equal to the benefits you would get on Medicare Parts A and B. If a Medicare Advantage company tries to sell you anything less, they are breaking the law and you should report them to your state's Department of Insurance immediately.
Most seniors don't simply settle for the base plan, though, when it comes to Medicare Advantage. Most private insurance companies will offer you additional coverage options in order to sweeten the deal. Two of the most popular options are dental and vision coverage. So on top of getting your hospital and doctor needs met, you can add vision and/or dental to most Medicare Advantage policies and only have to manage your medical needs through one provider. Many seniors like this convenience. But you have to do a cost-benefit analysis and make sure that any additional costs above and beyond your other Medicare supplement options are worth that particular convenience.
Medicare Supplement (Medigap) Savings in Baton Rouge, LA
Not every senior is going to find a Medicare Advantage $0 premium plan available in their area. Furthermore, some people may prefer to deal with Original Medicare as opposed to more headaches and red tape from a private insurance company. If this sounds like you, you might want to look at a Medigap supplement instead. Medigap (Medicare Supplement Insurance) is technically private health insurance, but it works side by side with your federal Medicare benefits and supplements whatever medical needs that Medicare won't provide for. Your Medicare will still be the main focus; but your Medigap insurance will be there to back it up when you hit a coverage gap.
There are 10 Medicare supplement insurance plans available for you to choose from. These plans have been specifically designed to meet the most common needs of seniors like you. Furthermore, whether you live in Ohio or South Texas, Plan F gives you the same benefits wherever you go. Depending on what your needs are, your specific Medigap policy may provide for only the Medicare coverage gaps in Part A, or a variety of coverage gaps in both Medicare Parts A and B.
Some seniors choose to save money by focusing on a Medigap supplement which only covers Medicare Part A coverage gaps. Those policies are known as plans A, D, K, and L. But if you want financial assistance with things like your Part B deductible or excess charges, you want to take a closer look at the remaining six plans: B, C, F, G, M, and N. Just remember that when it comes to insurance coverage, the more you purchase, the more you will have to pay each month in premiums. But that means you will likely end up paying less or for the long-term and out-of-pocket expenses. Also, if you are a fan of comprehensive coverage, you should know that Medigap Plan F will be retiring at the end of 2020. So if you qualify for Medicare before 2021 and you want the most coverage you can get, be sure to enroll fast!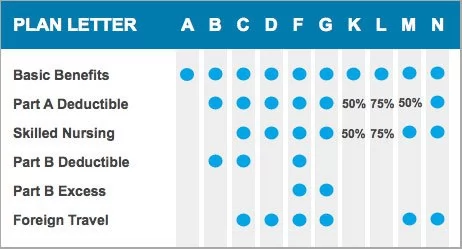 Medigap is a lot more limited in scope than Medicare Advantage. It only supplements the gaps in coverage associated with Traditional Medicare; it doesn't go above or beyond that the way Medicare Advantage can for some seniors. This means that you can't customize or add supplemental coverage like dental or vision to a Medicare supplement. You can't add prescription drug coverage either; you'll need to enroll in Medicare Part D to get help with your prescription costs if you choose to stick with Original Medicare. But this gives you the option to search among private dental and/or vision providers in your area instead of settling for whoever your Medicare Advantage company set you up with. This could give you the opportunity to get better care, save money on these particular coverages, or both.
At the end of the day, we can only give you information and advice. It's up to you to make a final decision based on your medical needs and your best estimate of what you will need in the future. If you're feeling a little lost and alone right now, that's actually perfectly normal. We have experts standing by who are ready to take your call or respond to an email with any questions or concerns you may have. The only real mistake you can make is taking too long to decide – or not making a decision at all!
| | | | |
| --- | --- | --- | --- |
| Medigap Plan | Minimum Monthly Premium | Maximum Monthly Premium | Average Estimated Monthly Premium (Part B Premium Included) |
| Plan A | $83 | $201 | $278 |
| Plan B | $106 | $261 | $319 |
| Plan C | $128 | $286 | $343 |
| Plan D | $104 | $254 | $315 |
| Plan F | $128 | $348 | $374 |
| Plan F (high deductible) | $38 | $82 | $196 |
| Plan G | $105 | $246 | $311 |
| Plan K | $46 | $97 | $207 |
| Plan L | $75 | $132 | $239 |
| Plan M | $100 | $163 | $267 |
| Plan N | $92 | $206 | $285 |