It is no secret that there are expensive gaps in coverage in both Medicare Parts A and B. But what are you going to do in order to cover those potentially costly gaps? For senior citizens especially, your very life is at risk. And living in Chicago, you face particularly unique difficulties when it comes to finding health care that isn't just affordable, but also covers what you need. If left uninsured, or underinsured, gaps in coverage can leave seniors open to pricy deductibles or copays, or even surgical bills.
Senior Medicare in Chicago: Facts and Figures
There are 316,601 senior citizens living in Chicago right now
There 11 hospitals in the Chicago area where seniors can get emergency and/or in-patient care
43% of Illinois seniors have a Medicare Advantage plan
3% of seniors have a Medicare Supplement (Medigap) plan
Which leaves 53% of seniors potentially uninsured or underinsured against costly Medicare coverage gaps!
As time passes, we become more vulnerable to illness in general, especially chronic diseases. It is inevitable, and while a healthy lifestyle can help to reduce risks, there is no surefire way to avoid chronic diseases. The majority of them will need to be treated for the rest of your life. Treatment might help you get better, or it might just mitigate the symptoms while the disease itself gets worse, increasing costly medical expenditures as life continues on. Unfortunately, it's entirely possible that one disease will cause another, or worsen another, and seniors can be laden with two or three or more, all at once. The chart below shows the prevalence of common chronic diseases in Chicago residents:
| | |
| --- | --- |
| Disease | Prevalence (in Chicago) |
| Arthritis | 21% |
| High Blood Pressure | 33% |
| Coronary Heart Disease | 6% |
| Diabetes | 12% |
| Kidney Disease | 3% |
Healthcare Costs in Chicago, IL
Of course, it is vital to understand how expensive these diseases are to treat. Prescriptions, medical equipment, in- and out-patient care, doctor appointments; it all adds up. Not to mention, all medical costs in general are on the rise every year. A doctor's appointment today is more expensive than the same doctor's appointment at the same office with the same doctor this time last year. The upside is, thanks to advancing medicine, seniors are living longer. But they're also incurring more and more medical debt. This means it is more important now than ever before to ensure your coverage is up to snuff going into your senior years.
| | | |
| --- | --- | --- |
| Disease | Prevalence (in Chicago) | Annual Cost of Treatment |
| Arthritis | 21% | $300 |
| High Blood Pressure | 33% | $180 |
| Coronary Heart Disease | 6% | $7,982 |
| Diabetes | 12% | $2,208 |
| Kidney Disease | 3% | $7,177 |
Medicare Advantage Savings in Chicago, IL
While the name 'Medicare' might make you think these programs are government-offered, that is not actually the case. Medicare Advantage in Illinois is its own form of private insurance. It is approved by the government to sell to seniors who are already enrolled in Medicare. Instead of paying for your insurance costs directly, the government pays their share to Medicare Advantage, and you pay the rest of the premium. Law requires that Medicare Advantage plans provide at least every benefit which a traditional Medicare plan offers, but they go much further than just basics.
Seniors who enroll in Medicare Advantage feel that they have better coverage, particularly for chronic illnesses. Common ailments for seniors- like arthritis, diabetes, and high blood pressure- are difficult to manage at best. They can necessitate medications, testing supplies, more visits to the doctor, and a plethora of additional unforeseeable costs. As these conditions gradually get worse, the cost continues to go up. Some Medicare Advantage plans can offer much more thorough coverage than Medicare alone, even with a Part D drug plan. Even with insurance plans and supplements, it isn't a bad idea to save now, to be better prepared for later.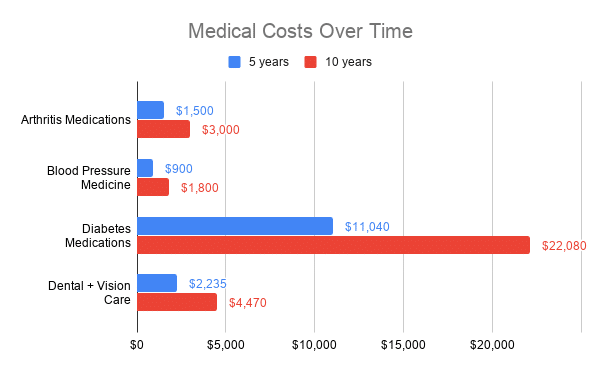 With Medicare Advantage plans, you can receive much more inclusive benefits than traditional Medicare Parts A & B. They include visits to the doctor, necessary equipment, and potentially a valuable money-saving drug plan. A good portion of plans also include the option to add dental coverage or vision coverage to the policy. Because the government pays their portion of the monthly premium, the cost to seniors is drastically reduced, and in some cases can even be as low as $0 per month! Copays and coinsurance will still need to come from out-of-pocket, and there may be other items that are not covered by your insurance policy, no matter how broad it is.
Medicare Supplement (Medigap) Savings in Chicago, IL
Illinois Medicare Supplement Insurance policies can help to save so much money because they work differently than other policies, particularly when it comes to Medicare Part A. The most difficult conditions – like kidney failure or coronary heart disease – can cost upwards of thousands of dollars, even potentially reaching six figures. And that's just for hospital stays and inpatient treatments, not including continuing care outside of the hospital setting. If you have to stay in the hospital for a prolonged period of time, or have a procedure like a blood transfusion, those aren't covered either under Medicare Part A. That is why you need supplemental coverage like Medigap to fill in those holes in coverage and protect against costly additional medical expenses.
Right now, there are four plans designed to cover the gaps in Part A of Medicare. These plans are A, D, K, and L. They are designed to save you money, while keeping you protected. Other plans offered cover gaps in Part A as well as Part B, but more on that below. If you don't expect Medicare Part B to have extraneous costs and are more concerned about hospital says and associated expenses, you should know that Medigap policies which cover only Part A gaps are less expensive than others. The lower monthly cost could save even more money over time.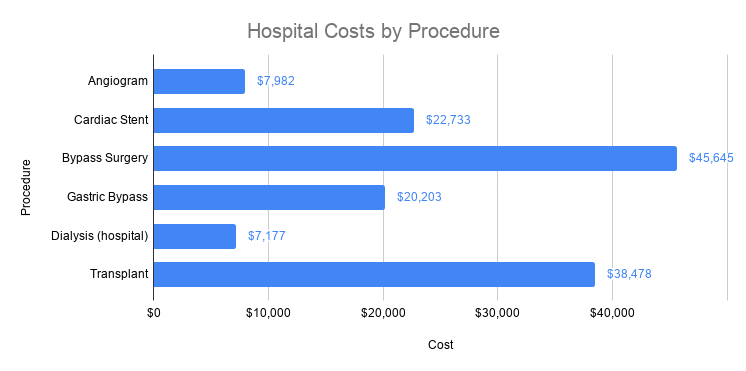 Other Medigap plans available are Plans B, C, D, F, G, M, and N. They cover Medicare Part A costs as well as differing portions of Part B. The more coverage your plan provides, the more the monthly premium will cost. But, this also means far fewer out-of-pocket surprises when situations arise, both for Medicare Part A and Medicare Part B. A few dollars more in premium could save potentially thousands in medical bills. It is worth noting that Plan F will be retiring at the end of 2020, and you cannot enroll in it after December of 2020.
Medicare Part B has its own gaps as well. Part A handles hospitals and inpatient procedures; Part B is supposed to cover most of everything outside of that. This includes outpatient operations, check-ups from doctors, even some small pieces of medical equipment. However, the co-pays, coinsurance, and yearly premiums for Medicare Part B can be incredibly costly over time, so much so that it can become unmanageable quite quickly. Fortunately, there are many Medigap plans which account for this and are designed to help reduce Medicare Part B expenses so patients don't get bogged down financially.
Medicare supplement insurance does not provide for Rx drugs, dental, or vision, unlike Medicare Advantage. However, Original Medicare does allow seniors to choose a Part D, which provides for prescription drugs and the associated costs. This is offered whether or not you choose a Medicare supplement insurance plan. With a little research, it is easy to find affordable dental and vision plans for seniors in your area. Discounts for the elderly are especially available in most locations.
For seniors living in Chicago, just like you, purchasing the most affordable Medicare Supplement Insurance is absolutely necessary. Not only does it protect any retirement savings, it also grants peace of mind. Sad as it is, medical costs are continually on the rise, and they do not show signs of decreasing any time soon. It's beyond your control, but one thing that is in your hands is how well you cover yourself with a comprehensive insurance plan. We want to help you find that supplemental Medicare gap coverage plan today.
| | | | |
| --- | --- | --- | --- |
| Medigap Plan | Minimum Monthly Premium | Maximum Monthly Premium | Average Estimated Monthly Premium (Part B Premium Included) |
| Plan A | $71 | $276 | $309 |
| Plan B | $93 | $314 | $339 |
| Plan C | $122 | $357 | $375 |
| Plan D | $106 | $217 | $297 |
| Plan F | $111 | $294 | $338 |
| Plan F (high deductible) | $31 | $91 | $197 |
| Plan G | $107 | $218 | $298 |
| Plan K | $53 | $109 | $217 |
| Plan L | $79 | $154 | $252 |
| Plan M | $109 | $176 | $278 |
| Plan N | $87 | $176 | $267 |