Pearl City is a beautiful island town with a sizable senior population. However, when it comes to access to affordable healthcare, the numbers below tell a different story. More than half of all seniors in the Pearl City area don't have the proper access to healthcare that they both need and deserve. Instead, they are left only with the option to choose between spending thousands of dollars on care and procedures which aren't covered by Medicare, or forgoing medical treatment altogether. This "option" isn't really much of an option, as these costs tend to be vastly prohibitive, causing thousands of seniors to either go into bankruptcy or lose their financial independence altogether. Fortunately, Medicare Advantage and Medicare Supplement insurance (Medigap) plans can help turn the tables on the healthcare industry, giving you back the independence and financial security that you've worked for your entire life.
Facts and Figures
There are 11,113 senior citizens living in Pearl City right now

There are only 2 hospitals in the Pearl City area where seniors can get emergency and/or in-patient care

45% of Hawaii seniors have a Medicare Advantage plan

2% of seniors have a Medicare Supplement (Medigap) plan

Which leaves 53% of seniors potentially uninsured or underinsured against costly Medicare coverage gaps!
For such a large population of seniors, you might imagine that the healthcare facilities would be robust and well-staffed. Unfortunately, that's not always the case. While the doctors, nurses, and technicians may be incredibly talented, there simply aren't enough of them. With only 2 hospitals and 11,113 seniors in the area, that comes out to an average of 5,556 seniors per hospital, not to mention that seniors comprise such a big chunk of Pearl City's population. But if there aren't enough hospitals, then how haven't you heard much about medical shortages? Simple: Not enough people have the insurance coverage necessary to meet their needs, leaving them with the choice to either pay excessive amounts of money or go without treatment. This becomes worse and worse with each passing year as age-related illnesses rise in prevalence in the Pearl City area. The chart below contains a few startling statistics pertaining to five of the most common age-related illnesses in Pearl City.
| | |
| --- | --- |
| Disease | Prevalence in Pearl City |
| Arthritis | 19% |
| High Blood Pressure | 32% |
| Coronary Heart Disease | 5% |
| Diabetes | 10% |
| Kidney Disease | 3% |
Healthcare Costs in Pearl City, HI
Yet another downside of the increased severity and frequency of age-related illnesses is the fact that seniors are living longer and happier lives with each passing year. How could that be a bad thing? In and of itself, it's not. However, when you stop to consider the fact that this means that age-related illnesses will have more and more time after each year to worsen in both severity and frequency, you can begin to realize the dangers of these disorders. Combined with the fact that healthcare costs in the United States are rising steadily each year as well, these healthcare costs begin to pile up until they create insurmountable barriers for anybody who does not have the proper insurance. The chart below depicts the five most common age-related illnesses in Pearl City side by side with a low-end estimate of how much they could cost you each year. Keep in mind that these numbers can only rise as your condition or conditions worsen.
| | | |
| --- | --- | --- |
| Disease | Prevalence in Pearl City | Annual Cost of Treatment |
| Arthritis | 19% | $294 |
| High Blood Pressure | 32% | $356 |
| Coronary Heart Disease | 5% | $8,626 |
| Diabetes | 10% | $2,173 |
| Kidney Disease | 3% | $8,209 |
Medicare Advantage Savings in Pearl City, HI
Medicare Advantage plans, on the other hand, can negate all or almost all of these annual costs. Despite what the name suggests, Medicare Advantage plans are not provided by the government; rather, they are provided by private companies and managed by private firms, giving them a significantly increased incentive to offer competitive rates and medical benefits. But does this mean that you're going to lose your Medicare coverage if you switch over? Yes and no. Medicare Advantage plans will replace your Original Medicare coverage, but these plans are also required by law to cover everything that Original Medicare covers. That is to say that, although you will be using a private plan under a different name, you will have access to all of your original benefits and then some. Since the government often offers assistance in paying premiums, you might still end up paying only $0 per payment period.
One of those primary benefits is the fact that Medicare Advantage plans can provide you with coverage that applies to almost every aspect of your healthcare needs, including small things like glucose monitors and testing strips as well as major expenditures such as prescription drug costs. If you happen to have or develop diabetes, arthritis, and/or high blood pressure, these savings can lead to massive increases in wealth and quality of life in the long-term as well as peace of mind and stress relief in the short-term.
Not only can Medicare Advantage plans save you tens of thousands of dollars on medical costs over a ten-year period, they can also help you save quite a bit of money in dental and vision costs. What this means for you is no more worrying about whether you're going to have to take a double-payment or an advance from your 401(k) in order to get a new pair of glasses.
Age-related illnesses, unfortunately, aren't the only thing that seniors have to worry about. When it comes to vision care, age and loss of sight tend to show a strong relationship to one another. To put it simply, as you age, your vision worsens. Without a comprehensive insurance plan in place, you risk not having the support that you need in order to manage these increased costs of living.
Medicare Supplement (Medigap) Savings in Pearl City, HI
On the other hand, if you find that the more comprehensive Medicare Advantage plans provide a load of benefits that you simply don't need and you don't want the hassle of dealing with the larger plans, then you can enroll in a Medigap plan. Many Medigap plans are designed specifically for increasing your ease of access to hospital care and other Medicare Part A costs that would otherwise push you over the coverage limit and right into the Medicare coverage gap. These plans are a great option for seniors who find themselves stuck in the financial bracket where Medicare benefits are temporarily disabled, a situation that forces many seniors to either go without medical care or go bankrupt before Medicare's catastrophic healthcare coverage kicks in.
A few Medigap plans that focus exclusively on Medicare Part A expenditures are Medigap supplement plans A, D, K, and L. These plans function in unison with your original Medicare policy, hence the phrase "Medicare Supplement." However, these plans don't help out whatsoever with Medicare Part B expenses, meaning that they might not be of much use to you if you're spending significant sums of money on both Medicare Part A and Medicare Part B expenses. These plans would be almost completely worthless for anybody who spends only a small amount on Medicare Part A but a large amount on Medicare Part B coverage gaps.
Does this mean that there are no Medigap options for seniors who need help paying down both Medicare Part A and Medicare Part B costs? Absolutely not! In fact, there are almost twice as many plan types that cover both Medicare Part A and Medicare Part B than there are plans that only cover Medicare Part A. For instance, Medigap supplement plans type B, C, F, G, M, and N not only increase access to care for one category but do so to varying extents for both categories. By enrolling in one of these plans, you can ensure that your specific needs are met in the best possible way. Unfortunately, not all of these plans are destined to last forever. Medigap supplement plans of type F are no longer going to be offered after 2020. In order to avoid the sudden cut-off of your access to medical care, it is important to speak with a Medigap expert to help guide you through the selection process.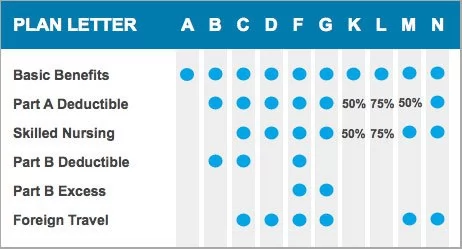 The primary drawback of these otherwise great plans tends to be the fact that Medicare Supplement insurance plans do not offer prescription drug coverage or vision or dental care. This means that each of these sections could continue to go uncovered by Original Medicare, with you paying out-of-pocket for each pill or visit to your dentist or optometrist. On the bright side, there may be private plans in your area that can cover your prescription drugs, vision, and dental care for a relatively affordable cost. While this means you would have to deal with the stress of having multiple insurance providers, the extra work would more than pay off in the long run.
If you've read this far, then congratulations! You're on the right track to taking back control of your life, your health, and your financials. Our healthcare system is confusing and expensive at any age – and it'll only get worse as time goes on. If you want to get ahead of the game, head over to Medigap.com and start looking for affordable plans today.