If you're a senior living in Orlando, Florida, there are a few important facts you need to know about Medicare. By this point in your life, you may or may not have already retired. One way or the other, you probably can't afford to have to spend thousands of dollars out of pocket to cover emergency hospital visits or even to cover ordinary prescription medications. Unfortunately, that sort of thing is all but a certainty for many seniors who rely on Medicare in Orlando. More than being financially terrifying, this situation can be incredibly frustrating, given that the government promised that your healthcare costs would be completely covered by Medicare before cutting you off in what is known as a Medicare coverage gap.
Facts and Figures
Right now, there are 29,714 seniors living in Orlando, Florida.
There are only 10 hospitals in the entire city where seniors can go to receive emergency and/or in-patient care.
42% of seniors in Florida have a Medicare Advantage plan.
19% of seniors in Florida have a Medicare Supplement (Medigap) plan.
This leaves 49% of seniors uninsured or underinsured against costly Medicare coverage gaps!
By itself, this large percentage doesn't mean much. Maybe these people are abnormally healthy or maybe they just haven't gotten around to buying their insurance yet. While this is possible, it is important to note that there are a wide variety of medical conditions that increase in prevalence as we age.
This means that, even though you might be in the best health of your life today, you could develop a chronic condition over the next couple of months. In these situations, you will want to make absolutely certain that you are properly covered, or else you might find that you are paying thousands of dollars more per month than you would otherwise have to.
The table below showcases a few of the most expensive and life-changing health conditions that increase in prevalence with age. The column on the left indicates the disorder and the column on the right indicates the percentage of seniors in your city that suffer from these conditions.
| | |
| --- | --- |
| Disease | Prevalence in Orlando, FL |
| Arthritis | 20% |
| High Blood Pressure | 31% |
| Coronary Heart Disease | 6% |
| Diabetes | 11% |
| Kidney Disease | 3% |
Healthcare Costs in Orlando, FL
As you can tell from the above chart, age-related illnesses become far more common as people grow older. Once you enter the "65 and older" population bracket, your risk of developing one or more of these conditions increases significantly. For example, roughly one in five seniors in Orlando suffer from arthritis.
Of course, as the prevalence of each illness increases, so too do the costs of treatment for those illnesses. With an increase in frequency and severity of each one of your healthcare conditions comes an increase in the frequency and severity of your healthcare expenditures.
Furthermore, seniors are enjoying longer lifespans today than ever before. This blessing comes with the negative side effects of increased medical costs, which are rising more and more with each passing year. After only a few years with chronic kidney disease, you could have spent more than $50,000 on treatments.
The chart below shows the treatment costs associated with a few of the most prevalent age-related illnesses in Orlando, Florida.
| | | |
| --- | --- | --- |
| Disease | Prevalence in Orlando, FL | Annual Cost of Treatment |
| Arthritis | 20% | $280 |
| High Blood Pressure | 31% | $288 |
| Coronary Heart Disease | 6% | $7,400 |
| Diabetes | 11% | $2,158 |
| Kidney Disease | 3% | $6,603 |
Medicare Advantage Savings in Orlando, FL
For many seniors across America, Medicare Advantage plans pose one affordable, cost-effective alternative to this financial stress. 42% of seniors in Orlando, Florida, have already switched to Medicare Advantage plans in order to take advantage of the improved quality of care that these plans afford them.
Although the name might lend itself to the conclusion that Medicare Advantage is just another form of Medicare, the reality couldn't be further from the truth. In fact, Medicare Advantage plans are entirely privately owned and operated, meaning that you won't be subject to the Medicare coverage gap.
On top of this, Medicare Advantage plans typically provide you with the option to add additional coverage options. The only downside being that they premiums tend to cost a little more than Original Medicare. However, because of the availability of various government subsidies, it is still possible to get your monthly payment down to a total of $0.
Medicare Advantage plans are required by law to also provide you with all of the same benefits as Original Medicare. However, where Original Medicare falls short, the supplementary options that become available to you by purchasing a Medicare Advantage plan can pick up the slack. For example, the majority of Medicare Advantage plans come with the possibility of expanding your prescription drug coverage, improving access to affordable emergency services, and even low-to-no costs for the minor medical tools and supplements that tend to slip through the cracks of the Medicare coverage gaps. This is what makes Medicare Advantage plans so attractive to seniors with arthritis, diabetes, and high blood pressure, because it is this additional feature that lets you buy glucose testing strips and other essentials for pennies.
Of course, Medicare Advantage plans are not perfect. Sometimes, you'll want to get a Medicare Supplement (Medigap) plan to suit your own personal needs. One way or the other, you stand to be much better off financially over the five- and ten- year periods with Medicare Advantage than without such a comprehensive plan.
Not only can Medicare Advantage plans save you tens of thousands of dollars on medical costs over a ten-year period, they can also help you save quite a bit of money in dental and vision costs. What this means for you is no more worrying about whether you're going to have take a double-payment or an advance from your 401(k) in order to get a new pair of glasses.
Age-related illnesses, unfortunately, aren't the only thing that seniors have to worry about. When it comes to vision care, age and loss of sight tend to show a strong relationship to one another. To put it simply, as you age, your vision worsens. Without a comprehensive insurance plan in place, you risk not having the support that you need in order to manage these increased costs of living.
Medicare Supplement (Medigap) Savings in Orlando, FL
Medicare Advantage plans, while thoroughly comprehensive, are not the only options available to seniors in Orlando, Florida. In fact, Medigap plans are also on the market and tend to be easier to qualify for than some Medicare Advantage plans. Medigap plans can also be designed specifically to cover Medicare Part A costs, which includes those healthcare bills associated with hospital visits. This can play a vital role in helping you find the support and healthcare accessibility you need, particularly if you have chronic, age-related kidney and/or heart diseases.
If you find that you're spending a significant amount of money in out-of-pocket medical care paying for hospital visits and other Medicare Part A expenses but not so much for Medicare Part B, then you could benefit from enrolling in a Medigap type A, D, K, or L plan. Each of these plans have different coverage specifications and requirements, so it's important to take the time to research and evaluate which one best suits your needs. Alternatively, you can always call and speak to one of our experts.
In general, however, none of these plans assist with coverage options for costs incurred by the Medicare coverage gap for expenses related to Medicare Part B. Rather, they focus solely on improving your access to expenses related to Medicare Part A.
That said, there are a large number of Medicare Supplement plans that help to cover expenses related to Medicare Part A as well as expenses related to Medicare Part B. Such plans include Medigap type B, C, D, F, G, M, and N. As with plans A, D, K, and L, each of the plans mentioned above bear differences that, in some cases, can be subtle and hard to spot. This further highlights the need to speak with an expert before deciding which plan is right for you.
Also, you should be sure to note that Medigap type F plans will no longer be available after 2020. If you want to get grandfathered into a Plan F policy, be sure to purchase one before 2021 in order to be eligible.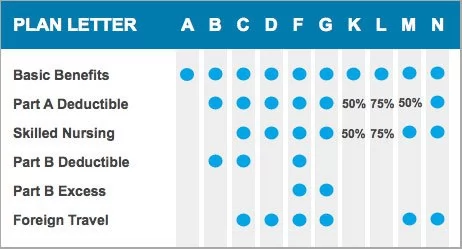 One of the major downsides to Medicare Supplement plans in comparison to Medicare Advantage plans is that Medicare Supplement plans do not include coverage for prescription medications, vision, or dental. If you find that you need help improving your access to any of these categories, then you will most likely benefit more from Medicare Advantage than from Medigap coverage plans.
Of course, if you prefer the options afforded to you by Medigap plans and would rather stick with one of those, that's a perfectly viable option. In fact, there are roughly 5,645 other seniors in Orlando with this same idea. In that case, you can simply pay extra for private insurance coverage of these categories. In general, these are by far the most affordable private plans.
It is increasingly important to make sure that you take the proper steps to ensure a happy and healthy future for yourself and your family. At the end of the day, your health is your responsibility and your future self will thank you for taking the time to secure proper insurance sooner rather than later. Healthcare costs are on the rise, particularly in Orlando. This means that the longer you wait, the more at-risk you're going to be. So don't wait! Visit Medigap.com and start shopping for coverage today. Take back control of your health. Take back your life.
| | | |
| --- | --- | --- |
| Medigap Plan | Minimum Monthly Premium | Maximum Monthly Premium |
| Plan A | $157 | $363 |
| Plan B | $188 | $394 |
| Plan C | $218 | $500 |
| Plan D | $239 | $416 |
| Plan F | $219 | $505 |
| Plan F (high deductible) | $76 | $179 |
| Plan G | $203 | $472 |
| Plan K | $78 | $181 |
| Plan L | $131 | $256 |
| Plan M | $231 | $374 |
| Plan N | $158 | $379 |