Are you recently retired in Newark, and still a little unsure about what Medicare is supposed to do for you? You are far from alone. One of the dirty little secrets about Medicare is that it doesn't cover 100% of your medical needs. There are still extra, out-of-pocket costs you will be expected to pay even with full Medicare coverage. But the good news is that there are other, supplemental insurance policies you can purchase for yourself for a relatively low cost which will protect you from these unexpected bills. We're going to introduce you to them now so that you can act fast and make a decision before it's too late.
Facts and Figures
There are 4,310 senior citizens living in Newark right now

There are only 4 hospitals in the Newark area where seniors can get emergency and/or in-patient care

11% of Delaware seniors have a Medicare Advantage plan

22% of seniors have a Medicare Supplement (Medigap) plan

Which leaves 67% of seniors potentially uninsured or underinsured against costly Medicare coverage gaps!
Do you know which diseases are the most expensive to treat? It largely depends on a case-by-case basis; but by and large, it's chronic illness that creates the largest healthcare expenses on average. Chronic diseases are things like arthritis, which start out only requiring minor over-the-counter analgesics for treatment…but can eventually require serious prescriptions or major joint replacement surgery in order to fix. And that's just one type of chronic disease. Below is a chart with statistics about the five most problematic chronic diseases in Newark, and how frequently seniors like you suffer from them.
| | |
| --- | --- |
| Disease | Prevalence in Newark |
| Arthritis | 24% |
| High Blood Pressure | 37% |
| Coronary Heart Disease | 6% |
| Diabetes | 14% |
| Kidney Disease | 4% |
Healthcare Costs in Newark, DE
The thing about age-related disease is that, unlike something like cancer, you could spend years or even decades getting treatment for them. And even if that treatment only starts with one extra doctor's appointment per year, or one extra generic drug prescription in your medicine cabinet, it won't stop there. And neither will your medical expenses. Even something as seemingly minor as arthritis could eventually turn into a major joint replacement surgery a decade from now; the same thing goes for chronic heart disease or chronic kidney disease. While most of the surgeries and medications are largely covered by Original Medicare, it largely depends on whether or not you have an adequate Medicare Supplement Insurance policy to go along with your Medicare benefits.
| | | |
| --- | --- | --- |
| Disease | Prevalence in Newark | Annual Cost of Treatment |
| Arthritis | 24% | $291 |
| High Blood Pressure | 37% | $354 |
| Coronary Heart Disease | 6% | $9,860 |
| Diabetes | 14% | $2,163 |
| Kidney Disease | 4% | $8,687 |
Medicare Advantage Savings in Newark, DE
The first option we're going to talk about for supplementing your Medicare coverage gaps is Medicare Advantage. If you decide to enroll in a Medicare Advantage plan, you will effectively be trading in your federal Medicare coverage for a private insurance plan which offers identical medical benefits. On top of that, many providers will offer you additional coverage options in order to sweeten the deal. But just because you're giving up your federal benefits does it mean you wasted money over the years paying into the Medicare system; seniors with a Medicare Advantage plan get a substantial subsidy which helps pay for their monthly premiums. Some singers can't even get a plan for as little as $0 per month thanks to this.
The great thing about Medicare Advantage is that you can add as many different coverage options to your policy as your provider will let you – and you can manage all of your health care needs through that one insurance company. Sometimes this can make your monthly premiums more costly; but the convenience may be worth the extra fee. For other seniors, this could make the policy prohibitively expensive and lead them to search for other options, like Medigap. It all depends on your specific personal needs and what falls within your budget.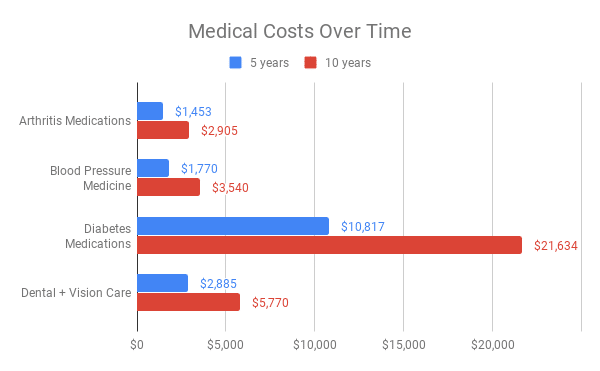 On top of all this, you can also choose to add dental and vision coverage to most Medicare Advantage policies. This means that virtually all of your medical needs – from general health, to dentistry, to vision, and your prescriptions – can all be managed under one policy through one company. With Original Medicare, you would need to get private health insurance for dental, vision, and prescription drugs through other providers. Sometimes, this convenience can make Medicare Advantage more expensive than Original Medicare or other insurance supplements; but if the convenience is worth the extra cost to you, then it may be worth it. However, if your budget is your main concern, then getting different coverage from multiple sources may be your better option.
Medicare Supplement (Medigap) Savings in Newark, DE
Medicare supplement insurance – Medigap – is your other option. Instead of replacing your federal Medicare benefits, it merely supplements the gaps in coverage. Whether it's an extended hospital stay or Medicare Part B coinsurance costs, your Medicare supplement policy will take care of it before you ever see a bill – if you see one at all.
Let's start by talking about Plans A, D, K, and L. These are usually the least expensive of all the Medigap plans. They only cover gaps in Medicare Part A coverage, which include things like blood transfusions, lengthy hospital stays, and hospice care, among other things. It's uncommon for seniors to spend so much time in the hospital, and end-of-life care probably won't be a problem for you for many years down the road. That's why these policies tend to cost less than their more comprehensive counterparts.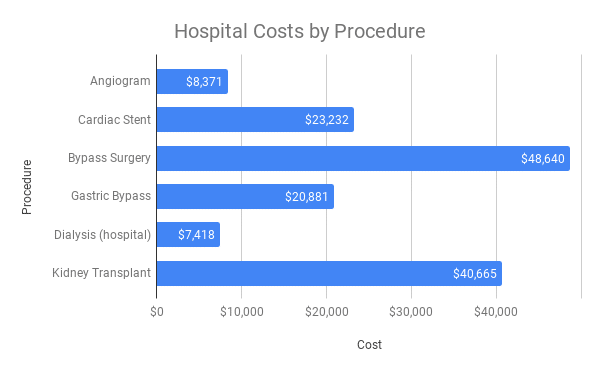 The other plans are Plans B, C, F, G, M, and N. These include all of the benefits you'll find for Medicare Part A coverage gaps, and varying levels of coverage for Medicare Part B coverage gaps. The most expensive of these are coinsurance, co-pays, excess charges, and medical expenses associated with foreign travel. The most comprehensive (and therefore most expensive) Medigap plan available is Plan F. But it will no longer be available for purchase after December 2020. However, if you want this comprehensive level of coverage, you can act fast and grandfather yourself into the program by purchasing it now. Otherwise, you'll have to look to Plan G or C for similar levels of comprehensiveness.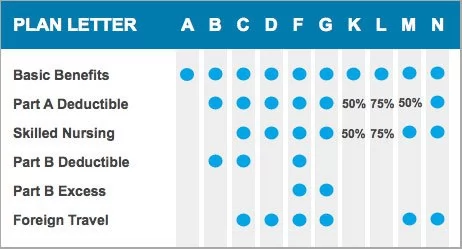 So what about extra coverage, like dental, vision, or prescription drugs? Well, as far as Medigap insurance is concerned, you're on your own with those. But you have options. The federal government will sell you a prescription drug assistance plan known as Medicare Part D. But be sure to do your research on the Medicare Part D "donut hole", especially if you take a lot of prescriptions. Dental and vision are a little bit easier to come by and tend to be less costly; but you will likely have to purchase them from local private insurance companies separate from your Medigap insurance.
At the end of the day, do you want a large, highly comprehensive plan with all of your needs covered by the same company? Or would you rather purchase a small, inexpensive supplement that gives you just enough coverage without paying for more than you need? The answer to that question might mean the difference between whether you go with Medicare Advantage, or a Medigap policy, respectively. But it really depends on a whole host of factors that are hard to calculate on your own. If you want the help and advice of experts, don't hesitate to call us! It's what we're here for.
| | | | |
| --- | --- | --- | --- |
| Medigap Plan | Minimum Monthly Premium | Maximum Monthly Premium | Average Estimated Monthly Premium (Part B Premium Included) |
| Plan A | $90 | $224 | $293 |
| Plan B | $142 | $266 | $340 |
| Plan C | $164 | $346 | $391 |
| Plan D | $173 | $288 | $366 |
| Plan F | $166 | $302 | $370 |
| Plan F (high deductible) | $45 | $92 | $204 |
| Plan G | $172 | $295 | $369 |
| Plan K | $69 | $134 | $237 |
| Plan L | $120 | $189 | $290 |
| Plan M | $142 | $239 | $326 |