Having access to affordable healthcare is one of the most important things in most people's lives, particularly for seniors. Unfortunately, that's not so easily done. Thousands of seniors who rely on Original Medicare alone to cover their insurance plans often find themselves trapped in the Medicare coverage gaps. The phrase "Medicare coverage gaps" describes the benefits that aren't covered by Medicare Parts A and B. When you require those specific medical benefits, you can end up spending thousands of dollars in out-of-pocket expenses each year. If you're in this situation, you're not alone. Fortunately, there is a way out. More and more seniors are switching over to Medicare Advantage and Medicare Supplement (a.k.a. Medigap) plans each year to get away from those costly coverage gaps.
Facts and Figures
There are 16,950 seniors living in Fort Collins right now.
There is 1 hospital in the Fort Collins area where seniors can get emergency and/or in-patient care.
37% of Colorado seniors have a Medicare Advantage plan.
17% of Colorado seniors have a Medicare Supplement (Medigap) plan.
Which leaves 46% of seniors potentially uninsured or underinsured against costly Medicare coverage gaps!
Unfortunately, access to affordable healthcare matters more with each passing year. Even if you're in perfect and flawless health right now, that doesn't necessarily mean that you will be in that state a year or two from now. Doctors and healthcare professionals have long been conducting research on what are known as "age-related illnesses." To put it simply, an age-related illness is any disease or illness that becomes more common as you age. For example, osteoarthritis is a rare condition in children and teens but is present in 18% of seniors in Fort Collins (see the chart below for more details). To make matters worse, age-related illnesses don't just increase in prevalence as time goes on. They also increase in both frequency and severity of symptoms, which can in turn lead to a whole host of other unwanted results.
| | |
| --- | --- |
| Disease | Prevalence in Fort Collins, CO |
| Arthritis | 18% |
| High Blood Pressure | 19% |
| Coronary Heart Disease | 4% |
| Diabetes | 5% |
| Kidney Disease | 2% |
Healthcare Costs in Fort Collins, CO
As you might expect, the worsening of symptoms caused by age-related illnesses tends to significantly increase healthcare expenses for affected seniors. As symptoms become more severe and more frequent, patients then have to undergo more severe and frequent treatment plans in order to maintain their quality of life. If you're reliant Original Medicare alone, these increased doctors' visits and healthcare expenses can rapidly push you right into the middle of the Medicare coverage gaps and your risk of that happening increases more with each passing year. Unfortunately, medical costs are also increasing every year, regardless of whether or not you even go to the doctor. This combination of deteriorating health and increasing medical costs is further impacted by the fact that seniors are living longer lives now than ever before, giving them more time for their symptoms and financials to worsen.
| | | |
| --- | --- | --- |
| Disease | Prevalence in Fort Collins, CO | Annual Cost of Treatment |
| Arthritis | 18% | $280 |
| High Blood Pressure | 19% | $288 |
| Coronary Heart Disease | 4% | $7,762 |
| Diabetes | 5% | $2,158 |
| Kidney Disease | 2% | $6,997 |
Medicare Advantage Savings in Fort Collins, CO
The most common strategy that seniors use to avoid Medicare coverage gaps in Colorado is to enroll in a Medicare Advantage plan. Medicare Advantage plans are privately provided, meaning that the government doesn't directly control them like it does with Original Medicare. In fact, Medicare Advantage plans completely replace your Original Medicare plan, but that doesn't mean that you'll lose coverage. In fact, Medicare Advantage providers are required by law to provide the same minimum level of coverage options as Original Medicare. On top of that, providers of these plans will often offer additional coverage options in exchange for higher premiums, meaning that you could enjoy a significantly more expansive array of benefits. Seeing as the government tends to pay the majority (if not all) of your premiums, you could potentially even do so without paying a single penny in premiums.
Two such additional benefits are the options for prescription drug coverage and minor medical equipment coverage. Depending on the nature of your specific Medicare Advantage plan, you could enjoy everything from brand name medications to generics at potentially no cost. Not to mention that many providers tend to include necessities like glucose monitors and testing strips in the minor medical equipment category. These two benefits together make Medicare Advantage one of the more attractive plans for seniors suffering from chronic health conditions, such as high blood pressure, diabetes, and arthritis. Over time, the benefits can really add up.
Other commonly offered additional benefits include dental and vision care coverage. Like with prescription drug coverage, these options cost extra. However, thanks to state and federal assistance, you might still be able to have access to the entire array of health insurance coverage options without paying anything at all. The option to add vision and dental care coverage to your Medicare Advantage plan is what sets it apart the most from Medicare Supplement and Original Medicare plans. Neither of the other two plans are capable of providing much of anything in the realm of vision or dental care, making Medicare Advantage by far the most comprehensive of the three options.
Medicare Supplement (Medigap) Savings in Fort Collins, CO
Medicare Supplement Insurance plans, more commonly called Medigap plans, provide a nice combination of value and efficiency. If you don't need the amount of coverage options offered through Medicare Advantage or that plan strikes you as "excessive," then a Medigap plan might be exactly what you're looking for. There are ten plans from which to choose and each one comes with its own unique benefits and costs. There are pros and cons to each plan, but they generally all do a great job at rescuing you from the coverage gaps associated with Medicare Part A expenses, which can be exceptionally high for seniors suffering from conditions the likes of age-related heart or kidney disease.
Medigap plans of types A, D, K, and L all fall into the category of helping bridge the coverage gaps of Medicare Part A. Each of these plans makes it easier to afford hospital care, such as in-patient treatments, extended hospital stays, and skilled nursing. If you find that you rely quite heavily on these treatment options and don't end up paying much in terms of out-of-pocket Medicare Part B coverage gaps, then you should definitely consider one of these plans. That said, if your Medicare Part B coverage gaps are negatively affecting your access to healthcare, you won't be fully helped by either of these plans.
If that's the case, then you're going to want to look into Medigap plans of types B, C, F, G, M, and N. Each of these plans are specifically designed to provide health insurance coverage not only to seniors struggling to pay Medicare Part A coverage gaps but also to seniors struggling with Medicare Part B coverage gaps. That means that these plans would cover everything from your emergency room visits up until you're released from the hospital. Of course, that still depends on your doctor's orders, but it's a good rule of thumb to go by. Though, there is some bad news related to Medigap Plan F. Medigap Plan F will not be available after the end of 2020. If you find this plan to be the best option for your needs, you need to enroll soon so that you can get grandfathered into those benefits, or you will unfortunately have to look for similar options elsewhere.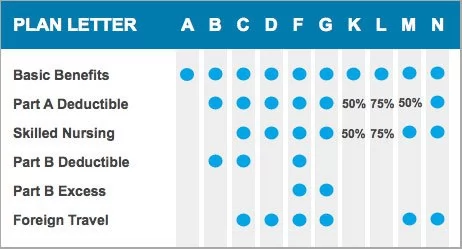 Another downside to Medigap plans is the fact they none of them are capable of providing coverage for prescription drugs, dental care, or vision care. For all three of those coverage options, you would have to enroll in an additional supplemental plan. When it comes to obtaining prescription drug coverage, Medicare Part D prescription drug coverage is often able to handle the needs of most seniors. However, if you rely heavily on a large amount of medications, you would most likely benefit more so from a Medicare Advantage plan. When it comes to vision and dental care, seniors in Fort Collins have a few good options to choose from with private providers that don't cost very much at all.
In these trying times, it's more important than ever to ensure that you are insured against any and all unforeseen circumstances. By making the switch from relying solely on Original Medicare to relying on the expansive array of health insurance coverage options of Medicare Advantage or Medigap plans, you can safeguard your financial future and your health against age-related illnesses and increasing medical costs alike. So don't wait! Contact us here at Medigap.com today and get started looking for the plan that's best for you.
| | | | |
| --- | --- | --- | --- |
| Medigap Plan | Minimum Monthly Premium | Maximum Monthly Premium | Average Estimated Monthly Premium (Part B Premium Included) |
| Plan A | $71 | $254 | $298 |
| Plan B | $107 | $289 | $334 |
| Plan C | $142 | $329 | $371 |
| Plan D | $131 | $198 | $300 |
| Plan F | $140 | $271 | $341 |
| Plan F (high deductible) | $31 | $89 | $196 |
| Plan G | $113 | $200 | $292 |
| Plan K | $35 | $100 | $203 |
| Plan L | $64 | $141 | $238 |
| Plan M | $125 | $171 | $284 |
| Plan N | $93 | $176 | $270 |