Healthcare costs are on the rise all over the country. Unfortunately, Sitka hasn't been spared the results of rising prices. Thousands of seniors in the Sitka area have been caught in a phenomenon known as the Medicare coverage gaps. Medicare coverage gaps are the little-known medical benefits which Medicare refuses to provide, such as extended hospital stays or coverage for Part B excess charges. If you run into these, you can end up paying thousands of dollars in out-of-pocket expenses in order to continue to receive access to healthcare. However, if you take the proper steps, you can secure your financial and personal independence against those coverage gaps. Two possible ways of doing so are to enroll in a Medicare Advantage coverage plan or to enroll in a Medicare Supplement coverage plan.
Facts and Figures
There are 1,289 senior citizens living in Sitka right now

There are only 3 hospitals in the Sitka area where seniors can get emergency and/or in-patient care

1% of Alaska seniors have a Medicare Advantage plan

12% of seniors have a Medicare Supplement (Medigap) plan

Which leaves 87% of seniors potentially uninsured or underinsured against costly Medicare coverage gaps!
More than three-quarters of seniors in the Sitka area struggle to maintain reliable access to affordable healthcare. That means that one out of every two seniors you know is likely paying thousands of dollars out of pocket as a result of Medicare coverage gaps. If you happen to be among those 50% of seniors, then your situation is only going to worsen with time. As you continue to age, you become at greater risk of developing new or worsening symptoms of age-related illnesses. Even if you are currently in perfect and pristine health today, which would be a miracle in and of itself, you could be in the hospital with symptoms of coronary heart disease tomorrow morning. The chart below demonstrates just how prevalent a small handful of age-related illnesses are in the Sitka area.
| | |
| --- | --- |
| Disease | Prevalence in Sitka |
| Arthritis | 22% |
| High Blood Pressure | 31% |
| Coronary Heart Disease | 6% |
| Diabetes | 11% |
| Kidney Disease | 3% |
Healthcare Costs in Sitka, AK
If you thought that developing new or worsening symptoms was bad enough, think again. As your health deteriorates, your need for healthcare increases; which, in turn, causes you to have to seek additional treatment. As you seek additional treatments, the amount that your insurance has to cover increases. However, with Original Medicare, the more your insurance pays, the more likely it is that you will run into the Medicare coverage gaps and have to pay thousands of dollars in out-of-pocket expenses each year. The chart below shows just how bad it can get. Even on the off-chance that your symptoms remain the same from year to year, your healthcare costs will be more expensive the following year. That's because medical costs are rising whether or not you need to access them. And since seniors are living longer lives than ever before, there is more time in your life for these costs to build up.
| | | |
| --- | --- | --- |
| Disease | Prevalence in Sitka | Annual Cost of Treatment |
| Arthritis | 22% | $294 |
| High Blood Pressure | 31% | $356 |
| Coronary Heart Disease | 6% | $11,533 |
| Diabetes | 11% | $2,173 |
| Kidney Disease | 3% | $10,030 |
Medicare Advantage Savings in Sitka, AK
A mere 1% of seniors in Sitka rely on a Medicare Advantage plan to meet their healthcare needs. Medicare Advantage plans function by hiring a private company to entirely replace your government-provided Original Medicare plan, but that doesn't mean that you're going to lose coverage. The law requires that all Medicare Advantage plans include the same minimum guarantees as Original Medicare. Moreover, because of the competitive nature of health insurance providers, many Medicare Advantage plans come with the option to add additional coverage benefits directly to your plan. Even though these additional options can cost quite a bit, the government tends to pay all or most of your health insurance premiums. That means that you could potentially enjoy a significantly increased suite of healthcare benefits while still paying nothing at all.
Many seniors who rely on large numbers of prescription medications to meet their healthcare needs find that Medicare Advantage plans are their best option, due to the ability to add comprehensive prescription drug coverage directly to their plan. The same goes for you. If you happen to suffer from arthritis, high blood pressure, or diabetes, Medicare Advantage's prescription drug coverage options might be perfect for you. Many of these plans are so comprehensive as to even provide coverage for minor medical equipment the likes of glucose monitors and testing strips. With one of these plans, you could save tens of thousands of dollars over the five- and ten-year periods.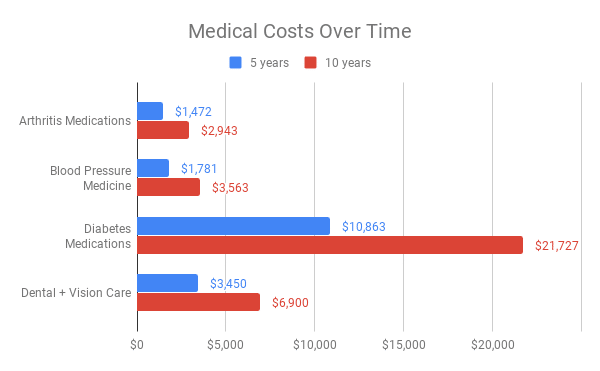 Another way to help save you money is to add vision and dental care to your Medicare Advantage plan. Whereas Original Medicare and Medicare Supplement Insurance provide barely any benefits at all related to either vision or dental care, Medicare Advantage plans enable you to add comprehensive coverage options related to both categories. That means things like dentures and reading glasses can be purchased at a fraction of the price without having to worry about the monumental coverage gaps inherent in the Original Medicare system.
Medicare Supplement (Medigap) Savings in Sitka, AK
Medicare Supplement insurance, also known as Medigap, is the more common method that Sitka seniors are currently using to improve their access to healthcare. That's true for a variety of reasons that you'll soon learn. Each of the ten plans you can choose are designed to help with Medicare Part A coverage gap expenses, which can be incredibly high for patients suffering from chronic health conditions similar to age-related heart and kidney disease. Of course, each plan is different, so let's take a moment to break down these ten plans into two distinct categories.
The first Medigap plans that you should know about are Medicare Supplement insurance plans A, D, K, and L. As mentioned above, each of these plans provides coverage for expenses related to Medicare Part A coverage gaps. That includes things like hospitalizations, blood transfusions, skilled nursing care, and more. It is important to know that these benefits only apply to Medicare Part A coverage gaps. If you are having to pay out-of-pocket expenses related to Medicare Part B coverage gaps as well, then you're not going to get the coverage you need with one of these plan types.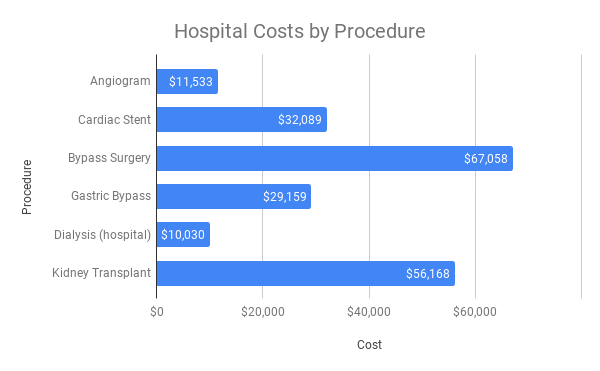 The second category of Medicare Supplement insurance plans includes plan types B, C, F, G, M, and N. Whereas the first category of plans provides coverage solely for expenses related to Medicare Part A coverage gaps, these plans provide coverage related to the coverage gaps of both Medicare Part A and Medicare Part B. That means that just about every aspect of your medical care covered by either of these parts will be free from the oppressive coverage gaps that would otherwise force you to spend thousands of dollars in out-of-pocket expenses every year. Unfortunately, Medigap type F plans will no longer be available come 2021 so enrolling in Plan F quickly is your best way of securing the most comprehensive coverage available from a Medigap plan.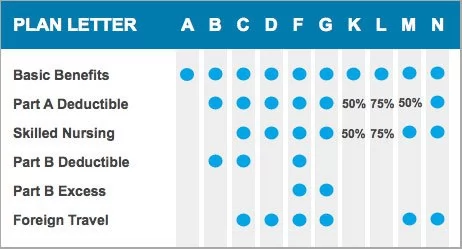 As mentioned earlier, it is impossible to add prescription drug coverage or vision and dental care coverage directly to your Medigap plan, but that doesn't mean that you won't be able to enjoy access to those coverage options. You'll simply have to look elsewhere. For prescription medications, you could enroll in Medicare Part D prescription drug coverage. Many seniors find that Medicare Part D covers just about everything that they need, although there is still the risk of coverage gaps associated with Medicare Part D (also called the "Donut Hole"). For vision and dental care coverage, you can easily enroll in a private provider's insurance plan. This can be done at any time of the year, since vision and dental care plans typically do not have to wait for an open-enrollment period.
As circumstances worsen in the healthcare industry, prices increase, and your risk of developing new or worsening symptoms grows, it is more important than ever before to ensure that your healthcare is up to the challenge. Without a reliable form of health insurance, you could end up burning through your retirement savings and being bankrupt in no time. So don't wait. Head over to Medigap.com and start on the path to safeguarding your financial future today.
| | | | |
| --- | --- | --- | --- |
| Medigap Plan | Minimum Monthly Premium | Maximum Monthly Premium | Average Estimated Monthly Premium (Part B Premium Included) |
| Plan A | $73 | $200 | $272 |
| Plan B | $108 | $203 | $291 |
| Plan C | $118 | $211 | $300 |
| Plan D | $139 | $196 | $303 |
| Plan F | $120 | $298 | $345 |
| Plan F (high deductible) | $31 | $73 | $188 |
| Plan G | $102 | $197 | $285 |
| Plan K | $39 | $94 | $202 |
| Plan L | $66 | $134 | $236 |
| Plan M | $125 | $154 | $275 |
| Plan N | $87 | $175 | $267 |